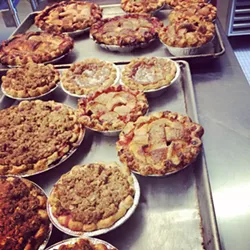 We've been charmed by the handcrafted pies and whimsical ambiance that come out of Lisa Ludwinski's Sister Pie for awhile.
Now it's Bon Appetit that's smitten by the West Village sweet shop, as the magazine has named it among 50 nominees for its annual listing of best new restaurants in America.
Details like the bakery's "piebrary" - the antique cabinet filled with kitschy mugs for diners to choose from when they're sipping their morning cup 'o joe - the vast array of flavor combinations found in the cookies, and proprietor Ludwinski's famous salted maple, all helped to capture the attention of the publication's staff.
In a
review
of the spot that ran Aug. 2, the Bon Appetit author gives this pro tip: "The 'Pie It Forward' program allows anyone feeling generous to purchase a slice for a future customer."
We can't say we're surprised by the announcement. Sister Pie gained traction in 2014 after winning a Hatch Detroit entrepreneurial grant that provided the seed money to build out the shop's location at 8066 Kercheval. Since then, it's become a favorite spot for locals, suburbanites, and celebrity visitors alike.