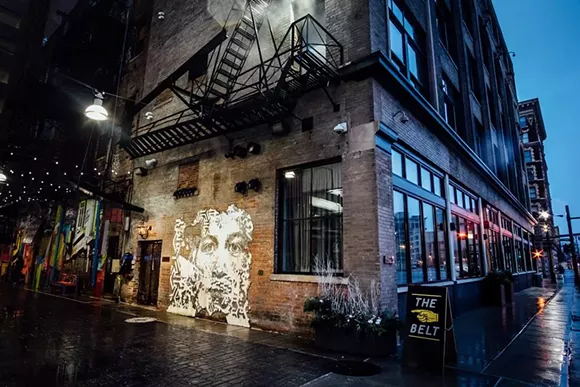 On any given night at the popular Standby in The Belt alleyway downtown — named by
Metro Times
readers as the best new bar in Wayne County — chances were good that you'd be personally greeted by partner-chef Brendon Edwards.
The charming head of the kitchen, who helped with the spot's successful launch, was known to mingle with regulars, seek feedback on whatever he was whipping up in the back of the house, and add a personal touch to a place that on most nights is filled to capacity.
Edwards' personal touch is no longer though, with his abrupt departure earlier this month. In his place, will be Jesse Knott (AKA Corktown Jesse) and Lindsay Salminen, who will co-chef and rehaul the entire menu in the coming days,
according to the Detroit Free Press
.
The
Freep
goes on to run a statement from remaining partners Joe Robinson, (Joe Rob) David Goldman, and Anthony Curis: "Over the course of the last year, Brendon was an integral part of Standby, showcasing a high level of knowledge and dedication to his craft that helped set the tone for our success. Thought this was a difficult decision, over time differences in direction and approach to the future of our business became clear, signaling an appropriate time to part ways. We are confident Standby's future is bright and are excited about the possibilities. We wish Brendon all the best in his next endeavor."
While the new cooking duo have been known to work together in kitchens in the past, we have to wonder what exactly went down.
Edwards' skills in the kitchen have won him praise. He opened the kitchen at the critically-acclaimed Antietam near Eastern Market. Prior to that, he worked at Roast, where he met Joe Robinson (Joe Rob). The two continued on to Antietam, where they led the entire staff to walk off the job just weeks after its opening — a move considered by folks in the industry as indicative of weaknesses on the ownership level. The two would eventually go on to work with Goldman and Curis to open Standby.
While all this is happening, the Standby crew is gearing up to open The Skip, a tiny outdoor bar set in The Belt, which already made a splash during an Opening Day preview. The business is also building out another adjoining space, which will become an as-of-yet named larger restaurant.
We've reached out to Edwards for comment on his departure. We'll be sure to keep you posted on any follow-up in this development.