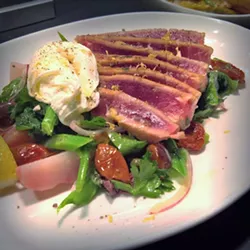 Because we love a good follow-up.
Yesterday we reported that chefs Andy Hollyday and Garrett Lipar were named semi-finalists in two separate categories in the prestigious James Beard Awards. The good news keeps on coming for Hollyday. Today it was announced that his restaurant, Selden Standard in Midtown, made Hour Detroit magazine's 2016 Restaurant of the Year.
Each year, the monthly magazine's chief restaurant critic Christopher Cook hand selects a dining establishment for excellence in the local scene. In chatting with Hollyday yesterday on his James Beard nod for best chef in the Great Lakes region he said that whenever Selden Standard is recognized, it's really a reflection of his excellent staff. Turns out, Hollyday and crew have plenty to be proud of this week.
In other James Beard-related news, we also reported that Lipar, formerly of Torino in Ferndale and more recently of Marais in Grosse Pointe also made the list of semi-finalists - his for Rising Star of the Year (his second such nomination). We reached out to the management at Marais to seek comment from Lipar, as we spoke with the others who were honored. Late Wednesday, we got word from co-owners David and Monica Gilbert, saying Lipar has left the high-end eatery to "further his studies and continue to travel." He had joined the team in September following his departure from Torino.
"David and Monica Gilbert would like to congratulate Garrett Lipar on receiving the nomination for 'Rising Star of the Year' from the James Beard Foundation. It has been a great chapter at Marais, having Garret as part of the team."
Returning in the executive chef position will be David Gilbert, who has been spending his time as of late traveling and consulting.