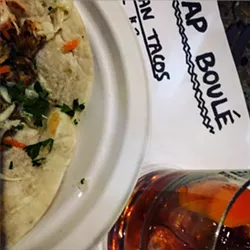 Pulling from his Haitian American upbringing, and drawing from the success of some initial pop-up events, chef Christian Noel has launched his own recurring concept, Náp Boulé.
Meaning "chill" in Haitian Creole, Náp Boulé invites you to do just that, sit back, relax and let Noel show you the multi-ethnic flavors that make up Haitian cuisine. Noel started giving early introductions to his homestyle cooking at pop-ups on occasion, and more recently last month at St. CeCe's Pub. For the past couple of weeks, he's also been preparing meals for customers at Two James Distillery.
We met up with Noel at Tuesday's pop-up. He tells us that his cooking has already caught the attention of the area's small Haitian community, hungry for a little taste of Port-au-Prince.
"It's like literally they come out of nowhere and it's like, 'hold on, you've been around the corner the whole time?' It's funny, my parents met somebody who lives in their neighborhood that's Haitian because they heard about the pop-up and they're like, 'I'm Haitian, you're Haitian and we're both in West Bloomfield?'" Noel tells us.
Chance encounters aside, what Noel's food brings to Detroit is a flavor unlike most other places around. True, Caribbean-style food can be found at the few Puerto Rican, Dominican, and Cuban spots around town, but Haitian food has a few key differences. First and foremost, it is derived from French, African, and Taíno traditions, and tends to have a little bit more of a kick to it. Noel says his menu is influenced by the food his family made at home (his parents immigrated to the U.S. back in the 70s), but with a few tweaks here and there.
We sampled a couple of Noel's dishes, a smoked chicken wings plate - with rice and beans, plantains, and a pickled slaw - and a vegetarian curry pasta. The wings were super juicy and the smokiness gave them a unique flavor. The fried plantains were nice and crispy, retaining a decent amount of sweetness, but also savory, thanks to a dash of salt. The slaw offered heat and at the same time a real spice. And the rice and beans were mild in flavor, balancing out all the tastes. The pasta had just the right amount of subtle curry flavor and came out quite refreshing. Topped off with a couple of Two James cocktails and our meal was quite satisfying.
Náp Boulé makes up one-third of the
Cook's Crossing collective.
The other two parts include Esto's Garage (Esteban Castro) who's served Mexican-inspired food at Cafe D'Mongo's and elsewhere, and Nate Bonkowski, who founded Cook's Crossing as a pop-up operation a few years back (you may also know Bonkowski from the bar at Chartreuse Kitchen and Cocktails). The trio plan to design a menu exclusive to Two James in the coming months, combining each of their culinary strengths to pair with the distillery's cocktail offerings.
Náp Boulé will make another appearance tonight at Two James and will be joined by Todd Modes, who will spin records. Noel and the Cook's Crossing posse also cook at St. CeCe's on the first Tuesday of every month. Two James is at 2445 Michigan Ave. and St. CeCe's is at 1426 Bagley Ave.