You're probably going to El Club for the music, not the food — but Matt Ziolkowski wants to change that. The sculptor-guitarist-drummer-singer, who as his chef persona goes by "Pepe Z," was recruited to run the kitchen at the nine-month-old club on the basis of 20 years of home practice perfecting the pizza art.
The supremely eclectic El Club — owned by psychedelic-rock aficionado Graeme Flegenheimer, previously of Los Angeles' short-lived but much-loved venue the Church on York — aims to please on every level, including a lovely patio that's shielded from the traffic on Vernor Highway (named back when a street could be a highway). The kitchen and bar are open daily and starting at 5 p.m., not just when the music is on; the idea is to make the place a part of the community. Thus, it's hosted events like vinyasa yoga one Sunday in December, or a Thanksgiving meal for those without resources. Happy hour will get you a pizza and two beers for $12.
The menu is simple and the beers mostly downscale or predictable: PBR, Bud, Dos Equis, Heineken. Craft beers are familiar: a couple of Bell's and a couple of Founder's (but then Blake's Flannel Mouth hard cider, too). On tap is a creamy, bitter dark IPA called Low-End Theory from Batch Brewing downtown, which is 9 percent alcohol. By the time you read this, there should be Two James cocktails on draft too.
In the non-alcoholic column you'll find both Mexican Coke and Club Maté from Germany, whose interesting ingredient is extract of maté, the maximally bitter tea of Argentina. Popular on the West Coast, it's sweetened and effervesced to take the edge off, and popular as an energy drink.
Presentation is simple too: Paper plates. Plastic cups. No lethal bar fights here. Turner Classic Movies shed a peaceful black-and-white glow at the bar.
Pepe Z offers 13 12-inch pies; red, green, and white. Results vary: He says El Club's hybrid wood-fired and gas Italian oven has a mind of its own. "The oven is a living and breathing thing. There are so many elements to the dough," he says. "I know perfection when I see it: a perfectly golden crust almost on the edge of being burned. When you cut it and see the crumb, it's got a lot of loftiness."
I tried half of Pepe's pies and liked best the most expensive, the "West Vernor Taco Truck." Usually I like to taste each ingredient separately, but here Z manages to blend the Mexican flavors into one seamless delight with salsa verde: carnitas (not enough of them), radish slices, raw onion, pickled jalapeño, cotija cheese, and a few sprigs of cilantro. The lime wedge keeps it real.
My second favorite was the white "Brussel Street Hustle," where slices of sautéed sprouts imbue the mozzarella and ricotta with their strong essence. "Arug Arugula" turned out too bland, the winter arugula just not contributing the pepper-spiciness it should. "The Great White Buffalo" had a few kernels of corn, a dash of tomato sauce (San Marzano), and some splotches of mozzarella, but the chunks of mellow buffalo meat were too few and far between. When we order a $16 meat pizza, Pepe, we want some meat!
Likewise for "Olive You," which boasts truffle oil and tasty Kalamata olives — but not enough of them. Could Matt/Pepe be one of those pizzaiolos who believes crust is all? I can't agree. When it comes to pizza toppings, less is not more.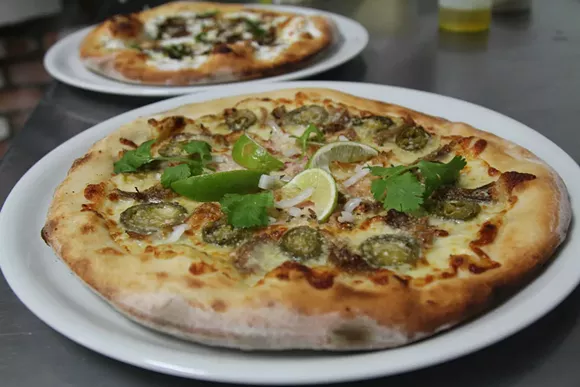 An odd possibility is the "Pepé-Roni," which adds honey to the sausage, as does the "Kim Chi Wilde" — honey with kimchi? And an egg? Pepe vows to keep experimenting. A "Sausage Fest" — a fresh-basil white pie and three vegan choices (cashew cheese with mushrooms; olives and tahini dressing; butternut squash and honey) — rounds out the offerings. Everything is made in-house, from the fresh mozzarella to cashew cheese and butternut purée.
Tired of kale? So 2015? You might change your mind with Pepe Z's salad. The greens are graced with two big chunks of housemade mozzarella and the kale stays crisp despite a liberal amount of tahini dressing (even the next day; I took some home).
Last summer El Club hosted chef Nick George doing a Sunday morning Japanese-breakfast pop-up — idyllic on the patio — and Pepe says the well-equipped kitchen is ideal for more pop-ups. He wants to roll out brunch in the spring, a meal that would branch out from the current offerings.
Meanwhile, he's still searching for that perfect pie. "Sometimes you stumble on something..." he says.