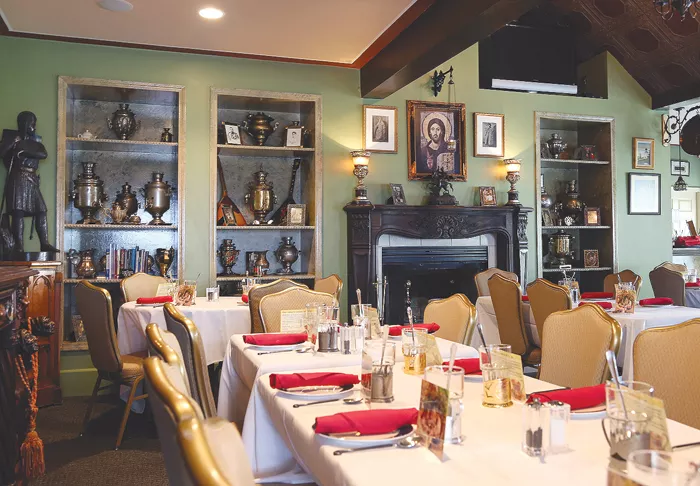 18745 Old Homestead Ave., Harper Woods, (313) 521-1894, theroyaleagle.org.
Handicap accessible
Lunch: $20 prix fixe; dinner: appetizers, soups & salads $5-$12; entrées $17-$30; desserts: $9.
Open: Tuesdays 11 a.m.-2 p.m.; Thursdays 11 a.m.-2 p.m., 5 p.m.-10 p.m.
It's in our job description as restaurant reviewers to check out all the brand-spanking-new, social-media-hyped restaurants Detroit has to offer (which, these days, seem more prolific than dandelions on a vacant lot). But sometimes a gem slips through the cracks; a quiet presence flourishing despite the lack of a PR team or a Twitter account. I first heard of the Royal Eagle through friends of friends who had been there and gushed about its many charms, so despite the fact that others have written about it in years past and it's not exactly a secret anymore, we decided it needed fresh investigation.
The story behind Royal Eagle would take up more space than is allowed me here without even getting to the food, so here's the nutshell version: The restaurant is housed on the grounds of a Russian monastery (St. Sabbas), complete with miniature onion domes. Tucked into a quiet east-side neighborhood, the location, however, is a venue for religious practice first and foremost. The sprawling seven-acre property contains a chapel, living quarters for the monks, a library, and gorgeous, lovingly tended gardens, in addition to the beautifully appointed building that houses the restaurant. Menu items are listed at "donation" prices, since all of the revenue goes back into the maintenance of the property. Many of the employees are parishioners working on a volunteer basis. They dress in traditional garb, adding an extra touch of charm to this already magical locale.
Royal Eagle has very limited hours (Russian tea on Tuesdays and Thursdays; dinner on Thursdays only), so plan a visit weeks or even months ahead; reservations fill up quickly, especially in summer, when guests have the option of al fresco dining in the gardens. Although the interior is cozy and inviting, with lots of wood and antique furniture, we couldn't resist the ambience of the gardens in full bloom.
If you go for tea, you'll be presented with a series of seven courses, including a choice of over 30 teas and herbal infusions, and dessert. The menu varies, but on our visit we were served borscht, tea sandwiches, and assorted canapés with smoked salmon, beef, and cheeses. At $20, it's a great way to sample a lot of small tastes to get a feel for the cuisine, and none of us walked away hungry.
The dinner menu is not limited to Russian food, but encompasses dishes from other Eastern European countries like Poland, the Czech Republic, Georgia, Bulgaria, etc. Start your meal with caviar (salmon roe) for a mere $8; while it's not the fancier black Beluga variety, it's tasty, and will get you in the mood. Although we enjoyed all of the appetizers we sampled, the one absolutely not to be missed is the Siberian pelmeni, tender dumplings stuffed with ground beef, pork, and veal and served with a creamy, garlicky dipping sauce. Another possible starter is the borscht, a brothy, tangy soup with tender beets and other vegetables. Although the borscht was quite satisfying, we were disappointed there wasn't a chilled summer version, as is common throughout Eastern Europe.
Generously portioned entrées encompass much of the classic culinary canon of the East, including Chicken Paprikash, Chicken Kiev, Beef Stroganoff, and a Polish sampler platter with pierogi, sausage, and more. Our Beef Stroganoff was made with large chunks of tender beef in a creamy sauce that's light years beyond any Campbell's Cream of Mushroom version you might've had as a child. That and other saucy dishes like the Paprikash are served with little homemade dumplings. One friend ordered the Krakow platter, and we all passed our plates around, getting bites of succulent sausage and tender braised cabbage.
Try your best to pace yourself for dessert, which is not easy, given the rib-sticking nature of many of these dishes. Those who do will be rewarded richly, literally and figuratively. Our favorites were the Napoleon cake and the key lime strudel.
While prices at Royal Eagle are not inexpensive, they're fair for the quality and quantity of the food. The real savings compared to other fine dining restaurants comes into play for wine drinkers; Royal Eagle does not serve any alcohol, so guests are allowed to bring in their own wine, and no corkage fee is charged. If you're the curious type and like sweet beverages, try the kvass, a traditional soda made with bread (my friend compared it to Coke with notes of pumpernickel).
Please note that visitors to Royal Eagle are expected to behave in accordance with the fact that they are in a sacred space; check their website for rules about dress code, etc.