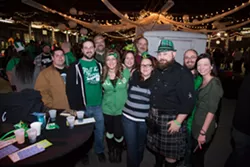 Guys, the drinkingest holiday of the year is right around the corner. St. Patrick's Day is in a little more than two weeks and that means you need to start training for the big day.
What's the best way to get your stamina up to ensure that you can get in a full day of drinking green beer and doing Irish car bombs? Why by attending
Metro Times' Irish Taste Fest
, of course.
The tasting event, held at the Royal Oak Farmers Market, takes place this Saturday, March 5 from 6:30 to 11 p.m. and tickets are just $15. The price of admission include a commemorative pint glass, three drink sample tickets, a keepsake photo, and live entertainment. Additional tickets and food will be available for purchase.
There will be plenty of whiskey (Jameson, Redbreast, Hell-Cat Maggie Irish Whiskey, etc.), beer (Guinness, Smithwick's, Griffin Claw, New Belgium), cider (McKenzie's, Blake's), plus some cocktails.
There will be drinking games like giant Jenga and Hammer-Schlagen, and at some point everyone will probably do the Cupid Shuffle.
Trust us, it will be a good time.
Click
here
for more info.