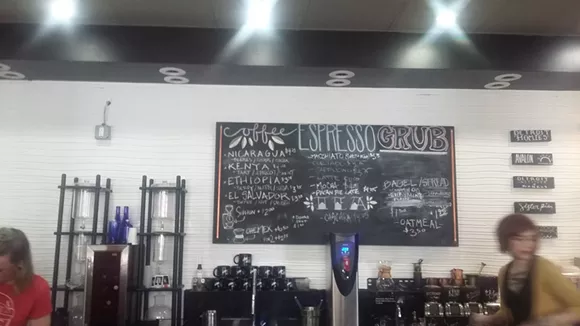 That small pocket on Broadway in downtown's Grand Circus Park area is again in the midst of changes, with the addition of yet another new café in the
[email protected]
Building, renovations at Detroit Beer Company, and ongoing construction at the Wurlitzer Building.
The most recent addition on the block (between Park Avenue and John R) is ASHE Supply Co., which sits inside the former Crane's on Broadway. The café serves as the flagship store for the coffee supplier, which vends to several grocers in metro Detroit. It features premium coffee drinks prepared as pour-overs and espressos that range from about $2 to $4.25. Munchies from local vendors like Sister Pie, Detroit Institute of Bagels, and Pete's Chocolate are also available, as is Detroit-centric merch.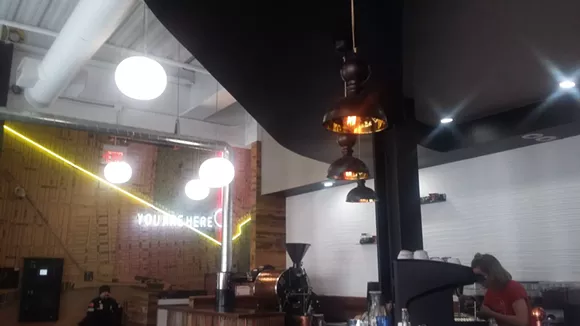 The spot is the third café-type establishment to open in the the
[email protected]
Building space in just under four years. Prior to that, Crane's on Broadway, which offered both coffee and boozy drinks, opened there just 18 months prior, and before that, the place went by Chez Zara.
Just a few storefronts over, the 13-year-old Detroit Beer Company announced today it will close for 10 days for routine maintenance. When it reopens, employees say the brewery will offer a number of new beers.
Meanwhile, NYC-based ASH Hotels has recently gotten to work on a $21 million redevelopment project to revitalize the blighted Wurlitzer Building. The plan is to convert the property into a 106-room boutique hotel, as well as space for dining, retail, and a rooftop bar with views into Comerica Park.
All the redevelopment - large and small - marks a new chapter for the block, which had long dealt with decay, particularly around the Wurlitzer. In 2014, the former ownership was
ordered to secure the structure
when it posed a threat of crumbling on construction workers, and thus prevented city crews from repairing a water main break. That certainly didn't help businesses like 1515 Broadway cafe, which occupied the building next door, and that appears to have shuttered (though it's held special events and a pop-up over the past several months). The longtime café struggled in recent years to capture the momentum that had taken shape in the area in recent years. Seems that ASHE Supply Co. is picking up where it left off.