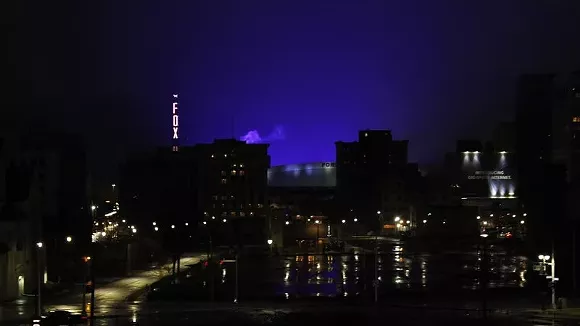 You know the lights. You've seen them shining ominously over Ford Field on your drive into downtown Detroit. Or, like Margo Dalal, they permeate your curtains and shine directly into your eyes, interrupting your much-needed slumber.
Dalal, who lives a mere 3.5 miles from the stadium according to a
Detroit Free Press
article, has created a petition on
Change.org
in hopes they'll be turned off — or at least turned on less.
And nearly 1,000 people are in agreement with Dalal. At time of press, her petition had garnered 967 supporters.
But, the switch won't be flipped without a fight. The Lions organization told the
Freep
that police, other downtown businesses, and some city residents are simply raving about the burst of Honolulu blue that emanates from Ford Field every single night. And furthermore, they say they followed light pollution rules issued by the city, a point which Dalal contests.
Her petition reads in part, "According to the General Illumination Standard in the Detroit Zoning Ordinance, Sec. 61-14-278, 'All reasonable measures shall be taken to ensure that the off-site spillover of light and nightglow are minimized to the greatest extent possible.' Ford Field is not adhering to this standard and its excess use of rooftop lighting should be enforced."
With Little Caesars Arena set to open this fall and a possible soccer stadium in the works, Dalal is worried about the precedent these lights set.
"Detroiters don't deserve pollution — light pollution included," the petition reads.
In the end, Dalal isn't asking for the lights to be permanently offed. Her compromise is that the lights only be turned on for game nights, according to the
Freep
.