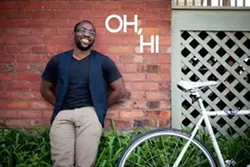 Tunde Wey, co-founder of popup venue Revolver, is returning to Detroit, and using his homecoming to kick off a nationwide tour of introducing his famous Lagos Nigerian BBQ to the masses at the Hamtramck popup
at 7 p.m. next Friday (Aug. 28).
A lot's happened since we last heard from Wey. He set up a brick and mortar Lagos location in New Orleans, spent three weeks detained by immigration officers and got married.
You may have noted that Revolver has stayed mostly quiet this summer, with very little word on upcoming events. Co-founder Peter Dalinowski tells us he took some respite to spend time with family and to plot out his next steps in the culinary scene. Organizers of the upcoming dinner say to "expect a packed house, a raunchier-than-usual playlist, and a couple surprises."
Just a few of the entrees on the seven-course menu: plantains two ways, peppered goat and Cornish hen. We have to admit, this teaser has certainly piqued our interest. We'll keep you posted on this spot's progress as it and Wey continue to make waves.