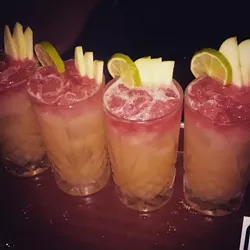 Detroit City Distillery's "Summer of Gin" is wrapping up Aug. 31 with the finals for its Ginsmith Competition. The Eastern Market spirits lounge spent these past several weeks inviting area bar keeps to compete for the title of Ginsmith. Each bartender was tasked with coming up with interesting cocktails, utilizing DCD's series of small-batch gins.
The competition is down to five finalists: James Downs and Will Lee both of Selden Standard, Paul Fradeneck from Honest John's, Chas Williams from The Oakland Art Novelty Company and David Martinez of The Last Word. Yours truly judged during the fourth installment of the competition, which featured Hickory Gin. Martinez's Midwest Punch won over the judges for its light, fruity, refreshing spin on an otherwise smoky varient of gin. Throughout the contest, judges were asked to critique each mixologist's concoction, adopting standards set forth by international bartenders standards, including: technique, appearance, aroma of the drink, imagination, taste and overall impression.
The final round will close out with a juniper-infused gin. The winner will go home with a cash prize and be crowned ginsmith. On the menu during the festivities will be a DCD regular, chef Jonathan Kung, who will serve up his famous steamed buns. On the judging panel will be Shane "Bang" McGrath, president of the Detroit chapter of the United States Bartenders Guild and Travis Fourmont, Cocktail Ambassador for Great Lakes Wine & Spirits. Party gets started at 6:30 p.m.