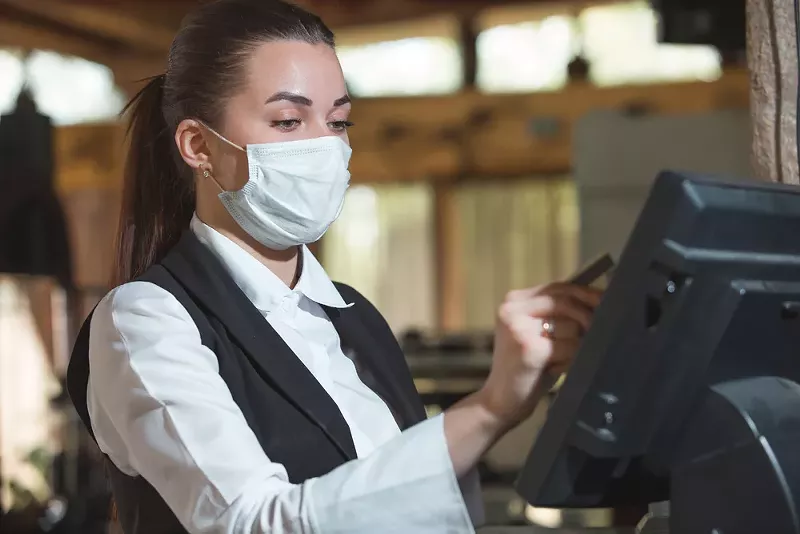 After revising Michigan's emergency order
last week, which dialed back indoor gathering sizes and expanding restaurant and bar protocols in an effort to slow the spread of COVID-19, the Michigan Department of Health and Human Services has offered some clarifications to the order, including new softened expectations for restaurant and bars.
On Tuesday,
the MDHHS released an FAQ
addressing concerns over what the new order means for the service industry. The document explores what information is needed from customers, how it will be used in contact tracing efforts, and how restaurants and bars are expected to enforce the order,
Eater Detroit
reports.
Per the order, it is still required of
all
establishments to ask each customer, or at least one person per multi-person household, for their name, phone number, as well as log the date and time of their visit. Home addresses and are emails are needed. By not requesting this information, the restaurant or bar is in violation of the order.
However, should a patron refuse to provide information, the MDHHS now states that it is merely a recommendation that the facility denies entry, but is not a requirement.
The softening of the rule came after the ACLU raised concerns over privacy.
The FAQ also states that restaurants and bars are not responsible for fact-checking the information given. In other words, they do not have to ask for identification to verify the contact information provided, meaning people can easily provide false names and phone numbers, which could taint contact tracing efforts. Should state or local health officials need to obtain contact information, which should be stored for 28-days, the restaurant will not be held liable if the information is incorrect.
However, many in the service industry believe these new requirements put the onus on service industry workers who may already be feeling the pressure to pivot in an ever-changing COVID climate.
Justin Winslow, president & CEO of Michigan Restaurant and Lodging Association, tells
Metro Times
that the new mandate "places more burden on an already beleaguered industry."
"We have already seen a great amount of feedback that guests will simply provide the wrong information, which then puts the restaurant at risk for fines," he says. "By mandating that contact tracing needs to happen at these restaurants due to spread, which is not accurate based on the state's own data, generates greater public fear about eating out and will only serve to negatively impact these restaurant's bottom lines."
On Tuesday, the state reported 3,664 new coronavirus cases, with COVID-19-related hospitalizations and deaths also on the rise. Several Detroit area restaurants are voluntarily returning to take-out only service, eliminating dine-in options as cases surge, many linked to restaurants.
Last month, the state's Chief Medical Executive, Dr. Joneigh Khaldun, asked
Michiganders to strongly consider choose take-out over dining in
, as a recent report from
the Centers for Disease Control and Prevention
found adults who tested positive for the coronavirus were twice as likely to have dined at a restaurant two weeks before reporting symptoms.

So many restaurants, so little time. Sign up for our weekly food newsletter delivered every Friday morning for the latest Detroit dining news.