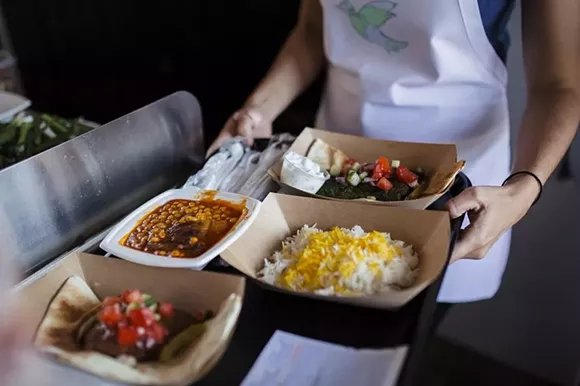 It's about that time of year when we're no longer confined to the indoors. We wanna ditch the crockpot comfort foods of colder months and spend our summer nights exploring all the exciting offerings that our local chefs have cooking for us.
That calls for checking out the many popups and food/drink-centered events thrown at some of your favorite spots. Here, we offer you some of the highlights to add to your calendars. Be advised, tickets are required for many of these foodie affairs.
Over in Dearborn, Osteria 222 is offering a four-course, ticketed summertime brunch series. The menu changes weekly, and it's held each Sunday throughout the season. The cost is $36 and includes tax and gratuity. An extra $12 gets you bottomless mimosas and Bloody Marys. You'll find Osteria 222 at 22266 Michigan Ave. in Dearborn.
6:30 p.m., June 23
First up, New Belgium Fat Tire is celebrating its 25th anniversary with a special dinner at Ale Mary's in Royal Oak. For $50, you get a five-course meal (with seared Wagyu steak bits, Korean BBQ pork belly sliders, and lamb lollipop, to name a few courses), paired with a variety of Fat Tire beers. Reservations are suggested. Ale Mary's is at 316 S. Main St. in Royal Oak.
7 p.m., June 25
Father-and-son duo Leon and Marlowe Johnson are behind a new mobile cocktail and food popup series, anotherriver, with its next event taking place at Yemans Street in Hamtramck. A xix-course meal includes ox-tail, a Berkshire pork neck bone fricassee, wine, and more. What makes this evening special is that, after dinner, they'll commence in learning to bind a 16th-century Monastery Journal, using handmade paper and Irish linen tapes, which can be taken home afterward. Tickets go for $125 (includes the cost of materials) and can be purchased
here
. Yemans Street is at 2995 Yemans St. in Hamtramck.
5-8 p.m., June 26
The tasting room at the Our/Detroit Vodka distillery will host another installment of its Iranian Dinner and a Movie series. The spread of traditional Iranian fare like kabob koobideh and khoresh is buffet style and includes appetizers and an Our/Detroit cocktail. Complementing dinner is the award-winning Iranian film
A Girl Walks Home Alone at Night
. Tickets go for $35 and have to be ordered
online
. Our/Detroit is at 2545 Bagley Ave.
6:30 p.m., June 29
For wine tasting, there's Wine Wednesday at Thomas Magee's in Eastern Market, a collaboration with BRUT Detroit and Dine Drink Detroit. Sommelier Mike Fifer will lead guests through a tasting of five summer wines. For those who can't make it to the 6:30 tasting, an open menu by the glass, flight, and bottle will be available from 5 p.m.-10 p.m. Tickets for $25 can be purchased
here
. Thomas Magee's is at 1408 E. Fisher Service Drive.
8 p.m. July 9
African and Caribbean culture and cuisine will be the main attraction at Marble Bar with the Jerk X Jollof popup series. The event includes DJ sets from Kyle Hall (Wild Oats Detroit), Supreme Gratitude (Paramita Sound), and others. Buffet-style Caribbean cuisine will be catered by Jerk Island. Cover is $15, while food will be available for sale inside. Tickets can be bought
here
. Find Marble Bar at 1501 Holden St.
4 p.m., July 24
Detroit's own Meatstress, AKA Larissa Popa, will take the helm at Motor City Wine with her popup, Meat Thymes. Guests are free to sip on vino while indulging in Popa's Eastern European cuisine. MotorCity Wine is at 1949 Michigan Ave.
Aug. 5-7
The Place Invaders national supper club tour will invade Detroit for a second round Aug. 5-7. This time, the featured chef will be Garrett Lipar, a 2015-2016 James Beard Rising Star Chef nominee, and formerly of Torino and Marais. As per Place Invaders theme of taking over a prominent piece of real estate, the event will be held in a top-secret residence in Corktown (the last event in April was held in the Motown Mansion in Boston Edison). Guests will also be privy to learn Lipar's in-the-works new concept. The August series consists of four dinners, including a Write-A-House benefit and two brunches. Three of the dinners have already sold out, but tickets for the brunches are available for $85 and charity event go for $145. More information and tickets can be found
here
.