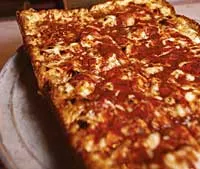 Loui's makes the best deep-dish pizza in Detroit. I know those are fighting words among a legion of pizza lovers bitterly divided over the quality of their respective champions' square pies. But I dare any of the Buddy's, Shield's or whatever partisans to find a cozier venue to eat superior pies than in Loui's, a classic pizza parlor on Dequindre just north of Nine Mile Road.
Loui's has been winning awards and testimonials since it opened in Hazel Park in 1977. Among the many notable patrons whose autographed glossies you can peruse as you wait for a table (limited reservations taken only for parties of 10 or more) are vintage Detroiters the late Bob Talbert and John Kelly and Marilyn Turner, and Hollywood stars Mel Gibson and Dom DeLuise. The last time I was there, Tommy Hearns was a celebrity in attendance.
None of the glitterati treks to Loui's for its elegant decor or haute cuisine, and none of the regular patrons comes to see the occasional glitterati who wander in. This is a quintessential pizza joint — hundreds of straw-covered chianti bottles signed by diners fill virtually every inch of wall space, the tables are covered with glass-protected red-checked cloths, the food is served on plain plastic tableware, and smoke hangs heavy, despite the ample non-smoking area amid the 47 tables and booths in the main dining room and the bar.
Owner Louis Tourtois, a native of France, learned his trade working at Buddy's for 17 years and Shield's for seven. In an era when Americans had never heard of Jacques Chirac, he decided to call his place Loui's instead of Louis because it sounded more French. Despite that affectation, Tourtois' menu, anchored by his signature pizza, is Italian all the way.
Depending upon how many items you'd like to add on — feta cheese, green peppers, anchovies and other standard toppings — small, four-piece pizzas average around $10, large, eight-piece pizzas around $18. Given their thickness and density, figure on two pieces per average diner. Aficionados flock to Loui's for the uniquely charred thick crust. If you prefer those wimpy, thin, barely cooked designer crusts, this is not the place for you. According to Tourtois' son, Louis Jr., the veteran pizza chefs in their immaculate kitchen are able to achieve that perfect char because their special pizza ovens reach a higher-than-normal temperature.
The other two basic ingredients of pizza, tomato and cheese, are nicely blended, so that neither dominate the pie. In addition, the whole production is just greasy enough to make eating by hand an adventure. For this pizza, a knife and fork are de rigueur.
The second most popular items on the menu are the antipasto and Greek salads ($4.50 for a small that easily serves three) with the same house-made tangy Italian dressing lathered perhaps overgenerously on both. But don't expect exotica like arugula or pine nuts in these old-fashioned standards. The justly celebrated dressing is available for takeout.
I guess there are Americans who don't like pizza; for them, Loui's offers an array of pasta, sandwiches and hoagies. One can opt for either meat or marinara sauce on a solid spaghetti and meatball platter ($7.25) that comes with house greenery. The same sauces enrich lasagna ($10.95) and the more unusual baked cappelletti, noodles stuffed with meat smothered with acres of cheese ($8.95). The stuffed capelletti appear in the only soup on the menu, a pleasing, albeit slightly salty, chicken broth.
Recently, Loui's added a handful of Italian sausage sandwiches to the repertoire, which are constructed with tiny sausage balls, with optional green peppers or onions or both, and meat sauce in an oversized hot-dog roll. I wish there had been a few more green peppers in my sausage and peppers ($5.75), however.
Although many diners are happy with a "boomba" of draft beer ($2), it is difficult to resist the bargains in wine. Until recently, Loui's list consisted of nine generic house wines at a rock bottom $12.50 a liter. The chianti remains the best bet over chablis, lambrusco and liebfraumilch. Now you can also choose from among 10 or so decent wines by the bottle, quite modestly marked up, including Ruffino chianti ($17) and Jerry Garcia (!) chardonnay ($22). This genuflection towards modernity was matched recently by Loui's willingness to accept credit cards.
Who knows where Tourtois and his son will go from here? As for now, they steadfastly refuse to fill the place with television sets, although two are available in the bar. Manager Laurie Stepetic, who has been there since 1979, explains that Loui's is a family place not a sports bar. And that it is, with large and raucous multi-generational groups enjoying themselves without the tube every night, except Monday and Tuesday.
I hope as well that nothing changes among the colorful, all-female waitstaff, many of whom are in their second decade at Loui's. Typical is the exuberant Diane, who, placing her hand on your shoulder, may ask, "What can I get you, hon?" What else but the best deep dish in Detroit in near-perfect surroundings?
Mel Small teaches history at Wayne State University. Send comments to [email protected].