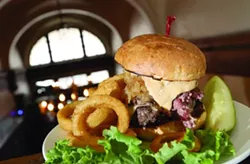 Foran's Grand Trunk Pub
612 Woodward Ave., Detroit
313-961-3043
Restrooms handicap inaccessible
Entreés: $7-$11.50
Burgers, sandwiches: $8
People seldom choose a place to eat for its architecture or the decor, much less its history. A view, on the other hand, can be high on the list of attractions. (Think of Coach Insignia, Iridescence, eating by the river on a warm night.) Still, it's undeniable that a touch of history, especially when it's visible, does add panache.
Heading to Foran's Grand Trunk Pub, I was warmed by the knowledge that a tavern had operated on that spot between Hart Plaza and Campus Martius since 1935, and that before that it had been the ticket office of the Grand Trunk Railroad (great name for a railway line, as those guys from Flint recognized). The 1879 building still has high vaulted ceilings, lots of carved wood and a couple of big brass chandeliers; you can see some cool pictures on the history page of the website.
Today the pub's main claim to fame is its 24 beers on tap, mostly from Michigan, and a recent dinnertime visit on a Wednesday found the place full of downtowners enjoying same. If a most popular choice is Full Circle Kolsch-Style Ale from New Holland — a beer to ease the Bud fan in — there are also plenty of heartier brews, such as an oatmeal stout, the Poet, from the same brewery, or Jet Black IPA from MillKing It Productions (another great company name). The list will be familiar to beerophiles.
But I'd first thought of Grand Trunk for brunch, one of my favorite meals of the week, if not a big beer-drinking time of day. A couple of years ago Molly Abraham picked the pub for a list of eight brunch standouts, singling out two lobster dishes.
I can testify that the brunches are prodigious and filling, enough to make you consider skipping dinner, with or without beer, Bloody Marys or mimosas. All come with potatoes and a lot of toast. My lobster omelet wasn't chock-full of lobster, but it had the advantages of still-crunchy leeks, Swiss cheese and plenty of Hollandaise. Equally luscious-sounding is Lobster Benedict, with tomato and spinach. The chef offers four Benedicts, in fact, including the Hillbilly — an oxymoron if I ever heard one, since no hillbilly I've met has ever poached an egg.
The pub's poached eggs sit up perfectly tall, though, as they should, and the Hillbilly was enlivened by sausage and sausage gravy that were very slightly spicy. A square of orange American cheese was an unfortunate addition, its unmelted corners drooping over the English muffin as if on a McDonald's cheeseburger.
A companion liked his enchilada with chorizo, cheddar and cilantro-chorizo gravy, calling himself "not disappointed," and another had no complaints about the corned-beef hash, with the beef from Wiggly's in Eastern Market. I thought the potatoes and meat should have been more integrated, though, maybe somewhat smaller pieces of both (no, I'm not calling for Dinty Moore).
Other brunch possibilities are chicken and waffles and French toast with Grand Marnier.
For lunch or dinner, the menu begins unpromisingly with a list of starters you could recite in your sleep: wings, onion rings, chili cheese fries, quesadillas. But it gets more interesting after that. It's pub grub, for sure: shepherd's pie, fish and chips, quiche, but with burgers like the Olive (with green-olive spread on Avalon's Greektown Olive) and the Foran, essentially a burger with a Reuben on top, using kraut made with the Poet Stout.
I found my Reuben as over-the-top as a Reuben should be: tall, a soothing riot of competing yet comforting flavors, with that good stout-infused kraut on Dexter Rye. The pub offered it one night with fried whitefish substituting for the corned beef, but I wasn't taking a chance. Diners can even sub in a veggie burger!
Also well-made was meatloaf with Jameson gravy and some satiny mashed potatoes, though the meat flavor got a bit lost under the multifaceted sauce. Perhaps even better was a steak-and-ale soup: a taste akin to scalloped potatoes with chunks of beef: cheesy, thick and creamy. Very crisp wings were more routine, served with a choice of three sauces, and a vegetable soup was thick and lovely to look at but weak on flavor.
Another motive for visiting Foran's was a certain dessert. A few years ago, Foran's took over the next-door space occupied by Eph McNally's, appropriating the names and recipes of some of its famous sandwiches. McNally's made the best bread pudding with the best whiskey sauce in the world, but Foran's doesn't use the same recipe. The serving I took home was big enough for three, given how filling bread pudding is, and the sauce was luscious — but not as luscious as Eph's.
Foran's offers its beers in bottles to carry out, at around $14 a six-pack — a great idea for the many microbrews that you're not going to find elsewhere downtown.
The pub is open 11 a.m. to 2 a.m. every day, kitchen till midnight. Weekend brunch is from 11 a.m. to 3 p.m. Happy hour with a rotating $5 food menu is 4 to 7 p.m. weekdays. And somebody must be drinking beer with their French toast, because the special brunch beer price is $3.
Jane Slaughter dines for Metro Times. Send comments to [email protected]