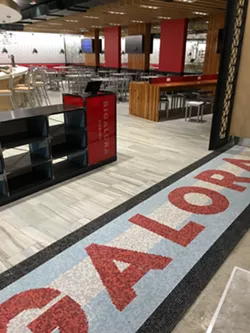 Done any traveling by plane so far this holiday season? If so, you may have noticed the tell-tale signs of development with storefronts boarded up and displaying signs of new life to come. In particular the dining department has been in the midst of welcoming several new additions, including a new Biglalora Wood Fired Cucina outpost to open in the McNamera Terminal Dec. 11.
Chef Luciano DelSignore, owner of the wood-fire pizzeria with locations in Royal Oak, Ann Arbor and Southfield (as well as his Bacco Ristorante, also in Southfield), tells us new staff members are undergoing training and the spot will be hosting a series of "friends and family" soft openings in the coming days to test out the menu. Of course, these events will be a bit unusual in that taste testers will have to mostly consist of travelers already in the terminal.
DelSignore's segue into the airport game comes as the airport has
undergone some $50 million in new investment,
with additions including a new Plum Market, featuring Zingerman's, Detroit-based Corridor Kitchen, serving artisan meats, sausages and charcuterie, and national chains like PF Chang's and southern favorite Chick-Fil-A.
And the expansion for DelSignore doesn't end at the terminal. Last month, the Bigalora chain began delivering fresh-made paninis, salads and desserts to Shinola's flagship store in Midtown. A small stand-alone concept featuring made-to-order pizzas, salads and a gelato stand will open at the Detroit Medical Center campus by February, and another full-scale restaurant is slated to launch in Rochester Hills by March.
DelSignore says he's also in negotiations to set up his first full-sized Bigalora in Detroit proper sometime next year, possibly in the spring.
Says DelSignore of the growth: "It's always been a plan for Bigalora."
So happens, we'll be flying out of DTW around that time. We'll make sure to give you a first take on the new spot.