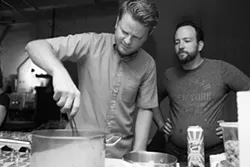 The long-awaited bar and restaurant, Standby, will make its official debut tonight. The spot, situated at the end of the mural-laden Belt alleyway next to the Z parking structure downtown, has been in the making for months as partners Chef Brendon Edwards and cocktail guru Joe Robinson have worked on hiring staff and with contractors to get the space ready for business. The duo began holiding soft openings over the weekend to iron out any kinks, but today is the day for its official grand opening, Edwards tells us.
Edwards and Robinson (AKA Joe Rob) have been working in kitchens or behind bars for awhile now but inadvertantly came into the spotlight last year with their abrupt departures from Antietam just weeks after it opened last summer.
Since then, they've dusted off nicely, working on this passion project as well as conceptualizing another Belt bar to be called Skip, an outdoor bar recessed into the alley wall, and a full-scale restaurant that would utilize the same kitchen as Standby's.
The duo has a hefty band of support, both financially and in the kitchen and bar. Developer and gallery owner Anthony Curis and David Goldman serve as co-partners in the venture.
Robinson has enlisted a talented team to tend bar, with the additions of Marlowe Johnson, formerly a ginmaker at Detroit City Distillery, and Shane "Bang" McGrath, who's worked in Grand Trunk Pub, The Whisky Parlor and The Oakland Art Novelty Company in Ferndale.
Edwards' No. 2 is Chris Skillingstad, a native of Minneapolis, who's worked in just about every capacity one can in a restaurant. Most recently he managed Slows To Go in Midtown, before being introduced to Edwards a few months ago.
We've had the chance to sample of the food and drink by Edwards and Robinson. They manage to fuse their recipes to work together, a concept that we think will be well received by fans of craft cocktails. We'll be sure to swing by real soon to get a better look at the finished product.