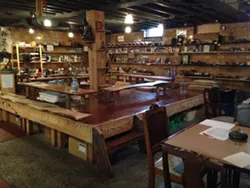 Vegetarians rejoice, the Detroit Zen Center Café and Co-Op in Hamtramck is reopening this week. The spiritual center, that doubles as a local healthy food distributor as Living Zen Organics, announced today that a grand reopening celebration is to take place on Saturday.
The café and food shop closed its doors last year, attributing the closure to a general "lack of interest," even though fans had praised the spot for its vegetarian-friendly menu that included kale salad, vegan soups and stews and other au natural goodies. At the time locals told us that the restaurant held odd hours, making it hard to plan a visit there.
The food business continued though, with Zen Center workers distributing packaged food products to places like Honey Bee Market, Goodwells Natural Foods Market and Cafe 1923.
The timing of the reopening could be a positive for Hamtramckans looking for more healthful dining options. The popular Rock City Eatery, whose menu is filled with sharable veggie plates, is making an exit from the city in February.
The celebration is to take place 11 a.m. to 2 p.m. Saturday. Reservations are recommended and can be made by calling 313-366-7738. After that, the cafe and store will be open 10 a.m. to 6 p.m., Tuesday-Saturday.