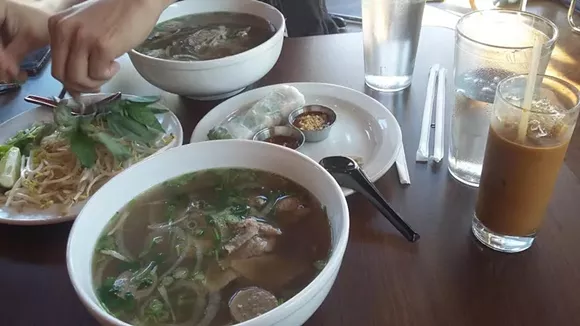 A short walk from the feverish momentum of downtown construction sits Detroit's newish dining establishment, Pho Lucky, which officially opened its doors today. We stopped in for a late lunch to check out place out (we weren't the only food writers doing so, we brushed passed Detroit News critic Molly Abraham on our way in).
We were greeted by owner Cong Nguyen, who told us he's barely slept in days, while gearing up to open his fourth Pho Lucky outlet in the metro area (there are locations in Redford, Novi and Southfield). This newest location sits smack in the middle of the M-1 construction zone at Woodward and Charlotte, inside the former Addison Eatery. While the timing of the opening makes it kind of tricky for customers to find their way in through a maze of orange cones and dug up road, we can just imagine this will be a prime stop once the street car is up and running.
The lighting from the near floor-to-ceiling windows is so inviting, as are the hosts, who are eager to tell guests about the menu and space. Communal tables against the back wall encourage folks to play a game of chess or other board games, and are covered with photos of the streets of Vietnam transport visitors to the birthplace of Pho (widely considered the nation's national dish).
Start off with a glass of Vietnamese iced coffee, which will give you a stealthy kick of caffeine. If you're at all familiar with Thai iced coffee, this is not the same as the Vietnamese version is strongly influenced by the French colonization of the Southeast Asian country, thus making it stronger in flavor and far less sweet. It's made with coarsely ground Vietnamese-grown dark roast coffee, brewed in a small metal French drip filter known as cà phê phin and poured over ice and sweetened condensed milk.
If you're thinking the spot's ginormous bowl of Pho is not going to be enough, try the summer rolls. Rice noodles, lettuce, pork and shrimp come wrapped in translucent rice paper. Add a dollop of Hoisin peanut sauce and lunch is off to an excellent start.
As for the Pho, the broth really makes it shine. It had just the right amount of spice, no one flavor overwhelming the dish - a near perfect balance. We tried the one with thinly-sliced ribeye and meatballs. We added a wedge of lime juice, fresh basil, Sriracha and Hoisin sauces and a dash of cilantro and the meal was complete.
Nguyen is working toward getting a liquor license to make use of the full bar. Once the light rail is in operation, we can just envision this spot will fill up fast each week night with workers taking the train there from downtown and Midtown just in time for happy hour.
We've tried most of the new restaurants that have sprouted up in the city's central core over the past few years, and we have to say Pho Lucky is a long overdue addition. If the city's dining scene is to thrive it will need a healthy dose of diversity in the mix. We look forward this place's success and will be on the lookout for more like it.