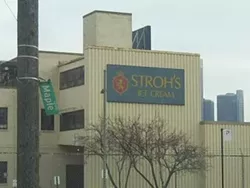 We've been hearing a lot about Stroh's in the news lately, what with its return to
brewing
in the Motor City. Now, its former ice cream facility is experiencing a revival, though in a different industry.
Detroit City Distillery has announced it will operate a 20,000 square foot production plant in the downtown space at 1000 Maple, adding to its existing distillery in Eastern Market. The two-year-old DCD now produces vodka, gin, and whiskey.
The site dates back to the 1930s when then competitor Goebel Brewing Company built the factory across the street from the existing Stroh's. In the 1960s, the latter beer making took over Goebel and converted the plant into its ice cream production facility.
Says partner and distiller John Paul Jerome in a news announcement: "It's pretty special to be making whiskey in the same place where Stroh's and Goebel grew Detroit's beer industry. Stroh's is making beer in the city again. New breweries and distilleries are opening. We're excited to build this industry in the city again."
A newly installed 500-gallon copper still, fermenters, and mash tun will be used primarily for making whiskey. The Freep
reports
that the three-level space is 10 times bigger than its current location (2462 Riopelle) will hold 100 oak barrels and will produce about 5,000 six-bottle cases of spirits next year.
The distillery also plans to offer custom production of new spirits for new brands looking to get started. The Freep story also says a rooftop bar or restaurant are also potentially in the works.
A grand opening of the so-called "Factory" will take place Sept. 22 to coincide with Eastern Market After Dark. For more information, go to
detroitcitydistillery.com.