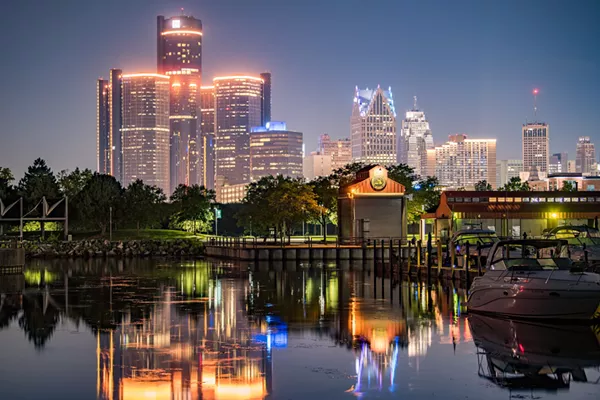 It's been about a year since Coach Insignia, the fancy restaurant located at the top of the GM Renaissance Center in downtown Detroit,
shuttered
. We wondered if the closure was
due to changing tastes
— perhaps people aren't all that excited to dine in high-rise restaurants anymore.
Well, it looks like another chef is about the give the space a chance. Shawn McClain, a James Beard award-winner, announced today he will be partnering with Riverfront Holdings, Inc. to open a spot at the top of the iconic building.
"We are proud to join the culinary explosion that's happening here in Detroit in partnership with General Motors in this spectacular location," McClain said in a press release. "We have a shared passion for the city and its innovative spirit. We're inspired by that bold creativity and aim to transform the space into a dynamic, multi-concept experience that's about so much more than the amazing views."
McClain says he will partner with his wife, Detroit native Holly McClain and use her front-of-house experience to craft the "hospitality DNA of the space." His partners, Richard Camarota and Sarah Camarota, will also be involved in the project.
Crain's reports
that a renovation of the Ren Cen's 71st and 72nd floors will begin in March and the yet-to-be-named restaurant is expected to open in the fall.
"A space of this magnitude and significance requires brilliance coming together from all disciplines," McClain said in the release. "Every detail is being meticulously crafted to unfold into an extraordinary experience for our guests, from the way we design and launch our brand story to the special and engaging ways in which we reinvent the space."
McClain, according to a press release, owns a number of restaurants in Las Vegas under an umbrella company called McClain Camarota Hospitality. The eldest, Sage, has numerous accolades under its best and was a semifinalist for a James Beard award its first year in business.
McClain, along with his business partners, also operated Five50 Pizza Bar and Libertine Social in Las Vegas.