The moment is here and we know you're happier than a pig in you-know-what. Whiskey, of course. Pig & Whiskey 2016, the epic summer celebration of booze, BBQ, and live music, is taking over the streets of downtown Ferndale Friday, July 15 - Sunday, July 17.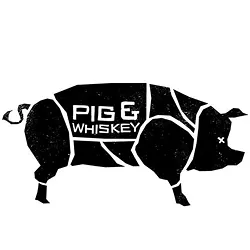 It's your chance to feast on a steady diet of BBQ, whiskey and beer – and gorge yourself on a foot-stompin' musical backdrop the likes of which comes along only once a year! A variety of Southeast Michigan's best barbecue joints and restaurants will showcase unique and delicious pork, beef and barbecue dishes for purchase.
Since preparation is key for events of such import, we've put together a handy guide of all the things you need to know.
1.
Location
: Downtown Ferndale on 9 Mile Road and East Troy Street between the WAB and The Emory.
Street Closures:
East 9 Mile (Woodward to Bermuda) and East Troy (Woodward to Lot #9 east brick wall) CLOSED 8:00 am Friday to 8:00 am Monday; Library Lot #10 CLOSED 3:00 am Friday to 8:00 am Monday; Falvey Lot #9 CLOSED 8:00 am Friday to 10:00 am Monday (southwest section to CLOSE on Thursday at 8:00 am).
2.
Time:
Friday, July 6 pm-midnight • Saturday 11 am-midnight • Sunday 11 am-11 pm
3. Food:
18 BBQ joints & restaurants will have items available for purchase including Crooked River, Detroit BBQ Company, Hog Wild BBQ, Jay Ray's BBQ, Mac Shack, Old Carolina, Red Wood Grill, Rock City Eatery Hamtramck, R.U.B BBQ Pub, Shredderz, Smoke Ring BBQ, Smoke Shack, Stonewood Smokehouse Bar and BBQ, Union Wood Shop, Vinsetto Garage, Woodpile BBQ Shack, Zeke's R&R and BBQ.
3. Drinks:
Over 70 whiskeys, bourbons, & scotches will be available for purchase, check them all out
here
. Plus, a premier selection of metro Detroit restaurants, bars, pubs, and expert drinksmiths will provide Pig & Whiskey goers with their finest Woodford Reserve cocktail creations in the Cocktail Corner from 7 p.m. on Friday to 8 p.m. on Sunday. You can vote for your favorite
here
.
Over 20 breweries and cider makers will also be there — in case you don't like whiskey yet. Beverages will be available for purchase from Angry Orchard, Atwater Brewery, Axle Brewing Company, B. Necktar, Ballast Point, Blake's Hard Cider, Boulevard Brewing Co.
Detroit Beer Co., Greenbush Brewing Co., Laguantias Brewing, Liberty Street Brewing Company, New Belgium, New Holland Brewing, Old Nation Brewing Company, Pabst Blue Ribbon Beer, Perrin Brewing Company, Roak Brewing Co., Rochester Mills Beer Co., Rockford Brewing Company, Samuel Adams, Short's Brewing Company, Small Town Brewery, and Woodward Avenue Brewers.
4. Cost:
FREE. Food/drink tickets will be sold.
5. Weather:
It's going to be warm this weekend, with temperatures ranging between a high of 79 on Friday and 87 on Sunday. Be safe, be smart, bring water, sunscreen, and a large hat if that's your style. Drinking whiskey in the sun is a luxury — don't screw it up by getting dehydrated or too drunk too fast.
6. All ages:
yup, it's true, you can bring your family and your younger friends, but hey, lil' Timmy can't drink unless he's 21. No exceptions. Don't even try it.
7. Entertainment:
we gotcha all excited when we announced that this year's headliners included Pig & Whiskey staple Goober & the Peas, Mustard Plug, and Electric Six. Music will start at 6 p.m. on Friday evening and noon on Saturday and Sunday. Check the full list of performers (it's a doozy)
here
.
Live music isn't the only action you can catch. Modern Skate and Surf's Extreme Team will perform their aerial acrobatics on a specially designed Extreme Sports "Half-Pipe" Ramp. A combination of skateboarders, in-line skaters and freestyle bike riders will dazzle the crowd with the athleticism, fun and excitement of their individual sports.Demonstration times are Saturday and Sunday (July 16 & 17) at 2 pm, 4 pm and 6 pm.
8. After-parties:
The Loving Touch is hosting two after-parties featuring some pretty killer lineups, and yes, it's free. The Scrappers, Destroy This Place
and YUM are set to play
Friday night
, and Queen Kwong, The Erers, and Minihorse will perform on
Saturday night
. Both parties begin at 9 p.m. and last all night.
Feel like you need more details or want to see some
great pictures from last year
? Head to
pigandwhiskeyferndale.com
and don't forget to
tag all your friends who want to go
.