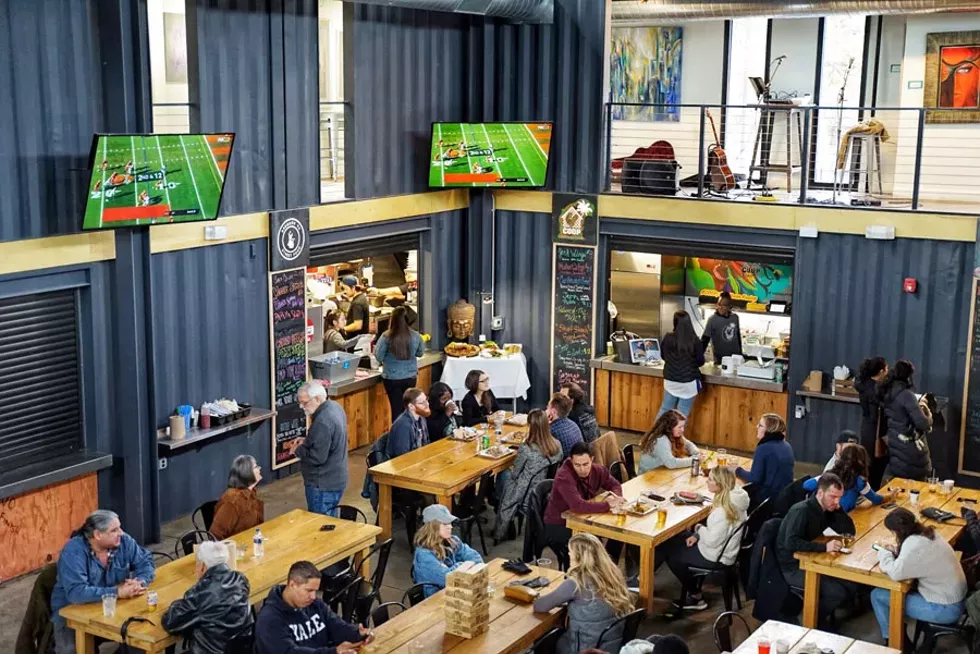 Tired of the typical candlelit restaurant for a date night? The next evolution of dining is entirely different: the noisy, active, and boisterous food hall.
The concept is so straightforward that once explained it could easily be mistaken to be a "food court," but the food hall resembles its mall counterpart in design only — that is, a number of stalls leased by different restaurant concepts which sit adjacent to one another. The difference is instead of, say, a Chick-fil-A bumped up against a generic Mediterranean fast-casual joint, the food hall is filled with stalls that house chef-driven concepts that work more cohesively as a unit. In terms of design, some food halls are neon-filled labyrinthine walkways with flanked vendors, while others opt for high ceilings, minimalist aesthetics, and spacious floor plans.
The food hall is at the intersection of a number of movements changing many American cities: communal spaces, higher density city centers, more culinary variety and experimentation, and exposure to local boutique brands. In essence, they could be viewed as tech incubators with less computer and more hamburger.
There's a chance you may have already visited a food hall in another city or country without realizing it. Boston's Quincy Market, Philadelphia's Reading Terminal Market, and Seattle's Pike Place were at the head of this trend. Although many of these establishments have become institutions in their own right, the food hall trend is largely seen as a phenomenon that has exploded in popularity in recent years. According to The Wall Street Journal, the number of food halls across the United States is expected to grow to 200 spaces by next year.
And this trend, much like the recent electric scooter trend, has taken residence in Detroit. The rollercoaster of 21st-century gastronomic revolutions that have changed how Americans approach dining has only made things better, if not simply giving us new typologies of dining space. Think of the food hall trend as just another course in a very appetizing meal.
Here's a look at how the trend has taken hold in Detroit:
Detroit Shipping Co.

474 Peterboro St., Detroit; 313-462-4973; detroitshippingcompany.com
Opened in July of 2018, the Detroit Shipping Co. food hall is housed inside a two-story stack of solid black shipping containers in Midtown's Cass Corridor. You enter into a large indoor courtyard with food stalls around the perimeter, seating in the middle, and a well-stocked bar to your right. Above the stalls is a balcony that doubly functions as an art gallery, featuring works by local artists. It's loud in the way that a lot of new restaurants are loud, with a DJ handling the music and occasional live performances.
Detroit Shipping Co. has come out of the gate with three restaurants and a café, with plans for more vendors to join them. Coop, a concept headed by chef Maxcel Hardy, offers a set of Caribbean fusion dishes. Bangkok 96 Street Food, from chef Genevieve Vang of Dearborn's venerable Bangkok 96 Restaurant, has brought her approachable Southeast Asian cuisine to the table. Brujo Tacos & Tapas, by chef Petro Drakopoulos, serves halal tacos and small plates, along with seafood. And rounding out the current roster is -320º, Nisharth Pital's café and nitrogen ice cream shop, which is located on the second floor.
More vendors are set to join this year. Retailers Armadillo Printwear and Podcast Detroit, an on-site podcast studio, round out the space's offerings.
Dining options: Coop, Bangkok 96 Street Food, Brujo Tacos & Tapas, -320º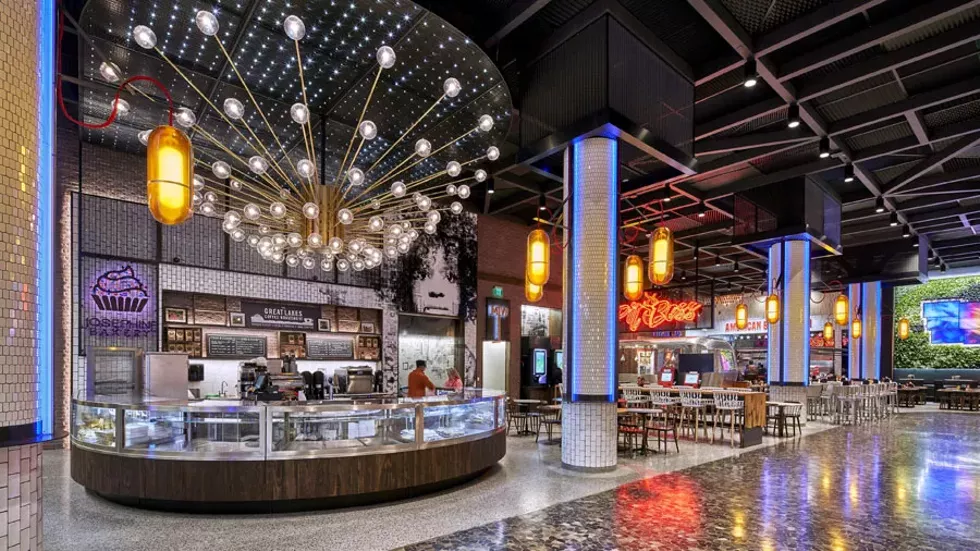 Monroe Market
555 E. Lafayette St., Detroit; 313-223-2999; greektowncasino.com
Tucked away inside Greektown Casino-Hotel is an expansive 11,000-square-foot food hall opened in April 2018, which first gained attention as being home to Noodle Art, one of the city's first dedicated ramen bars. Gourmets who navigate through the casino to find this gem will be rewarded by the myriad options (seven total) before them, from barbeque to ramen to Neapolitan pizza. The 280-square-foot living wall that encloses a video screen doesn't let you forget you're in a casino, but don't let it distract you from the incredible fare.
The interior of Monroe Market is a sight to behold. Notwithstanding Noodle Art being enclosed within its own glass hatch, many of the concepts have their own flair that separate them visually. For example, Pit Boss is inside of a retro Airstream trailer, and Tia Loca exhibits some Día de Los Muertos-inspired graphics, but the interspersed white tile pulls the hall together.
Monroe Market differs noticeably from the others by the fact that it isn't immediately accessible from the street, which may be a deterrent to people who are hopping around Greektown, but it has already proven to be more popular than the food court it replaced.
Dining options: American Burger Bar Basil Leaf Josephine Bakery Noodle Art Pit Boss Southern Fry Tia Loca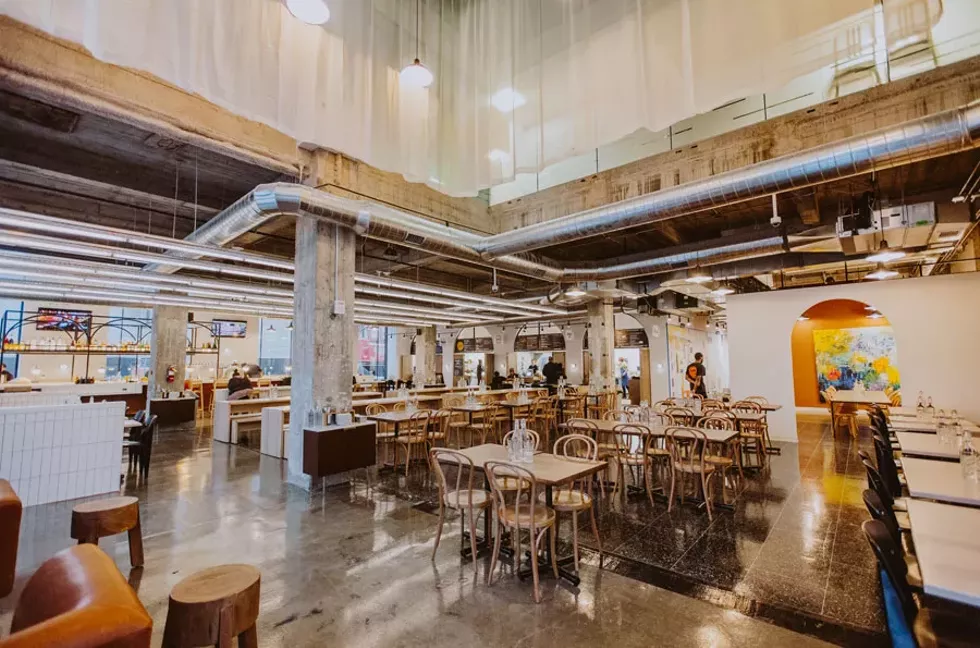 Fort Street Galley
160 W. Fort St., Detroit; 313-230-0855; fortstreetgalley.org
In the Financial District, downtown denizens now have a food hall of their own. Fort Street Galley, which opened in December 2018, has four distinct restaurants and a bar on the ground floor of the sunlit Federal Reserve Building.
This new dining hall's offerings include sandwich shop Allenby (from former Selden Standard chefs Michael Goldberg and Katie Nelson), Lucky's Noble BBQ (from Detroit's renowned restaurateur Jimmy Schmidt), Filipino concept Isla (helmed by the married duo, J.P. Garcia and Jacqueline Diño), and sushi fusion concept Pursue (from chef Mike Han) which combines 100 percent sustainable seafood with Detroit-grown goods. The bar component will be curated by Marlowe Johnson, who is moving to F.S.G. from the Candy Bar.
The project is the work of the Galley Group, which already has two food halls in Pittsburgh (the company's home base) and one in Cleveland. As a self-proclaimed "restaurant accelerator," this hospitality group's approach to the food hall is communal, with a model that sends 30 percent of each restaurant's revenue back to the Galley Group. Their next location is planned to open in Chicago this spring.
With such a strong ensemble cast, this new eatery is primed to be a lunchtime favorite this year.
Dining options: Allenby, Isla, Lucky's Noble BBQ, Pursue
So many restaurants, so little time. Sign up for our weekly food newsletter delivered every Friday morning for the latest Detroit dining news.