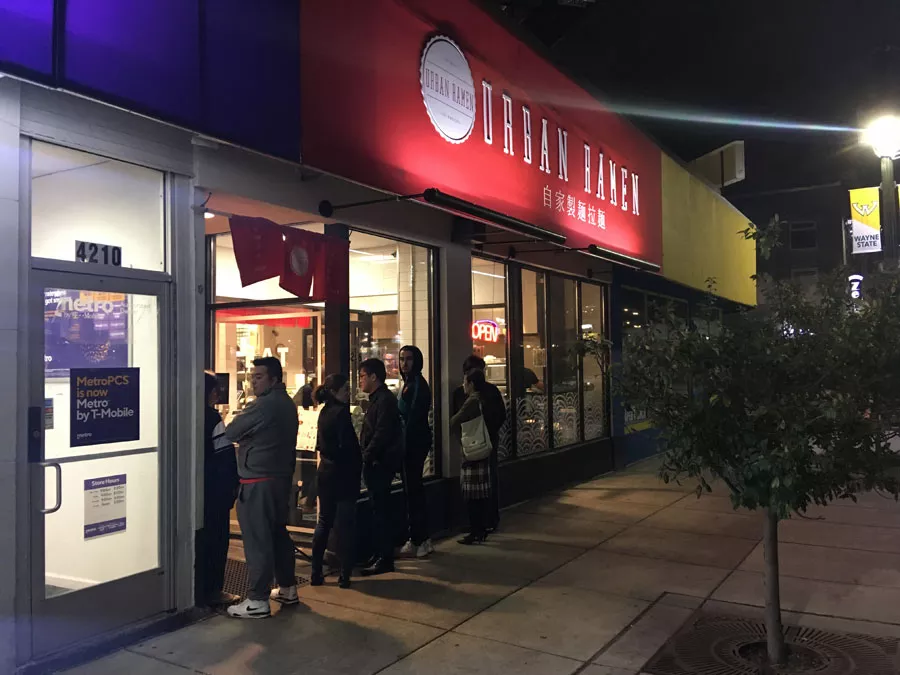 Sometimes when you're hungry, the sight of a line of diners winding out the door of a popular spot is enough to make you want to turn around and quickly come up with a Plan B. But other times, it's the whole point. At these metro Detroit favorites you can usually expect a wait, but it's always worth it in the end.
Urban Ramen
4206 Woodward Ave., Detroit; 313-285-9869; urbanramen.com
If you want to eat at the Detroit outpost of this Los Angeles-born eatery, you'll have to be patient. The small ramen spot frequently has a line, with customers chasing after the complex and deeply satisfying bone broth used in its dishes. Thanks to Urban Ramen's limited lunch and dinner hours, the kitchen has plenty of time to prep its fresh ingredients for the next wave of customers, ensuring you'll never receive a half-assed bowl of ramen here.
SheWolf Pastificio & Bar
438 Selden St., Detroit; 313-315-3992; shewolfdetroit.com
SheWolf opened to grand fanfare in July 2018, immediately attracting a well-dressed suburban clientele. But SheWolf isn't all looks: The Italian restaurant draws the crowds with its house-made pasta that uses whole wheat flour which is milled fresh from the grain each day. Even months after opening, SheWolf had so much buzz that the wait time for a table on a Friday or Saturday night was four weeks.
Gran Castor
2950 Rochester Rd, Troy; 248-278-7777; grancastor.com
A former Hooters, Gran Castor is Spanish for "Big Beaver," and offers Latin-inspired fare that doesn't pull its menu from any one particular country. Instead, you can expect inspired twists, such as the bánh mì taco. You can also grab a drink from Gran Castor's tequila-heavy cocktail menu, such as the "Hot Castor," which features tequila, cilantro, Thai chili peppers, and a chili powder rim.
Taqueria El Rey
4730 Vernor Hwy., Detroit; 313-357-3094; taqueria-elrey.com
Located in Southwest Detroit, Taqueria El Rey proves that not all tacos are created equal. The tacos at Taqueria El Rey are simple but tasty, offering classics like al pastor, beef lengua, barbacoa, and more. And did we mention the grilled chicken? It's some of the best in Detroit, meaning that the small cash-only taqueria often has a line out the door.
Dime Store
719 Griswold St. #180, Detroit; 313-962-9106; eatdimestore.com
When it comes to getting a good breakfast on the weekends, the early bird gets the worm. Even then, it might be a while: Wait times can be so long at Dime Store that you'll often spot diners seated in the lobby of Chrysler House waiting for a coveted table to open up. Featuring fresh ingredients that are locally sourced, Dime Store's brunch menu of eggs benedict, hash, and breakfast sandwiches is likely better than anything you could make at home.
Ima
2015 Michigan Ave., Detroit; 313-502-5959; imanoodles.com
When you're in the mood for food that's comforting any time of year, Ima should definitely be at the top of your list. Located in Corktown, Ima's Japanese udon and rice bowls are so diverse in flavor profiles that you'll be eager to come back for another slurp. Ima's tiny dining room and heated patio with communal seating means you might be elbow-to-elbow with other Detroit foodies, but honestly, that's OK with us.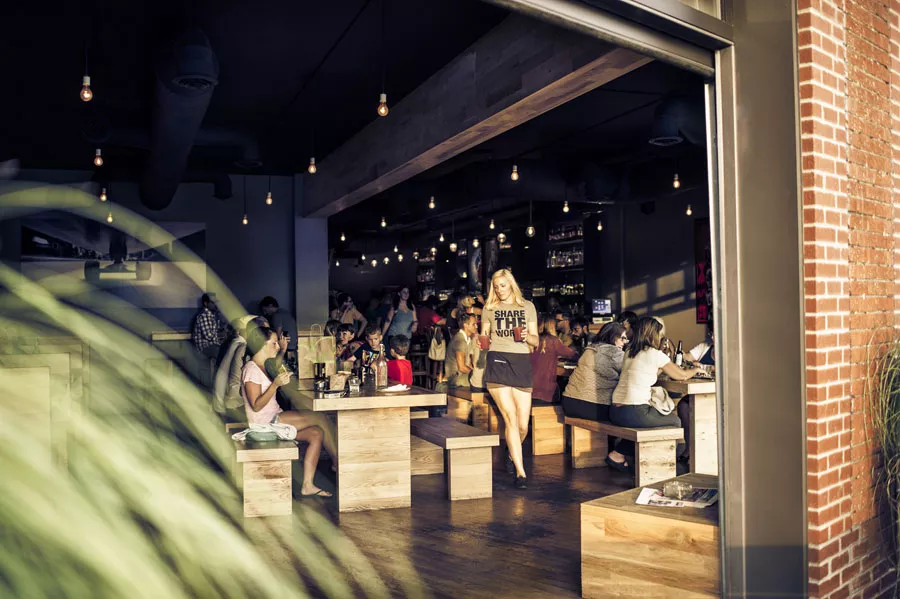 Imperial
22828 Woodward Ave., Ferndale; 248-850-8060; imperialferndale.com
Since opening in 2012, Imperial has been one of the most consistently busy restaurants in Ferndale, and it's easy to see why. Imperial's menu offers a diverse selection of Mexican street fare with a gringo twist, featuring classics like al pastor, barbacoa, and carne asada, along with several veg-friendly options and elote. Even years after first opening its doors, don't be surprised if you find yourself having to wait for a table.
Green Dot Stables
2200 W. Lafayette Blvd., Detroit; 313-962-5588; greendotstables.com
Green Dot Stables flips the script on bite-sized eats, with an inspired menu featuring a diverse range of flavors that will satisfy even the pickiest of palettes. Whether you want to try the tofu bahn mi, the crispy pork shoulder, or the mystery meat of the day, Green Dot Stables has plenty of reasons to come back. Even better than its sliders, the $3 craft cocktails will get you a buzz on a budget. The waitlist can be so long that the restaurant directs overflow to the covered patio, where you can sip on one of those aforementioned cocktails.
Original Pancake House
20273 Mack Ave., Grosse Pointe Woods; 313-884-4144
19355 W. 10 Mile Rd., Southfield; 248-357-3399
33703 Woodward Ave., Birmingham; 248-642-5775 originalpancakehouse.com
When you're in the mood for a classic flapjack breakfast, Original Pancake House delivers the good stuff with no filler. Making its pancakes from scratch using real cream, butter, and maple syrup, Original Pancake House knows that some of the best things in life are simple. Good luck trying to grab a table on a weekend morning though: you'll have plenty of hearty competition. (Protip: If you want to avoid the wait, consider eating breakfast for dinner.)
O.W.L.
27302 Woodward Ave., Royal Oak; 248-808-6244; owlwoodward.com
When you need a late-night bite but don't want to suffer the drive-through, you can head to Royal Oak's O.W.L., a (mostly) 24/7 diner serving Mexican-American comfort food. With offerings like chilaquiles, chicken fried chicken and gravy, and egg sandwiches that beat the hell out of a McMuffin, you'll quickly understand why O.W.L. has become a popular destination at any time of day. You might want to plan accordingly to avoid that after-bar crowd, when the small room can be packed like a sardine can.
So many restaurants, so little time. Sign up for our weekly food newsletter delivered every Friday morning for the latest Detroit dining news.