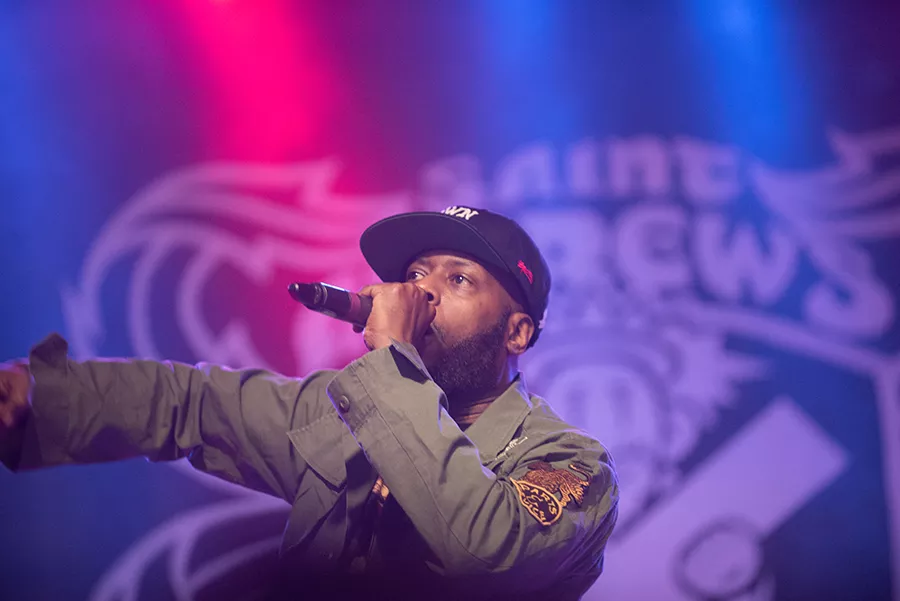 Detroit's hip-hop history and relevance has not only been embodied by hundreds of talented artists, but also by the venues in which they performed, sharpened their lyrical swords, and congregated. Every era of Detroit hip-hop had a record shop, clothing boutique, or performance venue that meant just as much to the hip-hop culture as the people within them. Some are vacant, some have been renamed, and others are still a part of the nucleus of Detroit's hip-hop scene.
Future Funk Records
In 1983 Jerry Flynn Dale befriended Carl Mitchell, owner of Future Funk Records on West Seven Mile Road between Montrose and Forrer. Mitchell allowed Dale to set up a makeshift stage and mic on Saturdays so the neighborhood's aspiring emcees could rap. The set-up was basic, but Dale's youthful vigor and Mitchell's storefront were enough to inspire ambitious hip-hop artists from all over the west side of Detroit.
"It was such an amazing time during the early years of rap music," says Dale. "We could do anything at Future, I dreamed about the future of making Detroit's first hip-hop record. I was like 12 or 13 when I first went in Future Funk, I lived on the same street as the record shop."
Future Funk was a key component in empowering and encouraging emcees during the years when Detroit hip-hop was still in its genesis. Emcees would battle, test out new songs, and could even sell their records at the store. Kalima Johnson (known as Nikki D during her emcee days) credits Future Funk for her early development.
"It taught me survival of the fittest in lyricism," she says. "It was my formative years and it taught me that black men who had very little could do so much. I learned more about humanity when the owner let some rappers in the hood live in the back of the store because they were homeless."
Future Funk closed its doors in 1992 and the storefront has changed names and businesses many times over the years, but its legacy lives on.
"No Future Funk records, no hip-hop records being made in Detroit," Dale says.
The Hip-Hop Shop
Just one year after Future Funk closed, Detroit entrepreneurs Maurice Malone and Jerome Mongo opened up The Hip-Hop Shop, a clothing store located directly next door to the old Future Funk storefront. Malone was an up-and-coming fashion designer and a promoter of hip-hop music. He had previously sponsored hip-hop nights at Stanley's Rhythm Kitchen and Saint Andrew's Hall and decided to bring that same energy to Saturday evenings at the Hip-Hop Shop (hosted by the legendary Big Proof). The Hip-Hop Shop is one of two venues that highlight Detroit's golden era in hip-hop, the other being Saint Andrew's. Slum Village, Black Milk, D12, Elzhi, Killa Hawk, B-Flat, Dirty Ratt, Royce da 5'9", Eminem, and 5Ela are just a few of the emcees that graced the mic. Even though the venue was no more than 1,500 square feet, it featured many notable emcee battles and kind of became a headquarters of sorts for everything hip-hop.
"A lot of cats were really honing their skills [at the Shop]," says longtime Detroit hip-hop artist Leaf Erikson. "They didn't know it, but they were actually building their networking skills. And on the mic, if you could survive at the Shop, you could survive anywhere at anytime. This was the era when open mic meant freestyle."
The shop closed in 1997, and would later reopened in 2005 (under different ownership) and again in 2014, but the storefront at 15736 W. Seven Mile is currently vacant. Footage from the '90s era at the Hip-Hop Shop can be enjoyed at thehiphopshop.com.

Saint Andrew's Hall
For more than 20 years Saint Andrew's Hall has been the most historic, unifying, and recognizable venue for Detroit hip-hop (and arguably for hip-hop overall). Saint Andrew's was originally built in 1907 and used as a meeting place for the Saint Andrew's Scottish Society. By 1994, ownership had changed and Saint Andrew's was using its three floors of fun to host up to 500 music shows a year.
The notable history and hip-hop moments that venue could tell would be enough to fill a 900-page book. Maurice Malone was one of the first to sponsor hip-hop performances there. Detroit promoter and label exec Ironside Hex talks about DJ Godfather, Q, and Mike Scroggs holding it down Sundays for WDRQ while DJs Don Q and Jewels spun on Friday nights for WJLB. DJ House Shoes would crack whack LPs against the wall while the crowd cheered and jeered and Proof hosted battle rap bouts in the Burns room on the third floor. The venue was so in touch with the needs of the hip-hop community that it opened at 10 a.m. the day after Big Proof was shot dead so Detroit artists and emcees could congregate and mourn.
Although the venue was (and still is) heavily used by national artists, it also has seen Prince grace the stage. There was also a secret Jay-Z show.
And then there was the basement of Saint Andrew's, better known as the Shelter. The Shelter is a grimy, grungy space where heated rap battles occured. The Shelter's culture was highlighted in the movie 8 Mile starring Eminem in which they filmed rap battle scenes on a soundstage built to look like the actual Shelter. Detroit hip-hop has always been an environment where the artists supported each other, even when fan support was questionable, and the history of Saint Andrew's embodies that. Saint Andrew's still stands at 431 E. Congress.
Lush
From the late '90s through the mid 2000s, Lush Lounge was Detroit hip-hop's Regal Beagle. "Lush was our generation's Hip-Hop Shop and the last true breeding ground in the city," says Derek "Finale" Cooper.
With the Hip-Hop Shop closed and as groups like D-12 and Slum Village were touring the globe, Lush personified the souls of Detroit's newest and notable emcees who were just discovering their voices.
"The Lush was for emcees who emcee," says Orlando "V-Stylez" Vesey, a regular during Lush's prime. "It was like you had to prove yourself there if you wanted respect. Raw Collection, Slum, myself, Big Gov, Obie Trice, and The Cardi Boyz — it was like a who's who of Detroit emcees that all rocked out there."
Lush Lounge, located at 10241 Joseph Campau Ave., closed in the mid-2000s. The storefront briefly reopened in 2008 as Trowbridge House of Coffee, but is currently vacant.
The Air Up There showcase
The Air Up There Hip-Hop Showcase is a phenomenal series started by superstar millennial artist Sheefy McFly in 2009. The showcase features the talents of newer Detroit emcees, as well as those from previous generations. McFly hosted the first 40 showcases on the last Saturday of the month at Bob's Classic Kicks, a sportswear store located at 4717 Woodward Ave. in Detroit.
"It seems unreal that it was virtually 10 years ago. You could see Dej Loaf, Danny Brown, Phat Kat, Guilty Simpson, Clear Soul Forces, and Miz Korona all at the same show," says McFly.
McFly has limited The Air Up There to a once-a-year event held at various venues, but acknowledges that the Bob's era was the best. "We had the shoe store so packed people would be in the middle of Woodward partying," he says. "I still do it once a year to preserve my generation's hip-hop culture, and to have a platform for emerging emcees in Michigan."