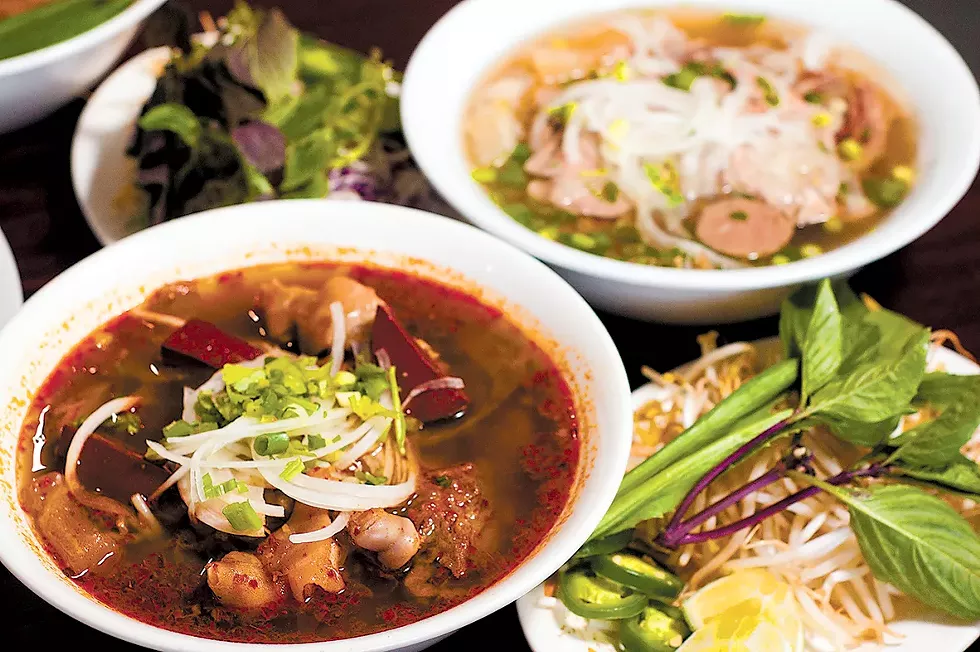 Detroit isn't a city that's known for its multiculturalism in quite the same way as places like New York, Los Angeles, or Toronto. But it's home to a growing number of immigrant communities and underrated kitchens run by Vietnamese, Mexicans, Jamaicans, Hondurans, Lebanese, Egyptians, Bangladeshis, and more who are turning southeast Michigan into a far more interesting place to dine. Here are six of our favorite dishes that put Detroit's culinary diversity on display.
Honduran catrachos at Antonio's Coney Island in Ypsilanti
2896 Washtenaw Ave., Ypsilanti; 734-905-7321

Honduran food is one of the more underrated cuisines of the world, and though it's not well-represented in metro Detroit, there are several spots to find the Central American nation's excellent dishes. Among those is Antonio's Coney Island in Ypsilanti Township, where there's an ever-growing population of Honduran, Guatemalan, and Mexican immigrants. At Antonio's, try the catrachos, which are billed as chicken enchiladas, though they're likely not what you expect. Honduran-style enchiladas at Antonio's come on a crunchy, deep fried shell and resemble a taco or tostada. The shell is topped with a rainbow mound of moist ground beef, crunchy bright pink and orange cabbage slaw, hardboiled egg slices with slightly runny yellow yolks, soft green wedges of avocado, red tomato slices, and a dusting of white parmesan cheese.
Vietnamese Bun Bo Hue at Thuy Trang in Madison Heights

30491 John R Rd., Madison Heights; 248-588-7823
Perhaps the closest thing metro Detroit has to something like Seattle's International District is the sea of 1970s strip malls and mid-century real estate developments that are the fabric of Madison Heights
That's where you'll find the region's best Vietnamese cuisine, and the go-to dish in the northern suburb is pho. But another soup that shouldn't be overlooked is the bun bo hue, a wild bowl native to the central Vietnamese city of its origin, Hue (pronounced "way"). It's for those who won't mind pig knuckles bobbing in their broth, and no one should, because those knuckles and their marrow, along with the chunk of coagulated pig's blood that looks like a small slice of dark jello in your soup, produce a funky, ferric flavor that complements the soup's lemony base. Thuy Trang serves it under a small pile of green and white onions with round rice noodles, and the package is infused with a hit of sate, a chili and garlic oil, leaving a spicy broth with a volcanic color pallete.
The re-invented shawarma at King's in Dearborn
4618 Greenfield Rd., Dearborn; 313-551-3027

Dearborn once held the world's largest population of Middle Eastern expats (a title now held by Los Angeles), and the biggest group to land here and lay roots several generation back are those from Lebanon. Over the years, they've turned the city into a food mecca, and there's no more well-known export from their cuisine than the shawarma sandwich. Though there's not a lot of reason to tinker with a classic, King's Bakery — a small mom-and-pop Lebanese shop in Dearborn — did just that. Its chefs made small-but-transformative adjustments to shawarma sandwiches by swapping out the pita for manoush, a Lebanese flatbread that it coats with a thick layer of mozzarella or achawi cheese.
A manoush is traditionally served under a layer of meat, cheese, or za'atar, but it turns out that it wraps well around shawarma, as well. The bread differs differs from pita in that it's pressed semi-thin and cooked quickly in an open-flame oven that gets as hot as 1,000 degrees. That high heat and short stay in the oven leaves the bread with char spots that take on a "leopard print" pattern and render the outer edge of the bread a little crisp.
The best place to start on King's menu is the chicken shawarma "manouwhich," which is stuffed with charred shreds of salty chicken pulled from the spit, filled with pickles, and arrives exploding with garlic sauce. Adding a layer of stringy, fatty, oily cheese to that mix — think of it as a pizza folded over, if you really need a reference — changes the chicken shawarma experience.
Oxtail at Motor City Soul Food in Detroit
12700 W. Seven Mile Rd., Detroit; 313-863-7685

Detroit is a city that's 80 percent African-American — thus there's arguably no better place in the country to find rib tips, greens, macaroni and cheese, whiting and other Southern and soul food standards. Motor City Soul Food in Northwest Detroit is where you'll find some of the best soul food, and the brightest spot on its menu is the Mississippi-style oxtail. An order comes with around a dozen 2-inch bones covered in loose, fatty, gelatinous meat that borders on decadent. The gravy in which the kitchen submerges the tails is big on flavor and salty, like nearly everything in the restaurant's menu. While delicious in any weather, oxtail is really a classic comfort food and something to look forward to ordering again during the winter.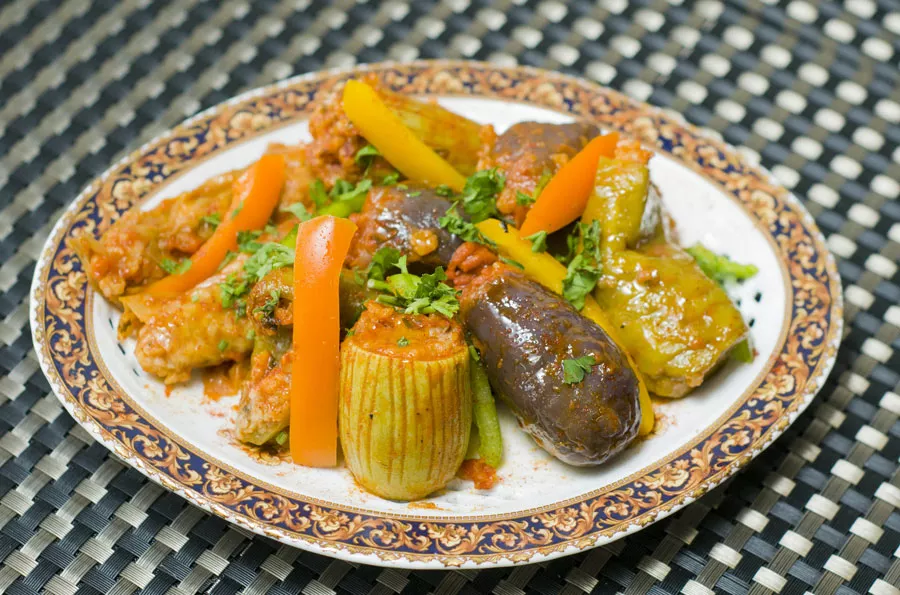 Mahshy at Lolo Potluck in Troy
3950 Rochester Rd., Troy; 248-817-6763

Troy is perhaps not the place where you'd expect to find a fine representation of Indian, Oaxacan, Guatemalan, and Mediterranean cuisine. Yet it's becoming one of metro Detroit better culinary cities for its diversity.
If you're familiar with metro Detroit cuisine, then you know that when we say Mediterranean food, we almost always mean Lebanese. But there's more to the Mediterranean Sea than Lebanon, and the Egyptian Lolo Potluck is proof that the region's other cuisines are worth a look. The small restaurant bills itself as a Mediterranean-Egyptian eatery, and it specializes in mahshy, a common, colorful Egyptian plate that's similar to grape leaves. But Lolo's replaces the grape leave wraps with cabbage, eggplant, or green pepper, and Egyptian grape leaves — unlike those of Lebanon — are always vegetarian. The meat won't be missed because Lolo's stuffs the wraps with a super fragrant, red mix of rice, tomatoes, onions, parsley, dill, and cilantro along with a hit of cumin. It's cooked for an hour, which breaks down the purple eggplant or white cabbage shells a bit and leaves the package soft and warm.
El Parian Taco Truck in Southwest Detroit
(A truck is usually parked in front of a party store at Vernor Highway and Ferdinand Street. Another El Parian truck is usually parked at the corner of Vernor Highway, Waterman Road, and Dix Street)
It's hard to find a properly prepared al pastor taco in Michigan, even in Southwest Detroit, where the city's signs are in Spanish, and ancho and guajillo peppers are sold by the sack. But one of the best sports for the slightly sweet and salty pastor pork — the kind with brightness and depth — is El Parian taco truck on Vernor in Southwest.
That's partly attributable to Parian charring its pork and carving it from a spinning trompo, a Mexican spit similar to what we usually see used with gyro meat. That gives it the right and proper texture and flavor, though utilizing the trompo is a semi-rare practice in Detroit, as many seem to lamely favor the griddle.
Parian's al pastor comes laced with caramelized onion, covered with the requisite layer of diced onion and cilantro, folded into a warm corn tortilla, then served next to more caramelized onions and a grilled jalapeño. Don't forget the acidic marinated onions, carrots, and radishes.