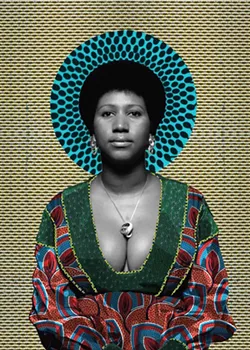 Omo Misha says Detroit's new Irwin House Global Art Center & Gallery wasn't set to open its doors until next year. The death of soul singer Aretha Franklin on Aug. 16 changed that, however.
The gallery is located just blocks away from Franklin's father's New Bethel Baptist Church on Linwood Street and the singer's childhood home on LaSalle Boulevard. "Of course, right away people started to gather there," says Misha, the gallery's director. "We're sitting right in the center of the heart of where she lived and cultivated her career and legacy. So with that I just felt we have to rise to the occasion."
Irwin House had been in the works since 2012, when local residents Valerie Irwin and her late husband, Council B. Irwin, Jr., acquired the property with the idea to display their art collection. Upon Franklin's death, show curators Misha, Sabrina Nelson, and John Sims set to work finding artists to help turn the former house-turned-doctor's office into a gallery fit for the Queen of Soul.
The list of participating artists includes Amber Doe, Amir Bey, Cyrah Dardas, Arthur Bacon, Donald Calloway, jessica Care moore, John Sims, Kim Hunter, Ingrid LaFleur, Makeba Rainey, Marsha Battle Philpot, M.L. Liebler, Noreen Dean Dresser, Sabrina Nelson, Santo'nio, and Steven Lopez. The exhibition is set to feature paintings, sculpture, photography, installation, digital, video, conceptual, and literary art — all dedicated to Franklin and her music.
There will also be artist talks, readings, and performances at the space throughout the exhibition's run. An online component found at arethasupernatural.com will also feature works from artists from around the world who could not fit into the show.
But the goal, Misha says, is to help the local community heal and celebrate.
"Aretha touched people internationally and across cultures and generations, but Detroiters have a special relationship with Aretha — she was ours," Misha says. "I think if you grew up and were around during any part of the '60s and '70s at the beginning and the height of her career, in some way she's a part of each of our identities. I knew that artists would want to express their thoughts and feelings about Aretha and her impact on each of our lives and the city of Detroit. And we wanted to create a space for them to do that."
Supernatural Woman: Tribute to the Queen has an opening reception featuring performances by Kim Hunter, Mahogany Jones, and M.L. Liebler from 5-8 p.m. on Friday, Sept. 21, Irwin House Global Art Center & Gallery, 2351 W. Grand Blvd., Detroit; 313-932-7690; irwinhousegallery.org; Admission is free. Show runs through Jan. 21, 2019.
Get our top picks for the best events in Detroit every Thursday morning. Sign up for our events newsletter.