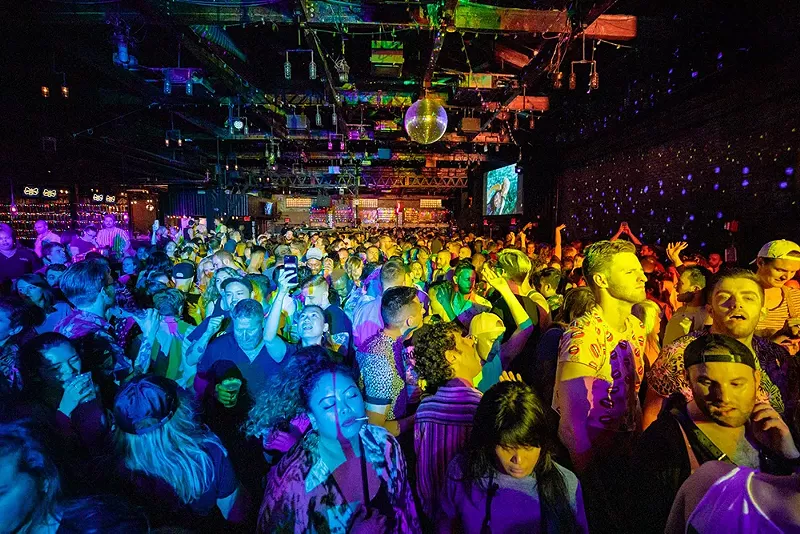 Summer's just around the corner, which means it's time for Pride Month celebrations to kick off across the world. Below are some of the big ones in and around metro Detroit. (Did we miss any? Let us know: [email protected].)
6/1
Willis Show Bar
Doors at 7 p.m.
Willis Show Bar; 4156 3rd St., Detroit; 313-788-7469;
willisshowbar.com

Pride Month celebration with Baddie Brooks, Tailen Toliver, Kevin Christian, Ian Griffths, Todd Watts, Jake Coon, and Aye Flat. Tickets are $10 advance, $15 day of show.
6/2
Ypsi Pride
4-10 p.m.
Ypsilanti's Depot Town
facebook.com/YpsiPride

This year's pride celebration in Ypsilanti features two stages of entertainment including acts like DJ Myint, Fearless Amaretto, and Baddie Brooks.
6/3
Ferndale Pride
12:30-10 p.m.
Downtown Ferndale
ferndalepride.com

Ferndale has long been considered metro Detroit's gayborhood, so of course a big pride celebration is set to return. Things kick off with an opening ceremony and rally, followed by vendors, drag performances, and entertainment from acts like DJ Deanne. There will also be services like free health screenings, an AA Brown Baggers meetup, a children's play area, and more. After the street party ends at 10 p.m., the festivities will continue in Ferndale's bars and nightclubs.
6/7
Pride Month Cake Decorating with April Anderson of James Beard Semifinalist Good Cakes and Bakes
6:30 p.m.
Frame; 23839 John R Rd., Hazel Park; 313-788-7469;
framehazelpark.com

A two-hour cake-decorating workshop led by James Beard Nominated Outstanding Baker April Anderson of Good Cakes and Bakes. Participants can sip on drinks while they work and get their own cake to take home. Tickets are $95 per person plus fees.
6/9
Pride+ and Allies Poetry Open Mic
6–7:30 p.m.
The Room Project, 6513 Woodward Ave., Detroit
insideoutdetroit.org

The InsideOut Youth Advisory Board invites youth and adult poets to perform at the Pride+ and Allies open mic. The event is free, but advanced sign-up preferred, with a few spots available for walk-in poets. Light refreshments will be served.
6/10-6/11
Motor City Pride
1-9 p.m. on Saturday, noon-6 p.m. Sunday
Hart Plaza
motorcitypride.org

Detroit's big Pride celebration returns with two days of entertainment in Hart Plaza. While last year's Motor City Pride looked backward, paying tribute on the 50th anniversary of the first pride march in Detroit, this year organizers are highlighting up and coming LGTBQ+ artists, includingGLAAD Award Breakthrough Artist 2023 Nominee French singer Jordy, Jasmine Kennedie and Robin Fierce from RuPaul's Drag Race, and local acts Siena Liggins and Synthia Looper, among others. Other festivities include a march on Sunday sponsored by Jeep, more than 140 vendors, and a family area.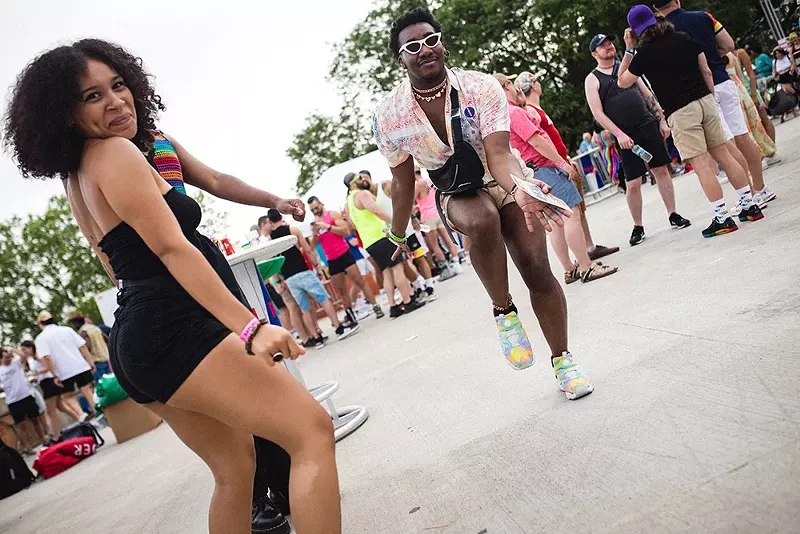 6/17
Grosse Pointe Pride
1-3 p.m.
The Village, corner of Kercheval Avenue and St. Clair Street
wegp.org

Grosse Pointe's 7th annual family-friendly pride event is set to include a march, music, activities for children, a selfie station, and more.
6/17
Livonia Pride
11 a.m.-1 p.m.
Livonia Civic Center Park
facebook.com/events/1223582008522184

Livonia is celebrating its first annual pride, presented by the Livonia Democratic Club and Livonia Human Relations Commission. The free event will include educational and support service organizations, refreshments, and activities for all ages. Guests are encouraged to bring personal items to donate to the Ruth Ellis Center.
6/24
Pride in the Park
1-4 p.m.
Rochester Municipal Park, 400 6th St., Rochester
actionnetwork.org/events/rochester-pride

The third annual Pride in the Park event will feature live music, food, guest speakers, swag, and more.
6/25
Berkley Pride Block Party
Noon-4 p.m.
Downtown Berkley, 12 Mile Road and Robina Avenue
downtownberkley.com/berkley-pride

The second annual Berkley Pride Block Party will feature entertainment, food, and more, though details have yet to be announced.
6/25
Saint Clair Shores Pride March
11 a.m.
23001 E. 9 Mile Rd., Saint Clair Shores

The Saint Clair Shores Residents for Equality group presents its second annual pride event. Following a rally, a 1.5-mile march will take place up Jefferson Avenue to Blossom Health Park to the end of the pier and then back to the start.
6/25
Blue Water Pride Festival & March
10 a.m.-3 p.m.
McMoran Place, 701 McMorran Blvd., Port Huron
bluewaterallies.com/events

Port Huron's family-friendly pride festivities include a march, trivia, performances, vendors, artists, and more.
6/25
Queens in the Garden Summer Dinner with Chef Allie Lyttle
Seatings at 4 p.m. and 7 p.m.
Frame; 23839 John R Rd., Hazel Park; 313-788-7469;
framehazelpark.com

Includes dinner and a live drag battle, with proceeds benefiting Affirmations Detroit and Corktown Health. Tickets are $85 per person plus fees.
6/26
Ferndale Pride Golf Scramble
9 a.m. tee time
Rackham Golf Course, 10100 W. 10 Mile Rd., Huntington Woods
rackham.golf

This classic golf scramble features prizes in men's, women's, and nonbinary competition groups for closest to the pin and longest drive, plus food from the Detroit Hot Sandwich Company, and a celebration presented by 215 West and Tito's Handmade Vodka.
7/8
South Lyon Pride
Noon-5 p.m.
McHattie Park, S. Lafayette St., South Lyon
facebook.com/SouthLyonPride

Details have yet to be announced for South Lyon's third annual Pride in the Park event — stay tuned!
7/14-7/16
Hotter Than July:
Various locations
lgbtdetroit.org/hotterthanjuly

Launched in 1996 to celebrate Detroit's Black LGBTQ+ community, Hotter Than July holds the title as the world's second oldest Black LGBTQ+ Pride. This year's festivities includes a candlelight vigil in Palmer Park, a performance by New Orleans rapper Big Freedia at Motor City Casino Hotel's Sound Board, a worship service, an awards brunch, and more.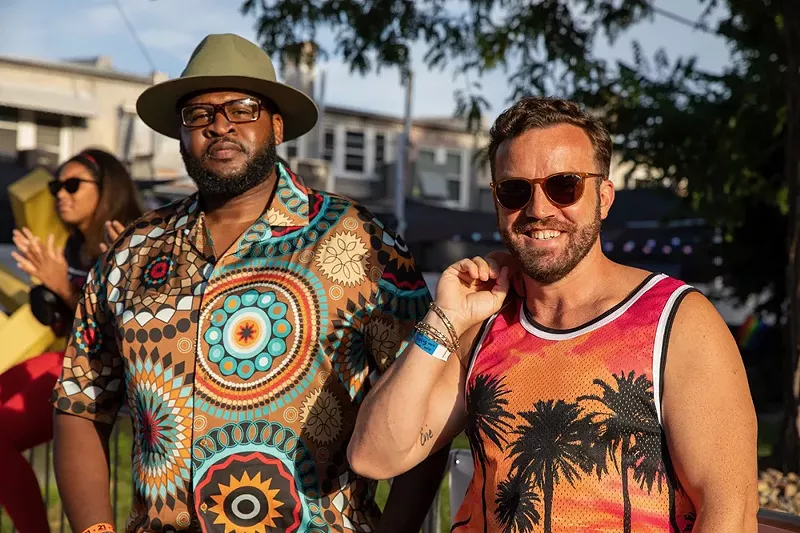 7/15
Pride in the Wild
6-10 p.m.
Detroit Zoo, 8450 W. 10 Mile Rd, Royal Oak
detroitzoo.org
Tickets are $35
This all-ages, family-friendly event features performances by RuPaul's Drag Race star Monica Beverly Hillz, along with local drag artists, aerialists, DJs, and food and beverages. Proceeds support Affirmations, the Ruth Ellis Center, and Ferndale Pride.
8/4-8/5
Royal Oak Pride
Times TBA
Washington St., between 5th and 7th, Royal Oak
royaloakpride.com

In 2022, Royal Oak brought back its pride celebration for the first time in 20 years, drawing some 20,000 attendees over two days. While details for this year's event have yet to be revealed, plans include live music, vendors, and more.
8/5
Ann Arbor Pride
Times TBA
Downtown Ann Arbor
annarborpride.com

First launched in 1995 as OUTFest, Ann Arbor has celebrated pride since 1995, when it was originally known as OUTFest. Details for this year's event haven't yet been announced, but you can be sure organizers are going to go all out.
8/26
Transgender Pride in the Park
Noon-6 p.m.
Martin Road Park, 1900 Orchard Ave., Ferndale
transgendermichigan.org/transgender-pride

The 24th anniversary celebration of Transgender Pride in the Park is welcome to all transgender people and their allies. Festivities include a picnic (bring your own food), vendors, ​and more.
Subscribe to Metro Times newsletters.

Follow us: Google News | NewsBreak | Reddit | Instagram | Facebook | Twitter