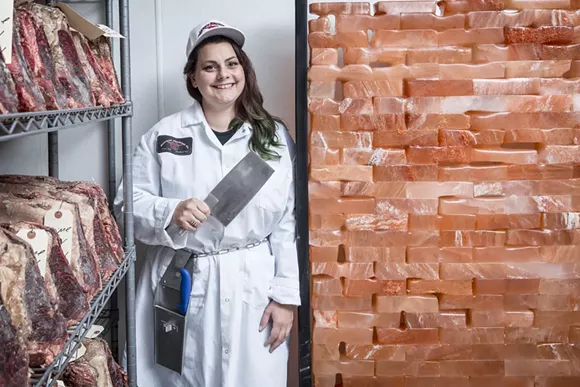 By now, most of us are familiar with those striking images of pigs, cows, or chickens crammed in suffocating pens, unable to move — much less roam free — before they're killed, strung up, and hacked apart limb by limb.
The confinement is enough for an animal to go mad with panic. They shove one another, they bite, leaving one another bruised and scarred, which results dull-looking, tough cuts of meat that are often chemically treated to pump color back into it before it's packaged and sold in the supermarket.
"I just find [industrial farming] so unnecessary," says Larissa Popa, a local chef and butcher.
Instead, you may find her feeding fuzzy, spotted piglets, posing with cattle grazing on a sunny pasture, or helping a farmer collect fresh eggs.
She knows the farmer by name, knows the type of grass the animals ate, and knows that when it was killed, it was done painlessly. She'll tell you that an animal that's lived a happy life is richer in flavor, and its flesh is bright red and marbled beautifully. And when you taste her rustic Eastern European-inspired cuisine, you can taste the difference.
Chefs like Popa, Kate Williams, and Jessi Patuano are of a generation of women who are taking a nurturing approach to the male-dominated field of butchery, by restoring a more personal connection between farm, chef, and diner.
It's a logical next step for meat in the Great Lakes State, with our rich tradition of hunting and agriculture. Culinary giant Brian Polcyn put Michigan on the map in the '90s as a hot spot for charcuterie (and has served as a mentor to countless culinary students, Popa included), while old-school Allen Park eatery Moro's has been dishing out in-house butchered veal chops to hungry Detroiters for the past three decades.
These days, Popa is active in every stage of an animal's life right up to the moments before it's slaughtered, and takes pains to use as much of the animal as possible in her cooking.
We first met Popa, who goes by the moniker "The Meatstress," at Eastern Market, where she gave a demonstration in breaking down half of a 300-pound heritage pig carcass. Students looked on intently, as with one hand she sliced each cut with razor precision and the other to guide her along the connective tissue. Sitting on the sidelines was the pig's owner, Michelle Wordhouse of Wordhouse Farm in Belleville, to answer questions about the swine's former living conditions.
Another fan of Wordhouse Farm is Williams, who opened the meat-centric Republic Tavern in the GAR building in 2015. Like Popa, Williams is intent on taking a nose-to-tail approach and keeping as much of her cooking as hands-on as possible.
Williams is working on opening Lady of the House, a Corktown eatery that focuses on local farm-based, European-influenced cuisine, where she can provide diners intimate service. In the months leading up to opening, she's been hosting a number of pop-ups in Eastern Market, "Lady of the Market," where she can offer a taste of what's to come on her menu.
"I almost don't even eat meat out anymore unless I know the farmer, which is weird coming from someone who's 'meat-centric.' Otherwise, I'm a vegetarian," she tells us as she breaks down a small lamb, to be used for a series of private dining events.
Others like chef Jessi Patuano, are finding that having butchering skills gives a promising cook a competitive edge in the increasingly crowded Detroit restaurant market.
Patuano has worked with some of the biggest names in cooking locally, including for chef James Rigato at the Root in White Lake, chef Luciano Del Signore, and chef Garrett Lipar, formerly of Torino and Marais.
She tells us she found her calling in a similar manner as Popa, while under Polcyn's tutelage. After that, her relationship with animals and meat began to change. During her stint at Torino, she and Lipar covertly converted a wine chiller into a curing chamber inside a pine box, where they cured and aged a pig that Patuano helped raise.
"For a girl who grew up in the suburbs of New York, I never thought I would do this, but it was very rewarding," she says of the experience.
Lately Patuano has focused on the agricultural impact that society has on food culture and sees herself one day becoming a sort of liaison between farmers and chefs — a job that she says would begin to wash away the lines between urban and rural.
"Honestly I think we're on the brink of something very important, we're heading in the right direction, where people are having more of a sincere interest in knowing where they're getting their food," says Patuano, who now works with chef Nikita Sanches at Rock City Eatery.
While we may be on the brink, the demand is still slow to catch on locally. Detroiters are accustomed to the convenience and affordability of the commercially slaughtered meat they can find at Kroger, and most wouldn't bat an eye to think about where the ground beef comes from at their favorite burger joint.
Earlier this year, we reported on the struggles that the owners of Melo Farms in Yale were having to stay in business. Similar to Wordhouse, Melo Farms specializes in raising grass-fed Berkshire and Mulefoot pigs, which are slaughtered and processed for sale. Co-owner Melody Nye told us at the time that the concept wasn't resonating with Michiganders the way she and husband Lynne had hoped.
Still, chefs like Popa are starting to enjoy a loyal following. Her occasional pop-ups always attract a crowd. And she's traveling all over the country, learning more about her trade, and competing in competitions (at times the only woman standing).
It's all in preparation to one day, perhaps, owning her own butcher shop, where she'll be able to have that same connection with farmer, animal, and guests.
"I feel like if we're going to kill something and we're going to eat it, we have to respect it, it should have a good life, and we should cut it up properly and do it good, and make something tasty out of it," she says. n