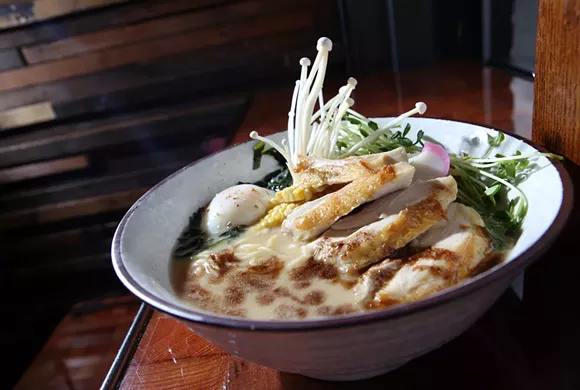 Things in bowls are expressions of love. Sure, other food can substitute for those three words we all find so hard to say when we really need to, but when the snow is falling and you're curled up in bed sick, there's nothing better than a steaming bowl of something delicious. What's our proof, you ask, for this rather forceful claim?
Cross-cultural prevalence. Not to get too academic with you, but when you see the same sort of thing appearing spontaneously and separately in numerous locations, it supports a theory that there's something universal underlying it all.
Let's take one specific item for a test-run: big, brothy bowls of translucent, shimmering elixirs; stocks decorated with an abundance of garnishes from every category, from noodles to meats to dumplings to vegetables and herbs. There's nothing quite like a soup with a little bit of everything, and every culture produces its own spin.
Chef Takashi Yagihashi, once of the hallowed Tribute restaurant, created a noodle bar in Chicago to replicate the comfort food of his youth — or, as he puts it, the "quest for the Everlasting Noodle." In 2014 he brought the burgeoning business to Ann Arbor, a perfect spot for a unique but recognizable restaurant. His ramen bowls are generous and delicious, and it's hard to go wrong. For your first visit, start with something on the menu — we suggest the Tan Tan if you like pork and spice, or the Shoyu Tofu Mushroom if you like deep, rich umami. Once you've acclimated yourself to the basic broths and noodle arrangements, then go wild, mixing and matching from the extra toppings to turn your bowl into something personal and special, because that's what comfort food is.
Alternately, your comfort ramen might look a little more like the Dorm Room Ramen at Johnny Noodle King. There's nothing to be ashamed of for loving that packaged ramen (cup or noodle cake,) because emotions and food are mixed up in some complicated ways. Instant ramen holds a special place in comfort food because of its immediacy — skip the delayed gratification, and go for the instant relief. Feel no regret for loving the salty simplicity. Order your college comfort meal as a thirtysomething when you need to feel better like you did as a freshman, or your favorite stay-in treat with your girlfriend on a date. Order it proudly, and enjoy it conspicuously. Life's too short to pretend to hate what you love.
In Vietnam, the same type of dish appears as pho. It's not that there haven't been Vietnamese restaurants serving incredible broths before now, quite the contrary. The spotlight, hopefully, gives them a chance to showcase their individual personalities in deep, beautiful bowls of broth. At What the Pho, (for the classically punny restaurant name, two points to you) a bowl of pho bo is affordable and wildly filling. Two orders would comfortably serve four, with enough broth to bathe in. Sliced beef, meatballs, rice noodles, limes, basil and mint leaves, scallions, sprouts, jalapenos, the list of garnishes seemingly goes on and on, and yet we couldn't stop sipping the plain broth. It's all in the broth in a good bowl, of course; if the broth is weak, then the bowl is too. The best broths in the world might have been simmering in the same pot, revived and re-fortified each night, for years. The broth at What the Pho is as rich and textural as the most ancient of grandmother's sauces, and needs no improving upon to be enjoyable. Truly, the garnishes and condiments are merely garnishes and condiments, the star the broth and noodles.
Comforting brothy bowls also abound in Eastern Europe, home of Jewish deli food ... and to the chicken soup mish-mash, more or less the Jewish equivalent of ramen or pho. The bowl to beat is bubbe's, but if you can't have her make you some, go to Steve's Deli and get theirs. The wide bowl is filled with golden, salty chicken broth, guaranteed to cure your ills; thin egg noodles, rice, fluffy yet substantial matzo balls, and the very classic kreplach (ravioli-type dumplings); last, soft and sweet carrots, emblematic of old-world Jewish food, and a wish for good fortune. There's not the abundance of freshness that you find in a bowl of pho or veggie-heavy ramen, but instead a deep, soulful, healing richness that feels as old-fashioned as the soup itself. Jewish penicillin, indeed.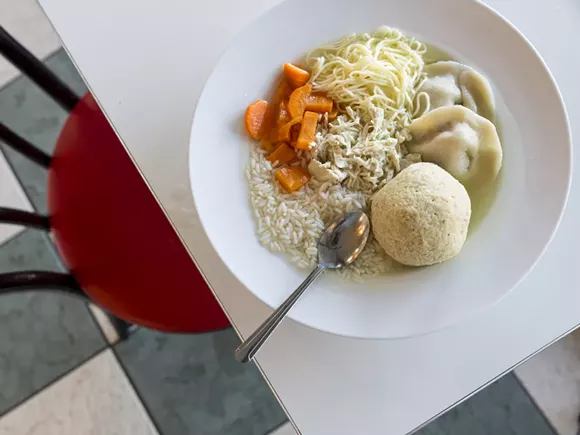 Then there's Mexico, home to menudo, or tripe soup. Quit shivering, it's just a texture you're not used to. Fortify yourself with courage and drag your friends to Los Galanes in Mexicantown (or to Carnival Market if you're lucky to be up near Pontiac). We're back to some bright garnishes here, with diced onions and fresh cilantro, alongside the cooked vegetables in the soup; a rich and gelatinous broth that coats the spoon and warms the belly with a chili heat and a beefy boldness (seriously, you'll need a napkin to wipe that delightful cow fat off your lips). The beef tripe is pleasingly slippery and perfectly tender, melting away as your teeth push through it. If you eat calamari, you can eat tripe. It's like a noodle, but savory. Eat a bowl, large size even, and feel like your Mexican grandmother has hugged you close and made everything better — even the stuff that you didn't think was wrong.
Doesn't have to be broths, though, that go in bowls. Breakfast, lunch, or dinner, you're guaranteed to find a good bowl of food in Detroit.
At Parks & Rec, the biscuits and gravy aren't exactly the same as when they opened, but still a damn fine breakfast dish. There's a poached egg on top, and the runny yolk combines with the sticky, porky gravy to make for one hell of a sauce on a very dense biscuit. Thank goodness for the little bit of greenery as garnish, just enough brightness to make you feel like you're not a terrible human being. Get a bottomless mug of coffee or a properly poured mimosa and enjoy starting your day in a bowl.
Grab lunch at Bill's Eat & Drink, home to a stick-to-your-ribs bowl of meatballs and polenta. Veal, pork, and beef are mixed with cheese and herbs to make juicy, robust meatballs. There's creamy polenta, smooth as silk and with a buttery, soft flavor. Sweet marinara sauce and house fresh ricotta cheese.
For dinner, La Rondinella could bowl you over. Since opening, Dave Mancini's long-awaited second act, La Rondinella, has steadfastly served up superlative Italian food, and every night he produces a pasta del giorno. Strictly speaking, pasta doesn't always end up in a bowl at area restaurants, but it often does in Italy. From rustic vegetable-and-herb pestos to deep, braised meat sauces, every variation on the theme is solidly constructed and well executed. It's amazing what Dave and his crew can pull off in the limited kitchen space — and despite the stresses of their sister restaurant's eternal popularity.
While bowls do make it into fine dining, that soothing vessel of hot, uplifting food is more often the workhorse of humbler tables. For instance, crushed lentil soup is a staple of Middle Eastern restaurants all over the area, and many of them do it great justice, seeming to have used their old recipes to great effect: Pita Café serves a great version, creamy and just thick enough, the puréed lentils and vegetables coalescing into a beautiful yellow soup that satisfies in numerous dimensions. Cumin and coriander inflect the taste, and a squeeze of lemon juice at the table brings everything into a sharper focus, the lentils soaking up the flavors they were cooked with and bringing them through together.
Minestrone is a staple of many Italian restaurants, and Buddy's Pizza's stands out because it's a thick and creamy soup, not a thin broth with veggies. Satisfying with a pack of oyster crackers or alone, it's the classic mix of vegetables, beans, and noodles, cooked just so and flavored well with tomatoes. The thickness makes the flavors linger longer on your palate, making the minestrone filling and satisfying even in the deepest and darkest of winters.
Russell Street Deli in Eastern Market, though, provides the heartiest opportunity to enjoy a good soup. They make use of their creative potential by producing a bewildering array of soups (OK, eight or nine) each day, and selling them until they run out. There's a rotating cast of favorites, supplemented by a few that seem to either work more seasonally or offer for more varied use of ingredients. The deli has made a whole business out of their soups, selling under the market sheds and running classes for the public.
Everything good about food can be found in the right bowl, at the right table, with the right people. Enjoy. n