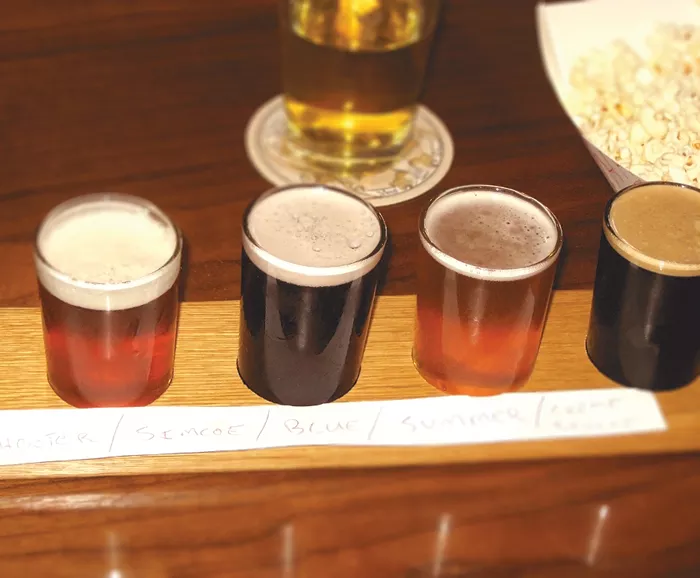 Kuhnhenn Brewing Co.
5919 Chicago Rd., Warren.
586-979-8361, kbrewery.com.
Open Monday-Thursday: 11 a.m.-midnight; Friday-Saturday: 11 a.m.-2 a.m. Call for hours Sunday.
The part of Warren where Kuhnhenn is located is about as different as you can get from the rest of the city's broad-brush zoning and seven-lane roads. We later learn that it's actually a historic settlement known as Beebe's Corners, and the 1920s buildings and quaint angle of street (oriented along nearby Red Run Creek) give this little enclave an unusual charm. But there's plenty more that's charming; when we arrive, we find a hi-lo parked outside, and suppress a giggle about that.
Walking in the door, you can tell this is a serious microbrewery. The malty smell hits you smack in the face as you walk in. We found a mostly male crowd engaged in a bit of mild after-work revelry, though a younger crowd trickled in as the evening progressed. They were a bit of a challenge to pin down, not hipsters (only one half-beard) but not all that square-looking either (a few tattoos and only one baseball cap). Our friend suggested they were maybe people who went to Mo Pop, sort of the alt-rock end of a blue-collar twentysomething crowd. He added, "Like, look, that girl's wearing a headband. Like Coachella!" Suffice it to say, Kuhnhenn has a good mix, sort of like one of those "up North" bars where young and old pile in together to enjoy a little bit of everything.
Bear in mind that "everything" doesn't include food. But Kuhnhenn keeps its popcorn machine running full-tilt. You can douse them in salt, butter salt, or even Sriracha.
We settled down to drink, starting with a good contrast, pitting a pint of Kuhnhenn's classic American pilsner against a 10-ounce tulip glass of DRIPA. Naturally, the IPA was alcoholic (9.5 percent alcohol by volume) and very hoppy. The pilsner was a good American-style beer, something you might give to your hop-averse friends, very similar to a can of mass-produced beer, but with more definition and a fuller body. We ordered a "flight" of five beers, which came out in a wood frame that called to mind that "correction" paddle Mr. Kincaid had in shop class.
We tried quite a few of the little pours. We tried a beer called Simcoe Silly, a bitter, blond, carbonated, American-Belgian brew with fruit notes that kept us guessing (our helpful bartender pinned it down as a pineapple-mango). We tried the Blueberry Tart, which was dark, fruity and a bit sour, with a full nose of blueberry. Our favorite was the highly alcoholic Summer Wonder Peach Lager, 13 percent ABV, with an unmistakable trace of bubble gum to it.
Was that as boozy as these brews got? A friendly barkeep clued us in: Their taps are a little lighter in summer, but their board is a little high as they go. We took one last stab at a Hibiscus Tawny Port Pyment, which registers at 15 percent ABV. It was enough to curl your tongue, a blast of fruity sweetness followed by a whack of bitterness, sort of like a fresh pomegranate. The tension between bitter and sweet helped distract us from the high alcohol content.
It's a great craft beer destination. Chances are we'll be back with a friend to have him try some of the malt-forward brews, including Shooter McGavin, a malty dunkel rye, and the crème brûlée java stout, rich with coffee, cream, and sugar notes. Both improve as they warm up on the bar.