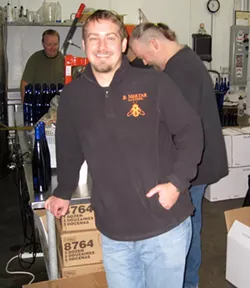 In a light industrial section of Ferndale is one of the city's fastest growing businesses. This thriving enterprise is hidden away behind an auto supply warehouse off Wanda Street, and it's filled with a half-dozen men churning out quality product in a room that smells more like a cider mill than a manufacturing facility. That's because, instead of cranking out fittings or belts, these workers are bottling craft mead at B. Nektar Meadery.
Founder Brad Dalhofer says he's been a craft brewer for a long time, but only started on mead to make a special batch for the toast at his wedding. "A year later," he recalls, "my wife got laid off. I just kept on with making mead — and the mead started getting really good. I'd been trying to find some meads in the stores, but there was really nothing out there, and my wife came up with the idea of starting a business and selling it. Since she was laid off she had the time to spend on doing the research on getting a license and stuff. We pretty just made up our minds all of '06."
Even after joining forces with their brewer friend Paul Zimmerman, the group's vision was modest. "You know, none of us had any idea how small or big, we just thought it would be nice if we could sell some of the stuff we were making in the basement," he says with a laugh. "That was the scale of our imagination at the time."
It took two years for them to get the necessary licensing, and they opened their doors in August 2008. "We had a line of about 300 people at our grand opening here in this warehouse, it was like out the door," Dalhofer recalls. "I think we all just pretty much looked at each other and said, 'This is something bigger than we expected!'"
Why is mead so hot right now? Dalhofer says the rise of craft brewing and the new food movements are making people care more about what they're eating and drinking. "It seems like the stars just happen to be aligned in the right way where people are ready to try mead again after thousands of years."
Of course, Dalhofer also says the quality of their mead is unlike anything else made in Michigan. Unlike many meaderies, B. Nektar's product isn't syrupy sweet, and they produce some exciting flavors, more than 31 in all. Every month they try something new in extra-limited batches, sometimes as small as 30 gallons, with such imaginative flavors as pineapple coconut, raspberry-chipotle, and Ethiopian harrar, as well as varietal meads that take their flavors right from the flowers the bees feast upon, be it orange blossom, buckwheat, tupelo, wildflower or star thistle.
Dalhofer stresses that his meads are a mix of sweet and dry, and he tries to keep the selection surprising. "We're homebrewers, so it's all about playing and experimenting. Some of the things we make are more wine-like and some of the things we make are more beer-like. It's the nature of the honey. Buckwheat has this grainy, almost beer-like quality. But tupelo and our dry orange blossoms are a lot more like wine."
The company is meeting with great success, going from a basement business a few years ago to producing about 400 cases of mead a month distributed in several states. "We're almost at the point where we need to expand," Dalhofer says. "We'll probably have to expand by next summer."