There's buzz around first generation Nigerian chef's Godwin Ihentuge's soon-to-open Yum Village — not just for his jollof and hot pepper short ribs, and not just because he'll offer a rare chance to taste the piquant dishes of West Africa, but because the born-and-raised Detroiter baked into the concept a social component that he says is as important as his recipe book.
Ihentuge says Yum Village's wages start at $12 and move up to $15. The restaurant offers net equity payout for chefs who create menu items, provides health care help, and Ihentuge says he has mostly hired young chefs from Detroit. Yum Village also functions as an incubator for aspiring restaurateurs. Once the new restaurant opens, Tracy Garley of Liberian-style Culture in Bowl and Elihu Muhammad of North African and French concept Cilantro will also work out of the location. Ihentuge also stresses that his prices are affordable, so most everyone in the city can eat there.
The brick and mortar space — which Ihentuge says will likely open at 6500 Woodward Ave. in Detroit's New Center in early 2019 — comes after the Yum Village food truck spent the last few years posting up at West Village's biergarten. We spoke with Ihentuge about his plans for the restaurant and why it's important to treat your employees well.
Metro Times: Let's talk a little bit about the type of food that diners will find when Yum Village opens.
Godwin Ihentuge: Significantly on that block, my father used to work for the state of Michigan, and there used to be an import store on West Grand Boulevard where he would grab things like plantains and come back home and he would prepare traditional African and sometimes Caribbean food, and that's what I ate growing up.
I do think that in a city that's a majority people of color, it's important that there's food that's within their heritage and ancestry, and they can get it at an affordable rate. I grew up in the city. I grew up on Seven Mile, I went to U of D Jesuit, then I went to Wayne State after my undergrad, so I've been in the city for a very long time. My mother worked at the Neighborhood Services Organization. So we are focused on doing African and Caribbean food that's affordable and accessible to the populace of Detroit.
MT: Did you decide to go to New Center because you have some history there?
Ihentuge: Yes, the place was in New Center — a block off Woodward, right before Jam Handy. Like I said, I grew up here, worked as a marketing manager for the Mosaic Youth Theater, worked in the Fisher Building, so I've just been around that area a good portion of my life. While I have adopted West Village and I appreciate it, I do identify with New Center.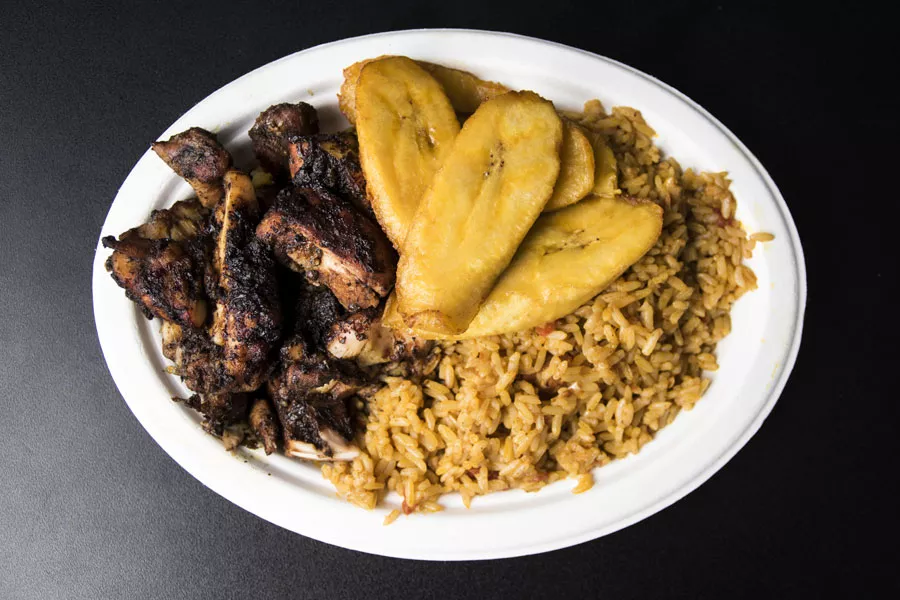 MT: Why is it important for you to include a social component in your concept, and be generous with your employees?
Ihentuge: Having been in the industry myself, I know there's so many things associated with the social system — especially as a person of color growing up in a city that's primarily black. I have to do a lot of things that a lot of my peers haven't had to go through. I don't want to play the blame game, but having gone to a place like U of D Jesuit ... I feel like, without that school I'd be in a different boat, but at the same time I feel like a lot of my peers who aren't people of color have things like an uncle or an aunt or a family member to call upon to give them a loan to jump-start or catalyze their business. I still pick up jobs here and there. Even me, owner of Yum Village, I'm making $11 per hour — not because I need to, but because I want to be in the system and see what's happening.
A lot of these people don't have proper transportation to get to work. You can make more money as an Uber driver than you can in some restaurants, there's not a lot of training associated with it. There's a lot of reasons this industry is going to buckle. I would love to see a restaurant that has the same people working there for two to three years in the same way as in other industries.
Look at the auto industry — those companies have measures that they put in place to make sure they can hire talented people and keep talented people. These kind of measures aren't done nearly as much as they should be at restaurants. I feel that the industry as a whole is suffering, so it's important for me to start doing those things now.
Five years down the road we can say to talented people working for us, "Hey, you don't just have to work for us, we'll help you start your own Yum Village, we'll even help you fund it." If possible, we'll even take part in it. I've seen that model happen. If you look at David Chang's Momofuku, he birthed quite a bit out of that, including Milk Bar, which is the baby of one of his chefs, and he helped incubate it. I think that that's a key. There's a lot of room for that here. You want people to build and grow with you versus "Here's $10.50 an hour — grind it out, no health care, no sick leave."
MT: What are your top three dishes at other Detroit restaurants right now?
Ihentuge: Ima (2015 Michigan Ave., Detroit; 313-502-5959; imanoodles.com) does the Yaki Udon with a butter-sesame oil that's pretty good. I usually like to get it with the chili shrimp, or by itself. It's the only non-broth item on the menu, and it's very filling and extremely tasty.
At Maty's African Cuisine (21611 Grand River Ave., Detroit; 313-472-5885) I think they have lamb and mafe, but I like to get the fish and mafe — I'll get that fish, then I'll break off the piece that separates from the bone and put it into my mafe.
I think my third dish — it's hard to pick — I don't eat much pork, but chef Aaron [Solley] at Craftwork (8047 Agnes St., Detroit; 313-469-0976; craftworkdetroit.com), he's got, during his happy hour, a brined pork chop on a toasted butter brioche bun with a side of sriracha. That thing is good! I got to give him his props for that one.
So many restaurants, so little time. Sign up for our weekly food newsletter delivered every Friday morning for the latest Detroit dining news.