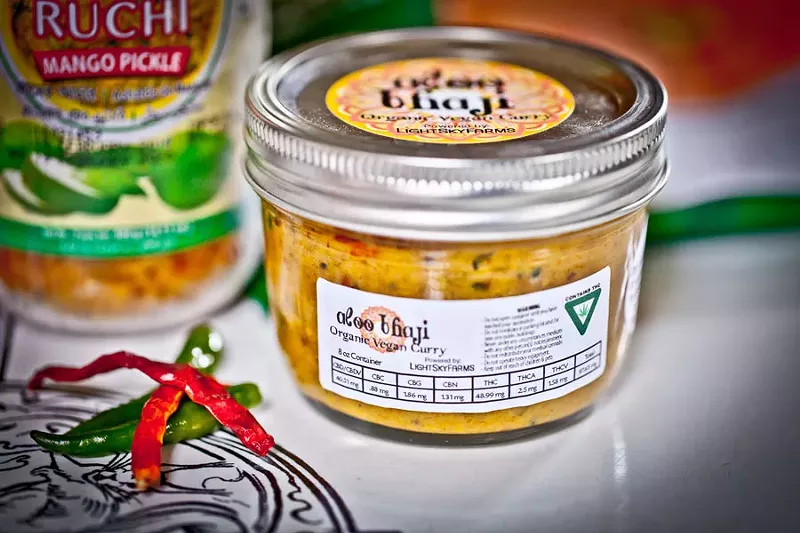 Have you ever had an epiphanous food moment after eating a delicious, expertly crafted dish, basking in the overwhelming sense that life is awesome? Just imagine what it would be like if your food also had weed in it.
Perhaps some of the voters of Michigan did when they voted to legalize recreational cannabis use in November by approving Proposal 1 — which opens the possibility of multi-course banquets where joints are passed back and forth between nibbles of weed-infused terrines, elegant pastas spun in canna-butter, and desserts dusted with kief.
Despite pot being officially legalized on Dec. 6, there's a problem — there's nowhere to buy it yet, and Michigan's GOP-led lawmakers have so far attempted to thwart the growing industry at every turn. It could be more than a year before products are available to purchase in stores for recreational use.
In 2018, small companies operating under the Michigan Medical Marihuana Program produced some truly interesting cannabis-infused edibles, only to have their business cut off at the knees by a stringent set of regulations on their sale issued by Michigan's Department of Licensing and Regulatory Affairs, which bars the sale of products that require refrigeration and prohibits edibles from being marketed as candy. Popular brands like Zilla's Performance Products — which won 1st Place at the 2018 High Times Cannabis Cup Midwest for its La Supreme Crème Biscuit — had to undergo a complete rebrand and redesign of its packaging. The cartoon dinosaur on its labels was now out of code, as was the bear-like shape of its gummies.
The overwhelming majority of applicants for medical marijuana licenses were denied this past July, with the state granting only 37 licenses. Some applicants say that the new licensing process itself is so financially prohibitive, it will force them out of business. Then, in December, Republicans introduced legislation that would prohibit Michiganders from growing their own plants at home, as Proposal 1 allows, almost as though they only want other rich idiots to benefit from the lucrative new market.
Despite all this, the small brands that made some of the best edibles in 2018 are still chugging along. Their coolest products — like the winners of September's Midwest Cannabis Cup — can't even be bought in MMMP provisioning centers. But to give you an idea of what you're missing out on — and perhaps what's in store in the near future, as Michigan gets its act together — we enlisted the help of Devin and Jimmy, two budtenders at Detroit's Reef provisioning center, to show us some of their favorites. (All participants in this story preferred not to use last names.)
Lightsky Farms
Lightsky Farms captured second place in the CBD edible category at the High Times Midwest Cannabis Cup for its Aloo Bhaji, a vegan potato curry, the result of their collaboration with the Cooks' House restaurant in Traverse City. Our experts found that the 1:1 ratio of CBD and THC made them feel mellow, with the potential to help patients with stress. Our tasting panel found the flavor to be balanced, with "a phenomenal mix of herbs and spices," according to Jimmy, who ate his with rice. Devin had his with quinoa, and found the flavor "earthy."
Lightsky Farms owner Shannon is a former winemaker, and says the transition to his new life working under the MMMP was a natural one, owing to his agricultural background. For his Cup-winning curry, Shannon starts with one CBD-rich strain and one conventional strain, extracting cannabinoids from live plants using a hydrocarbon method.
You might not be able to find its Aloo Bhaji in local provisioning centers, but MMMP patients can still purchase its vape cartridges and CBD concentrate, which both won first place in their respective categories at the Midwest Cup.
Afternoon Delite
Our experts were excited for Afternoon Delite's Peanut Butter Cheesecake, which won first place in the Edible Category at the Cannabis Cup. "I have a huge sweet tooth," Devin says. The owners say their intention was to create an edible with a flavor free of terpenes — compounds that give cannabis its aroma — which might turn off less-seasoned patients.
The dessert contains layers of light, airy filling, crumbled chocolate cookie base, and a tiny peanut butter cup on top, and it was a big hit with our tasters. It reminds Devin of his all-time favorite, the Reese's Blizzard.
The latest round of regulations mean that its cheesecake is not available in local dispensaries, but Afternoon Delite says that valid MMMP cardholders can contact it directly to place bulk orders.
Herb & Legend
Herb & Legend founders Andrew and Mike are really proud of their Cannabis Cup — so much so that when we make plans to meet them for coffee, it's displayed on the table when you arrive. This year the duo won first place in the CBD edible category for My Wellness Bar, a 1:1 mix of CBD and THC made with Michigan cherry and almonds, as well as chia, flax, pumpkin, and hemp seeds — the result of their longstanding intention to create a healthier edible.
"I'm a Type 1 diabetic, for almost 10 years now," says Mike, who spent several years working in Michelin-starred kitchens. "I'm also the chef behind the Twax candy bar, which is kind of ironic."
The edibles on offer for Michigan patients are still mostly sweet confections, and Herb & Legend have the most recognizable. The Twax bar, their signature candy bar, can no longer be referred to by its original name according to the new rules against candy-like edibles, though they say they were never served a cease and desist by Twix's parent company, Mars, Inc.
The Herb & Legend bar comes in a 100 milligram dose, although regulations will soon cut this in half. The version produced for the Cannabis Cup was 250 milligram. It was a big winner with our tasting panel.
"This is something I eat a lot of the time," Jimmy says. "And it really helps me get through the night with a full night's rest." Both agree that the 100 milligram dosage was good for patients with a little more experience, and that the taste was on point.
"Truthfully, it tastes just like a Twix bar," Devin says.
So many restaurants, so little time. Sign up for our weekly food newsletter delivered every Friday morning for the latest Detroit dining news.