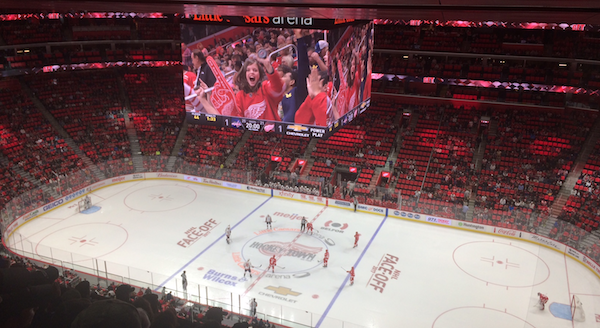 Perhaps you saw the news item that appeared in
The New York Times
last week concerning basketball crowds at Little Caesars Arena — particularly the amount of empty seats. We had a friend who was given tickets for great seats for a recent Friday game — and noted that there was plenty of room around their party.
The story prompted plenty of commentary, which makes sense: When the Gray Lady reports on your small town, local media often turn into one big "Letters to the Editor" section.
But one thing did surprise us — that the commentary mostly stuck to the way the situation was framed by the
New York Times
. There was scant mention of the empty seats seen at hockey games as well. (See photo above.)
Well, now that pretty much everybody seems to have had their say, we wanted to conduct our own absolutely unscientific poll too, to find out for ourselves what people had to say. So we all asked about it on social media. (What did you expect? You thought we'd shell out for a landline poll?) What we heard was a mix of the expected and the surprising.
One explanation revolved around Oakland County residents either staying away, either on principle or due to unfamiliarity. Or maybe it's that Wayne County residents still have yet to arrive en masse. We heard:
• The Northern Oakland fan base hasn't found their way down yet.

• Because many suburbanites still don't want to come into the city. They should be giving away shit tons of tickets to actual Detroit residents, especially youth and families and have a solid discount program for low-income residents to continue after they get attendance up. You can't make money in a city with no money after you spent what money we had on a damn arena.

• Lots of season ticket holders in Oakland County, maybe. Not worth the drive on a weeknight now.

• The way they announced leaving the Palace in the middle of the season last year was lame. They lied to the entire area. Bill Davison built a legacy to have Tom Gores rip it apart to be apart of the "young energy" downtown. These young millennials that are excited to live downtown aren't going to Piston games.

• The people more likely to go because it's downtown haven't really figured it out yet. Give it time.
A few people seemed to blame trends in general or the Pistons in particular.
• Sportsball events are down all over it seems.

• They weren't selling out the Palace either.

• The Pistons are just coming out of years of mediocrity, and while they've gotten better, they lack true "super stars."

• While the team should get more tickets to families and kids in the city, the "people don't want to travel from the suburbs" argument works for two seconds. Go to a Tigers or Lions game and it falls apart immediately. Look at the concentration of the population living along the city's border — literal millions of people live closer to LCA than the Palace. When the Pistons were championship contenders, The Palace would sell out during away games just so fans could watch en masse on the jumbo screen. If the product is good, the people will pay to watch it. We're only 13 games in.

Others clearly felt the expensive tickets, parking, and refreshments played a bigger role than the team, of which opinions ranged widely.
• Don't think it has to do with the quality, at least for the Pistons. They're probably not as good as their early 10-3 record, but they're still going to be Detroit's only playoff team this year. It's an enjoyable product, but the prices are too high. I couldn't believe all the $40 parking signs as I drove down Cass the other day.

• Detroit sport fans are cyclical. With the Wings and Tigers being down, the Pistons have a window to get back over with the people. Winning cures all. But for now, bad team, $35 parking, and $4 bottled water is enough to keep the blue-collar fans away.

• Seems like a simple answer: the teams aren't very good, and people won't pay high prices to see crappy/mediocre teams.

• Tickets down in the lower bowl are $140.

• This shit is just too expensive. Seriously, the lower bowl seats are insanely overpriced, the parking is a scam, the QLine isn't a cure all, "cheap" beers are $9.50.

• It costs an arm and leg to go to a bread-and-circus event, and people are finally starting (somewhat) to see it all for what it is.

• Too expensive for me, and I'm a big fan.


•
Ask any Red Wings fan who hasn
'
t been to a game at the new arena why they haven
'
t yet attended and they
'
ll likely tell you it's the ticket prices. Nosebleeds were around $85 a few weeks ago, which is what I paid for a second round playoff game four years ago. The only reason I went is because I got the tickets for free. Because $85 (not including service fees) along with the cost of a beer or Redpop is a lot of money for three hours of entertainment in Detroit. If you consider watching the poor product the Wings put on the ice from LCA
'
s ceiling entertaining. Most of us will wait until later in the season when there
'
s less interest and the new shine wears off. That
'
s when the ticket prices will likely drop a bit.

Still, some of the most interesting comments were from fans who seemed to agree that appearances can be deceiving.
• Corporate tickets in the lower bowl promote fair-weather fans who don't stay for the whole game and watch it from televisions all over the venue.

• The type of fan who will pay $140 or was given a free ticket isn't interested in sitting in a seat.

• There are a lot of reports that the cheap seats are full.

• I've been to three Pistons games this year because the secondary market for great seats has been awesome. (Lately I've been buying $150 tickets for $30.) It's worth noting that a lot of those empty seats are paid for. Also, especially on the sidelines in the lower level, the people there have a club behind the seats with food and drink they can duck in and out of, so a lot of people do that. The lower bowl at LCA is super big, and the upper bowl is fewer rows and way high up, so you can't see the cheap-seats people on TV, and if you're at a game, you'll notice more people in the affordable seats on the on the ends than the expensive ones at mid-court. Also the seats are bright red.

• I will say the crowds have been fun. They've been younger, more diverse, and loud at the right times towards the end. The place is always nearly empty for the 7 p.m. tip-offs, though. People are still really trying to figure out how to get in the building.