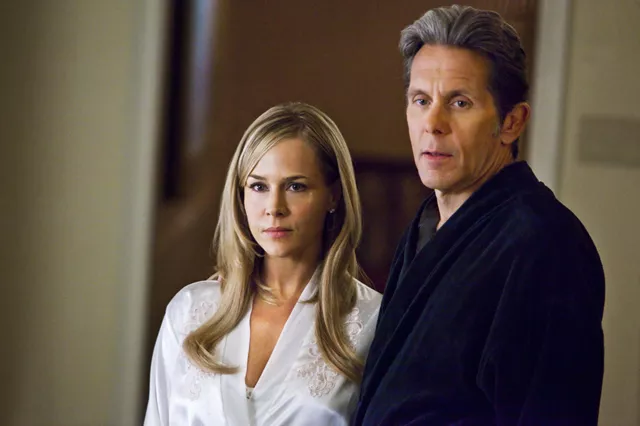 Whatever happened to the made-for-TV movie? In the days when Archie Bunker and Marcus Welby ruled the air, the original, one-off production starring slightly faded "household name" actors was as much a television essential as today's infomercial. Every major network had a "Movie of the Week" franchise — some more than one — in the hope that, if the film was just enticing enough, Americans would be tempted to munch buttered popcorn in their living rooms rather than their neighborhood cineplex. Plus, they'd likely stay tuned for their late local newscast, which is all the affiliate stations cared about anyway.
The era produced some primetime milestones. Brian's Song was an ABC movie, subsequently released into theaters. So was Duel, the feature film directing debut of young Steven Spielberg. ABC's post-apocalyptic The Day After in 1983 was seen by more than 100 million viewers. But for a variety of reasons — soaring production costs, shifting audience trends — the made-for-TV spectacle slowly migrated from network to cable, which, sadly, had even less money to produce quality first-run programming.
No longer. Recent CGI-filled extravaganzas like SyFy's Mega Python vs. Gatoroid (starring '80s pop princesses Tiffany and Debbie Gibson) and "important" fact-based docudramas like Amanda Knox: Murder on Trial in Italy this year on Lifetime suggest that while the well-worn format may never return fully to the networks, it's building worthiness and relevance on cable. And here comes TNT to trump 'em all.
This week TNT, which branded itself the "We Know Drama" home of original cable series, launches the "TNT Mystery Movie Night," six TV-movies airing over the next month based upon best-selling modern crime novels. The concept recalls the old NBC Mystery Movie anthology that gave us such characters as Columbo and McMillan & Wife, but may I just say this variation is a stroke of brilliance? It doesn't take many million viewers to generate hit ratings on cable, and in adapting "airport novels" for television the advantage of established characters and strong audience interest are automatically built in.
Of the "Movie Night" mysteries I've seen, my favorite is the first, Scott Turow's Innocent, which premiered last night. (Oops, you just missed it! But TNT will rebroadcast it at 1 a.m. Friday and 1 p.m. Saturday.) Two decades ago this would have been a blockbuster release, sequel to 1990's big-screen smash Presumed Innocent with Harrison Ford and Bonnie Bedelia, one of the first big-budget movies filmed in Detroit. It remains a ripping good storyline, with Bill Pullman assuming Ford's role as "Rusty" Sabich, now a judge, accused of murdering his nut-job wife (Marcia Gay Harden, in for Bedelia) years after being acquitted of killing his mistress. If you know the original film, part of the fun is watching new actors taking on roles cemented in your memory, like Alfred Molina ratcheting up his Spanish accent for defense attorney "Sandy" Stern, initially played by the late Raul Julia.
Tonight's offering, the formulaic Ricochet at 9 p.m. and midnight, is far less fun. Based on Sandra Brown's bestseller, it miscasts John Corbett (Sex and the City) as a jaded, conflicted Georgia police detective who's obsessed with nailing a murder on the sultry wife (Julie Benz) of a crooked judge (Gary Cole), if he first can get over his obsession with just nailing her. The story is disjointed, the direction choppy, and beyond the giggle of seeing Kadeem Hardison (A Different World) as a doughy middle-aged cop in a supporting role, this is a Ricochet you could miss. It wants to be a mini-Body Heat, but there's no heat. And save for Benz, no bodies.
The other offerings fall between, in varying degrees of captivation. Carla Gugino and Mark-Paul Gosselaar star in Lisa Gardner's Hide at 9 p.m. Tuesday; Dermot Mulroney, Michael Cudlitz (Southland) and Anne Heche plead their case in Richard North Patterson's neo-classic Silent Witness Dec. 7; Catherine Bell and William Devane track a kidnapper in April Smith's Good Morning, Killer Dec. 13, and Kathy Najimy and Scottie Thompson romp through Mary Higgins Clark's Christmas mystery Deck the Halls Dec. 20. Expect another round of video novels in 2012. Beyond everything else, they give TNT the opportunity to showcase stars from their original series in different settings. All in all, TNT's got a killer concept.
Is 'Hate' strong enough? Rarely, if ever, will you encounter a TV comedy with more obstacles to overcome than I Hate My Teenage Daughter, premiering at 9:30 tonight on FOX (Channel 2 in Detroit). It features longtime friends and recently divorced single moms (Jaime Pressly, Tony winner Katie Finneran) who are trying to improve memories of their disastrous high school years by living vicariously through their obnoxious yet wildly popular 14-year-old girls. In order to maintain their illusion that they are their daughters' best buds, they let their children stomp on their authority while they make fun of one mom's fundamentalist upbringing, the other's eating disorder. Much of the humor references bullying, making laughter uncomfortable even when the punch lines have energy.
Pressly, a gifted comic actress, delivers the same accent and mannerisms she flaunted on My Name Is Earl, meaning she brings unintentional baggage from that show as well. I saw the first pilot for Daughter months ago and thought it was horrific; they've re-shot it, and the second version is more tolerable. The supporting cast is genuinely likable, especially ex-husband Chad L. Coleman (half of an interracial marriage that's not even alluded to, commendably) and brother-in-law Kevin Rahm (Judging Amy). But then there's that "Hate" thing. It worked for Everybody Hates Chris, but there, I think, everybody got the joke. In general, it's not a good idea to encourage a negative audience reaction in your new show's title. Maybe Chris Rock can do the voiceover.
Add TV: The Exes, the new comedy companion to Hot In Cleveland bowing at 10:30 tonight on TVLand, feels wincingly familiar and predictable, but it merits consideration as a sitcom reunion. The show rejoins 3rd Rock From the Sun lovers Kristen Johnston and Wayne Knight and includes the best part of Scrubs, Donald Faison. It's also the breakout roll for petite Kelly Stables (Two and a Half Men) as a tiny tramp. She'll be on magazine covers soon. ...The 24th season of America's Most Wanted, its first for Lifetime, premieres at 9 p.m. Friday.