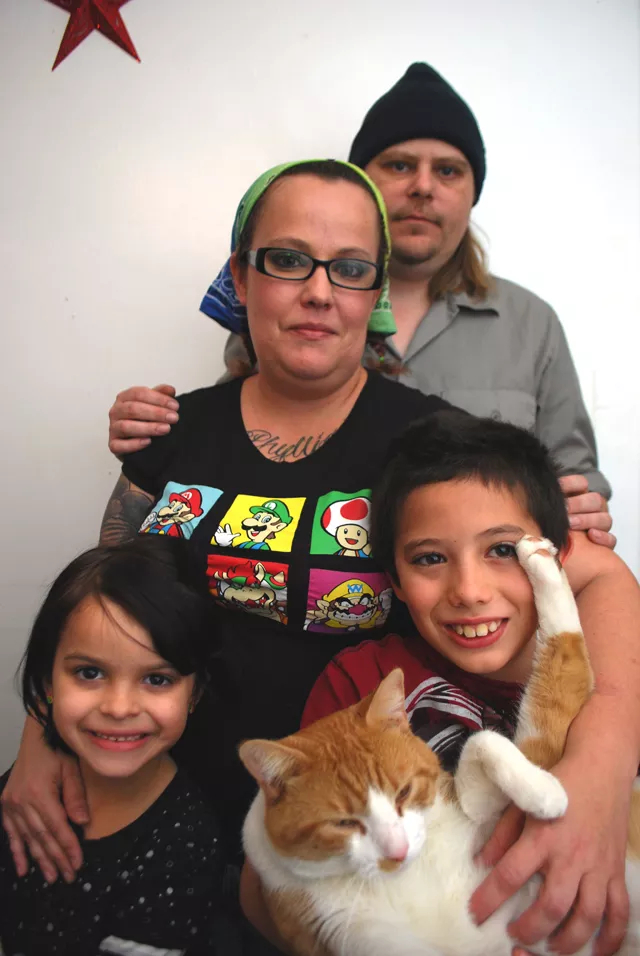 She was desperate. She had no job, and her boyfriend's small paycheck was barely enough to pay for everything. They'd sold the TV, and the couch they were sitting on was probably next to go. 
One night, the couple was going over their bills, projecting a budget through the rest of the year, and after subtracting for rent and water and heat and electricity, they saw what they'd have left over for her two kids' Christmas. 
Thirty dollars.
On impulse, she went online, logged onto Craigslist, and out of her burst the ramblings of a shot-in-the-dark plea:
My name is, Christina. I have two kids a boy 10 and a girl 6. I left their father last year. Things were really bad. He was hitting all three us and I had to go to save my babies. I ended up here in Detroit doing odd jobs. Mostly watching kids... I've been looking for a full time job but, no luck yet. I'm scared that I may not be able to pull off Christmas this year and my heart is really hurting for my kids. I just want to do right by them. If this email finds someone who can help me with phone #s or something that could help me maybe get a way to save Christmas for my kids. I can hardly keep the lights on let alone pay for a simple a pair of snow boots ... Please, I'm a good mom and I don't want to go back to that man. I'm at my wits end! Please ...
Some people are in far worse circumstances and might seem more deserving than Christina Walsh and her two kids. Others are better off, but they catch the right people's attention and wind up showered with donations or help. On the scale of need, the family falls somewhere in the wide, gray middle of simply not having enough.
She left her email address —  [email protected] — and logged off for the night. It didn't take long for the replies to come. 
They weren't what she expected.
Walsh, 34 lives in southwest Detroit, in the upper flat of an old apartment, with her boyfriend, 37-year-old Danny Browning, and her two kids, 10-year-old Luther and 6-year-old Lyllie.
Their apartment is clean and empty. The living room couch faces a bare wall where the TV once stood. There's little else in the place besides a dining room table. But this is better, Walsh says, than what she left.
She was 14 years old and living in California when she met her future husband. She was the well-off daughter of a schoolteacher and a vineyard owner. He was 29 and liked really young girls. He had a Mustang and drugs and pockets full of money.
"I thought he was the greatest thing since butter in a tub," Walsh says. "To a 14-year-old girl, getting taken on shopping sprees, getting your nails done, having money in your pocket, having that older guy with roses pick you up from junior high school and all your friends — 'Oh you're so lucky.' Yeah, till the hitting started."
She married him at 18, had three kids with him, became hooked on the meth he cooked and sold, and got smacked a lot, she says.
"He would be out of his mind and put a gun to my head and ask me where his dope was. He would put it away and lose it, and he would put a gun to my head and accuse me of stealing from him. His wife."
After more than a decade of this, she took the kids, moved to a battered women's shelter, got a restraining order against her husband, got a divorce, changed her name and moved with her two youngest children to Florida. Her oldest son, now 14, stayed behind with his grandmother. She went clean, she says, the night she was getting high in the bathroom and felt shame at the sight of her boy's little fingers reaching up under the door. 
She got work at a bar, then became a prison guard, a pretty good job. But state budget cuts led to prisoner releases, which led to layoffs, which led to her exhausting her unemployment checks, then her savings. And her ex wasn't paying child support. That's when she moved to Detroit, a place with even less opportunity, but a single hope.
Danny Browning grew up in southwest Detroit, and served in the Navy before returning to his hometown. "Danny is the epitome of the blue-collar hard worker," Walsh says. He works nights at AJM Packaging on Dix and Vernor by the knotty railroad tracks. They make paper bags, paper cups, paper plates. "Well, paper plates are a commodity these days," Walsh says. "At least you know he's going to have a job. Until the robots take over, I guess."
She'd met Browning online, they started talking, and fell in love. "He saved my life," she says.
"I was a lonely guy," says Browning. "I'd been in relationships and I had never felt anything for the relationships I'd had. She was the one that understood me the most."
She once took a 30-hour bus ride from Florida to see him in Detroit, and later he visited her there. "We were trying to plan to be together, but then she lost her job and it became a desperate situation. I was like, 'You know, I don't have much, but come up here. I've got a job here.' It took some convincing."
He makes $10 an hour to support four people. She sometimes earns a few dollars babysitting kids from the neighborhood. But the math isn't adding up. "If both of us were working, I think we'd be OK," Walsh says. "I'm out there every day looking for a job, but there just isn't anything. I'm at the point where I'm going to stand out there with a cardboard sign."
The replies poured in for the Craigslist ad. A few were helpful. Most were not.
A gentleman wrote early on and offered his help. "I come to Detroit for business twice a month, maybe you can work out a trade? You help me out with say, a massage and I can get you some things for your kids. Let me know –Jim."
Some were creepy and strange. "You said you need help for christmas if you do i would be more then glad to help if you take house cleaning and tickling," read one.
Others wanted to piggyback on whatever help Walsh might have found. "My name is Dashawna and I have five kids. If you get any back can you send it to me to. Thank you it's hard everywhere."
Another was as kind as it was poorly written. "Dear friend, I wish you a safe and worm holiday wit your kids. I have kids to and it's hard out here. Keep your head up ur kids love you," she wrote.
And one person kept it simple. "Get a job whore and close your legs!" was all they wrote.
Dozens of other replies were similar. "There are a lot of crazy people out there," Walsh says. "And especially if they find out I'm a single mother trying to make Christmas for my kids, that's leaving a window open for all the predators out there, and all of the men, and believe me I got quite a few emails from men — 'If you meet me at this motel and do this for me I'll give you $50 bucks for your kids for Christmas.'"
But a few sincere people replied too, sending lists of local churches offering help around the holidays, places to get food assistance, organizations to help find work. One woman promised to bring clothes by for the children.
In the meantime, Christmas is coming. Walsh will take the kids to see the ornamented tree downtown, do crafts at the Children's Museum, visit Santa at the mall, things that are free. And she'll try to find a way to get them a Christmas tree and a present or two, because her kids know nothing about the utility bills, or the cost of rent, or their mother's troubled life, only that Santa never forgets them.
"I look at my kids and that's everything I've ever done right," she says. "They're expecting Santa to bring them something and we just don't have it. But I'll figure out a Christmas for my kids eventually. It's important to me. My kids deserve that."