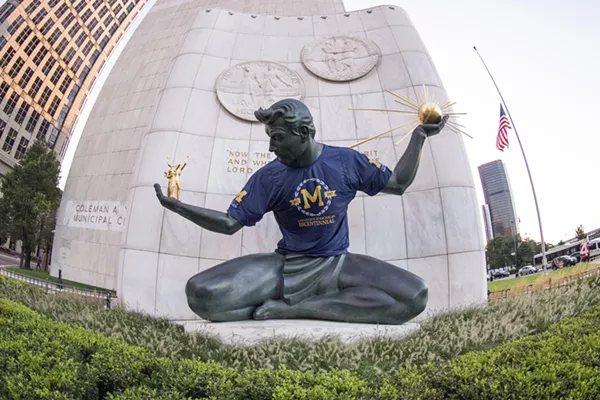 In 1817, Augustus Woodward, Reverend John Monteith, and the Rev. Gabriel Richard founded the University of Michigania in the city of Detroit. But, just 20 years later, in 1837, the university moved to its current home in Ann Arbor.
In August, our summer intern and current U-M student Tess Garcia asked the important question, "
What if the University of Michigan never left Detroit
?" The answer, in part, is that Detroit's economic sufferings may have been avoided.
"Would [U-M] have saved Detroit? I don't know we can say that ... But it would have had a big impact," Larissa Larsen, an associate professor of urban and regional planning at the university, told Garcia. "I think you would have seen an impact on transit; with students, we generally like to make sure there are options that aren't just [cars]. Also, too, the housing quality adjacent to where the university is. I look at Wayne State as a bit of a stable point in the city. I think a U-M would have been much bigger and more pronounced."
Now, U-M is readying to celebrate its 200th birthday, a party they plan to hold at Detroit's Grand Circus Park with keynote speakers such as Detroit Mayor Mike Duggan, U-M President Mark Schlissel, United Tribes of Michigan Executive Director Frank Ettawageshik, and U-M Regent Michael Behm.
The party will take place this Friday, Sept. 15 from 4 to 7 p.m. and the whole thing will be emceed by retired WDIV news anchor and the
voice of the QLine
Carmen Harlan.
The event is free and open to the public and will kick off with a ceremony to commemorate the 1817 founding in Detroit and the university's subsequent 200 years of history. During the celebration the theatre and dance students from the U-M School of Music, the Mosaic Youth Theatre of Detroit, and the U-M Marching Alumni Band will perform. There will also be food trucks, exhibits, and other celebrations of the university and Detroit.