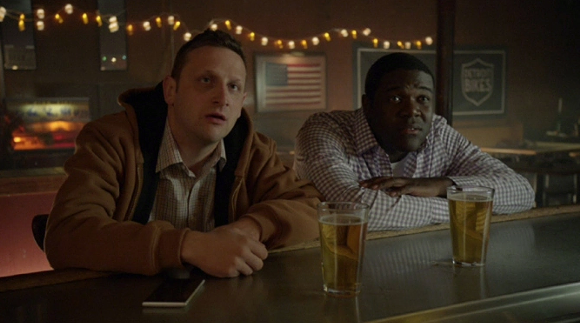 While we had some mixed feelings this morning in the newsroom about Comedy Central's new show
Detroiters
that premiered last night (OK, the TVs in Temple Bar don't need a bat to be turned on), it seems that critics took a well liking to the show created by and starring Sam Richardson and Tim Robinson.
The Detroit on
Detroiters
is clearly a different version of Detroit — like we said above, the TVs at Temple Bar aren't that shitty (actually, they have flat screens) and they're not serving "hot beer," but the idea that Detroit has some quirkiness to it is still funny, and clearly a theme that the creators are running with.
Here are a few excerpts from national reviews of the show
Detroiters.


Vulture

"The scenes that take place within the Cramblin Advertising environment are often the funniest; at times, watching Detroiters feels like observing what happens when a pair of Second City alums get access to the Mad Men set and decide to go improv-crazy. A later episode, in which Sam is accidentally mistaken for a male prostitute, then decides to embrace it, is funnier in theory than execution. But even in that episode, what sells the antics is the chemistry between its leads and the fun they're so clearly having together."

Variety

"But amid all this interconnected chaos, in a cityscape that is the poster child for American decline, "Detroiters" primarily derives its comedy from how carefree Sam and Tim are. They love their jobs, their city, and each other, with a codependent affection that is reminiscent of Abbi and Ilana in their sister show "Broad City.""
A.V. Club
"But Detroiters shows its true colors with refreshing quickness, taking the stereotypical scene where our heroes (who share first names with their performers) attempt to slam out the big idea that'll save their careers, and quickly shunting it into something much sillier and simple instead."

Hollywood Reporter

"Richardson and Robinson make for likable leads and Detroiters is savvy and funny in many ways, but what really made it work for me was the admirable affection that comes from its love for Detroit."
New York Times

"There is a labor-of-love component to the show. It is shot in Detroit, and Mr. Richardson and Mr. Robinson have said they want to use it to show a more vibrant version of the city than is often depicted by Hollywood and the news media."
Detroiters
airs every Tuesday at 10:30 p.m. on Comedy Central.