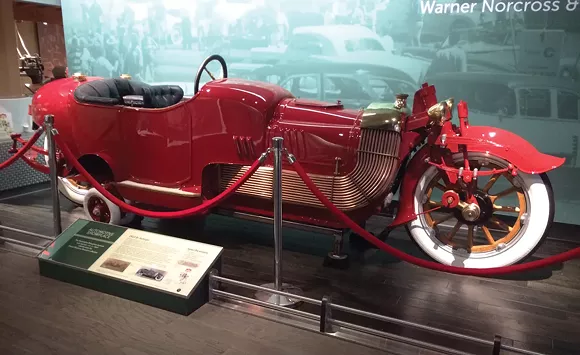 The world's first "motorcycle car" hybrid is now on display at the Detroit Historical Museum.
Originally created by artist and designer James Scripps Booth, the 1913 Bi-Autogo was recently featured in the Feb. 4 episode of the History channel's
Detroit Steel
, the new reality TV show featuring Detroit-based car customization shop Mobsteel, where it got a total cosmetic restoration.
"We are so pleased with the work that Adam (Genei) and the crew at Mobsteel did on this important piece of Detroit's history," Tracy Irwin, director of collections and exhibitions at the Detroit Historical Society, says in a statement. "The public will be able to enjoy this beautiful vehicle for years to come."
According the museum, the Bi-Autogo's V-8 engine is the first built in Detroit. It cost $25,000 at the time to build, and runs 45 horsepower. It is featured as part of the museum's rotating Automotive Showplace exhibit.
You can watch the Bi-Autogo episode of
Detroit Steel
here
.
The Detroit Historical Museum is located at 5401 Woodward Ave., Detroit; 313-833-1805; detroithistorical.org.