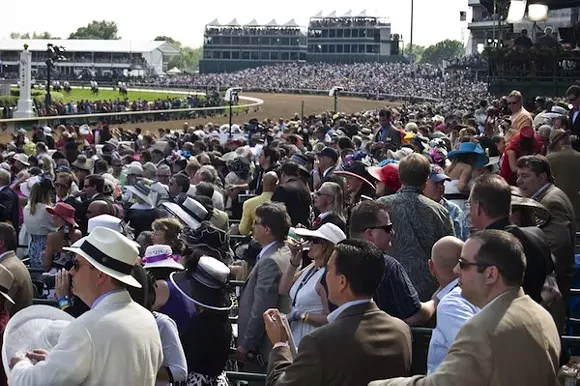 This weekend is the 142nd running of the Kentucky Derby. It's a great old-fashioned sporting event that's imbued with the spirit of the past. We celebrate it with parties that glorify the things Americans used to do in their free time: eat rich food, drink strong whiskey, gamble on wagers, and wear large hats.
First and foremost is betting: You might not realize it, but it's essential to gamble. Watching the Derby without wagering is like trying to play poker without betting: mighty dull. Even a nominal wager, such as $2 on a longshot, brings something out in a person. One goes from passive viewer to active participant. People can get invested for surprisingly small bets, and chances are you'll see a bookish wallflower transformed into a shrieking, fist-pumping maniac right in front of the screen as the horses come down the stretch. This is what the phrase "The Most Exciting Two Minutes in Sports" really refers to.
If you want to bet traditionally, there's really no wrong way to do it, from trifectas based on painstaking research to simple bets to win based on a cute pony name. Betting for the midshots is usually a good idea. You can do it all at Hazel Park Raceway (1650 E. 10 Mile Rd., Hazel Park). For your convenience, they start selling advance wagers at noon on Friday, May 6, or you can begin placing bets at any teller window at 9:30 a.m. on Saturday, May 7. We even hear there's an app that allows you to bet without dodging the lines. And people do pour into the raceway for these special races: They'll even have special tellers open in the paddock area later in the day.
Note well: There's plenty of people-watching to do at Hazel Park, but please be on your best behavior. Yes, some of the old guys there can induce chuckles, but be nice: They're there every single day, and you're just visiting.
Not interested in playing the odds? You can still have a bit of fun without ever seeing a betting window. Write up a ticket for every horse that's running (pay attention to those last-minute scratches), and put them all in a hat. Charge a dollar for a ticket and run your Derby betting like a raffle. For a little more fun (and down-the-stretch screaming) make it $5. Heck, even $10 might work, depending on the income level at the party. It could even be hundos for those on a Bloomfield budget. Anything higher, though, and you can probably just ask James to take the touring car down to the track to place the bets for you.
The food is important, because people tend to burn through those mint juleps (more on those later) and need to be fortified with rich fare. And though the party's Kentucky pedigree suggests rich food, initially, it might be a bit of a challenge to think of anything beyond Kentucky Fried Chicken. But a little online searching will reveal recipes for Southern fare that doesn't come in a bucket, such as pecan pie, butter cake, fried green tomatoes, bourbon balls, string beans, and some more unusual regional dishes, such as "squambo" or "burgoo."
At last we arrive at the cocktails, and, of course, the centerpiece of it all is the sacred mint julep. Now, a good julep is a simple pleasure. It's really just ice, sugar, water, and bourbon, with a garnish of mint. Compared to some of the mixological creations on display these days, a julep is simple as mud.
How simple is it? One of the ingredients is called "simple syrup." It's sugar and water, easy to make, but best made the night before. It works best if you heat up water, dissolve sugar into it, set it aside to cool, and then pour it into a container and chill it overnight. Yeah, I guess you can use agave or even stevia if you want, given the appetite for complicating things these days.
Then there's the mint. There's really no wrong mint to use. Any mint in the supermarket will probably be fine. Most people can't tell the difference between, say, spearmint and peppermint. In fact, most people probably associate the scent of mint less with plants than with a stick of Wrigley's gum, right? Maybe you have a herbal garden and are able to cut a fragrant bunch of the wild variety, which should be waking up just around this time of year. If so, that's better yet. I even used to gather wild mint from my alley: Look for the square-stemmed plants and crush the leaves between two fingers: If it has a good smell, it will probably work.
Now, there is a fine point of cocktail etiquette worth bringing up. On Derby Day, people who haven't touched a sprig of mint all year will begin furiously pummeling and mashing this fragile herb into a jelly at the bottom of an old-fashioned glass. Perhaps with the rise of the mojito, Americans have forgotten that mint hardly needs such rough treatment. A light bruising of leaves to bring out the oils is all that's necessary for a good mint julep. In fact, a julep gets most of its mint aroma from the generous sprigs you heap atop the drink. No need to muddle those sprigs, either; just a little slap will leave them fragrant enough to delight drinkers. And never start drinking a fresh julep through a straw; the real julep experience means being tickled on the nose with an ambrosial bouquet.
As for the hats, there's still time to get a topper. Most ladies have at least one summer hat for the beach that will do in a pinch; a few will have a gaudy Easter bonnet. But some guys never got past the ballcap and don't have a straw hat except for that joke sombrero they bought in Tijuana that one time. Well, you still have time to get a proper lid. The summer straws are in at Henry the Hatter, and you can pick up a classy-looking Dobbs Bishop made of Milan straw for just $88. It will never go out of style and will last forever — even if you throw it in the air this Saturday.