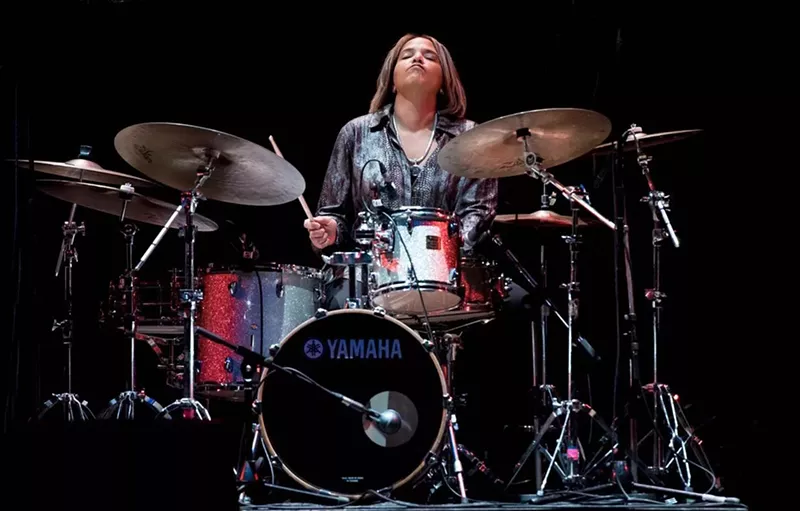 Terri Lyne Carrington doesn't just want to see more women in jazz, she wants to create an entirely new standard. Those efforts will get a major push in Detroit this weekend.
The four-time Grammy award-winning drummer is bringing Detroit another installment of her Shifting the Narrative: Jazz and Gender Justice project, which explores jazz without the lens of gender bias, beginning this Friday, May 5.
Also on May 5, the Museum of Contemporary Art Detroit (MOCAD) will host two performances of Carrington's SEEN/UNSEEN. Carrington was commissioned to write SEEN/UNSEEN in response to the 2020 civil unrest following the murder of George Floyd.
Along with Carrington's original music, the performance will include visuals by internationally acclaimed artist Mickalene Thomas. The MOCAD will host two performances on Friday at 7 p.m. and 9 p.m.

Then on Sunday, May 7, The Female and Non-Binary Gaze exhibit opens at the Carr Center, where Carrington serves as artistic director. The exhibit was curated by Carrington and Tia Nichols and features the work of 13 female-identifying artists including April Anue Shipp, Cara Marie Young, Deadra Bryant, Jennifer White-Johnson, Nadia Alexis, Asha Walidah, Carole Morisseau, Donna Jackson, Mira Gandy, Naomi Tajonera, and Karmala Sherwood.
The exhibit spans a range of mediums including photography, painting, and film.
"​​The Female and Non-Binary Gaze provides commentary on the current renaissance of Black feminist thought through artistic conversations between scholars, visual artists, filmmakers, and photographers," Carrington writes in her curatorial statement. "Over a dozen visual artists display their 'gaze' through themes of gender justice, racial justice, and the realities brought forth by being both seen and unseen."
The Carr Center Performance Studio will also present a new film project by Carrie Mae Weems dedicated to Carrington, titled The Road To Carrington, on May 7.
According to a press release, The Road to Carrington "is not a traditional 'documentary', but rather a conceptual artwork based on the life of the extraordinary woman, musician, artist, activist, and teacher as told through the lens of Weems."

Both The Road to Carrington and The Female and Non-Binary Gaze will run through June 2.

The weekend of film, art, and music is the second segment of Carrington's four-part Shifting the Narrative installation. The first part of the multidimensional project New Standards included a Detroit jazz bar crawl and Carr Center art exhibit last fall.

The title was a reference to Carrington's book of sheet music by women composers, also called New Standards, and her album New Standards Vol. 1, which won a 2023 Grammy for "Best Instrumental Jazz Album."

For more information, see thecarrcenter.org.
Coming soon: Metro Times Daily newsletter. We'll send you a handful of interesting Detroit stories every morning. Subscribe now to not miss a thing.

Follow us: Google News | NewsBreak | Reddit | Instagram | Facebook | Twitter