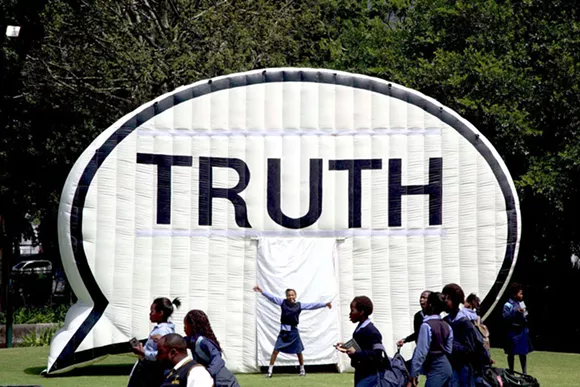 Have something to get off of your chest? Step inside the Truth Booth, a portable, inflatable, video recording studio in the shape of a speech bubble that allows entrants the opportunity to speak freely about things going on in their community.
Cranbrook Art Museum will be the first stop of the local tour of the public artwork In Search of the Truth (the Truth Booth), which is A Cause Collective project by artists Ryan Alexiev, Jim Ricks, Will Sylvester, and Hank Willis Thomas that has traveled all over the world, including Cape Town, Cleveland, Brooklyn, and Washington D.C.
The interior of the giant speech bubble is equipped to compile video responses by hundreds of people from different cultural backgrounds as they complete the sentence: "The truth is...".
The Truth Booth tour will debut at the Cranbrook Art Museum as part of a Family Day Celebration on July 31 from 11am to 5pm, and then immediately travel to 11 different locations in metro Detroit, including Dearborn and Flint over the course of two weeks. At each location, participants will have up to two minutes to record a statement starting with "The truth is...".
The recorded results over the course of the project will then be used to create an ambitious 60-foot-wide video installation that will open as part of an exhibition about the project again at the Cranbrook Art Museum in November of 2016.
Locations and dates for the Truth Booth are below:
July 31
Cranbook Art Museum
39221 Woodward Ave
Bloomfield Hills, MI
11am-5pm
August 2
Detroit Institute Of Arts
5200 Woodward Ave
Detroit, MI
9am-4pm
August 3
Arab American National Museum
13624 Michigan Ave
Dearborn, MI
10am-6pm
August 4
Banglatown Neighborhood
13133 Klinger St.
Detroit, MI
noon-7pm
August 5
For The Love of Osborn Neighborhood Parade
13560 McNichols E
Detroit, MI
11am-4pm
August 6
Sidewalk Festival for the Performance Arts
22001 Grand River Ave.
Detroit, MI
2pm-9pm
August 7
Heidelberg Project
3600 Heidelnerg St.
Detroit, MI
10am-5pm
August 9
GM Plaza on the Riverfront
300 Atwater St.
Detroit, MI
10am-5pm
August 10
Hispanic Technology & Community Center of Greater Flint
2101 Lewis St.
Flint, MI
10am-6pm
August 11
Hasselbring Park Senior Center
1002 W. Home Ave.
Flint, MI
10am-5pm
August 12
MW Gallery
815 S. Saginaw St.
Flint , MI
noon-9pm
August 13
Clark Park
1130 Clark Ave.
Detroit, MI
11am-5pm