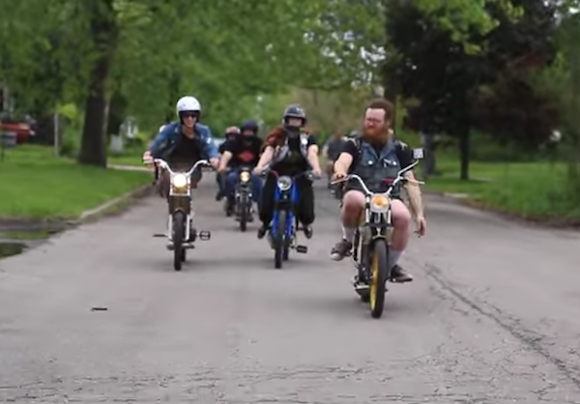 We've known that Alex Samul was into mopeds. What we didn't realize is that two years ago, he quit his day job to do mopeds full-time. In fact, he opened up his very own moped shop,
Detroit Moped Works
, on Michigan Avenue, around the corner from El Barzón. He's so plugged in with the city's two-wheel (and two-stroke) culture, he's the person to talk to if you want to see a moped rally.
We bring it up because of a new video showing just how real Samul's dream has become. It's from a British publication called
Union Magazine
. Samul tells us that
Union
had sent a crew last summer to shoot a video about his shop and Detroit's moped scene. It just came out this week, and also features a local moped group called Femme Pedals. If you've ever been curious about the sort of homegrown weirdness that can grow up around
what one writer called
a "very poorly designed bicycle" with a motor, take a look at this 10-minute video showcasing how moped folks roll in Detroit.