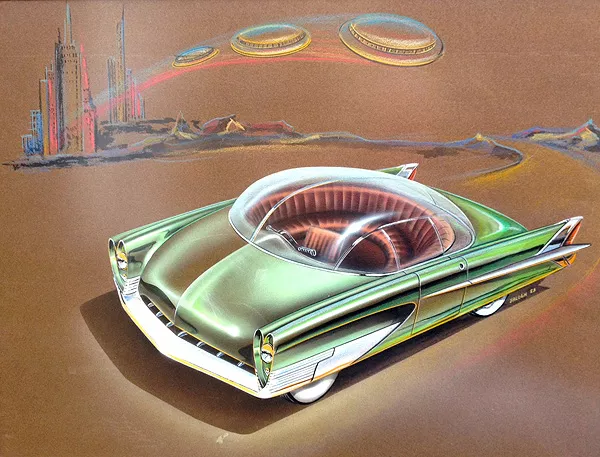 If artist and collector Robert Edwards could have his way, classic automobiles would be among the treasures on display at the Detroit Institute of Arts. Sure, the DIA has Diego Rivera's "Detroit Industry" murals, which expertly romanticize the idea of auto manufacturing, and the Henry Ford museum has plenty of historic cars on display. But in Edwards' mind, automotive design deserves more than just the context of an automotive history museum — the conceptual renderings, the models, and the cars themselves ought to be regarded as high art.
"If this artwork is only seen in the context of car museums, it doesn't really elevate it to the stature of art," Edwards tells us from his home in Royal Oak, which has become a miniature museum of classic automotive concept art. Edwards has become a collector of original auto concept art from the '40s through the '70s, having amassed more than 100 pieces collected from garage sales, estate sales, flea markets, eBay, and the artists themselves.
He notes that the Toledo Museum of Art honors its city's glass industry, and the Art Institute of Chicago has galleries dedicated to the city's legacy of architecture. "This is Detroit history, and it has to stay in Detroit," he says.
Unfortunately, actual conceptual artwork from the classic era is becoming increasingly hard to come by. That's because the drawings were created as works for hire — meaning the company owned them. Studio artists would put all their drawings up on a wall, and then management would pick out ideas they should expand upon. The rest of the drawings were stored in flat files, and at the end of the model year they were cleared out. Edwards estimates that 90 percent of the drawings from that period were destroyed.
Thankfully some of the artists snuck their works out — even though company policy forbade them to do so. "The company said, 'If you take this work out of here without permission, you'll be fired, and you'll never work for another car company again,'" Edwards says. "A number of designers don't have anything from their careers." (Edwards says company loyalty is so strong that to this day, most of the artists he's spoken to have a hard time admitting that they stole their art.)
But the other problem is that many of the artists from that era are dying off. "All of their stories are disappearing the same way the artwork was disappearing," Edwards says. Edwards got serious about collecting when he stumbled on the basement of an estate sale of a prominent designer, and a sizable collection of drawings had been overlooked by five estate sale companies. They were heading for the Dumpster when Edwards decided to call some friends to take a look at them.
Almost a year and a half ago, Edwards and friend Greg Salustro starting tracking down surviving designers and interviewing them for a documentary titled American Dreaming.
Edwards' collection contains original drawings done in pencil, pastels, gouache, ink, and airbrush. Some are rough, preliminary sketches, while others are more fleshed-out scenes. The artists weren't subtle about their forward-looking aspirations: one drawing by George Krispinsky equates a design to a rocket ship blasting off in the background. Another drawing by Charles Balogh depicts a Jetsons-esque UFO-shaped car, complete with a circular bench. It looks like it'd be fun to drive, but it probably wouldn't pass modern crash tests.
"This is indicative of the time and the culture at a time when America was looking forward," Edwards says. "We were entering the space race. We came out of a horrible depression and World War II. It was a horrible period in our country's history. They were looking forward to the future. They knew that tomorrow was going to be better than today. There was a sense of optimism, and I think that shows in the artwork."
Edwards says he hopes to give these designers the spotlight they never had working behind the scenes. "They didn't get credit," he says. "These guys see this project as a way to tell this story while they can and get the appreciation they never got."
He hopes to wrap up the film in 2016. In the meantime, he's exhibiting more than 100 of the drawings featured in the film at Lawrence Technological University with an opening Friday. He'll also bring in some of the featured designers for a panel discussion.
"My wife jokes that I'll never find a cheap car drawing again if this film is successful, but I'm fine with that," Edwards says. "It's sad when I go to a garage sale and I find something for $3."
Opening reception is from 4 p.m.- 8 p.m. on Friday, April 17 in the gallery at the University Technology and Learning Center at Lawrence Technological University, 21000 W. 10 Mile Rd., Southfield; 248-204-4000; ltu.edu. Runs until May 2. The panel discussion will be held at 7 p.m. Wednesday, April 29 at the Architecture Auditorium (A200). Learn more about the film at americandreamingfilm.com.