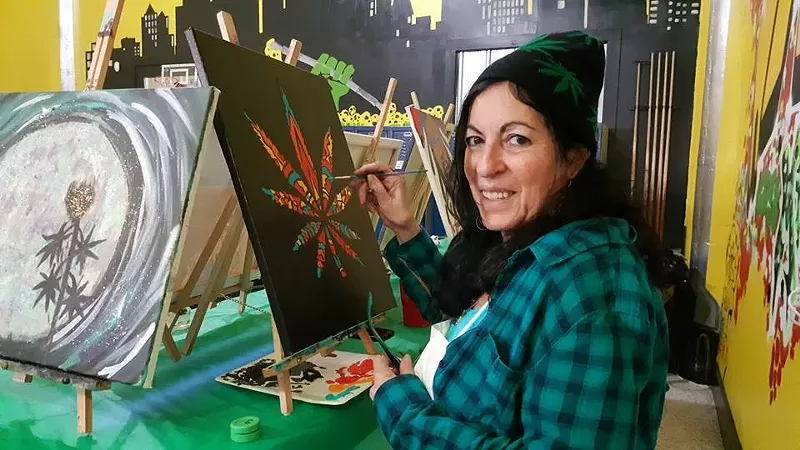 You know how there's that trend of
"paint 'n' sip" franchises
like Painting with Twist, where you can express yourself artistically while drinking wine? Detroit has that, but with pot.
"Puff, Puff, Paint"
offers art therapy, infused with the magic properties of marijuana. The group is hosting an event at the Russell Industrial Center on Saturday, Nov. 11. The session is from 7 p.m. to 10 p.m., and tickets are $35. While the event does allow and encourage toking, they will not provide the bud, and a medical marijuana card is mandatory.
According to the event organizers:
Come join us for an evening of Art Therapy with K and MJ and our Gracious Host DabOut Dave, venue owner. Dave has a Spectacular Private Club at The Russell Industrial Center that he is allowing us to use. K has a degree in art therapy and will instruct us on how to paint an original work of hers. We are holding our event at a Cannabis Friendly Venue so feel free to B.Y.O.B. (Bring Your Own Buzz). You MUST have a valid Michigan Medical Marijuana Card and I.D. in conjunction with Michigan State Law. We do NOT provide any Cannabis . We will provide everything you need to have a Colorful, Joy - filled Evening. Refreshments are available for purchase. Tickets are $35.00 at event. Please Join Us You'll be SO Glad you did.( The max amount of people is 30 with space permitted so reserve your spot fast)
Tickets are available
here
.