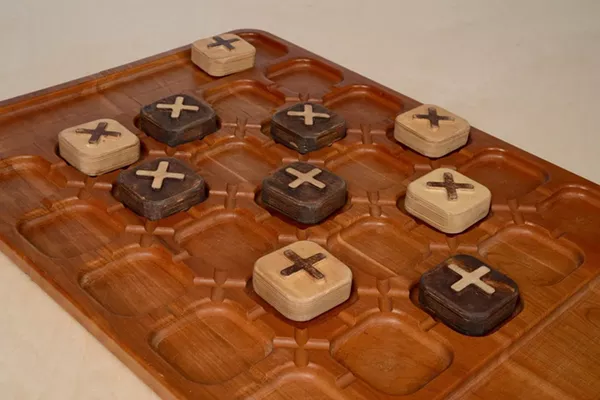 When art critics call art "playful" or "engaging," they usually mean the work has a cleverness that compels the viewer to feel an internal reaction.
But in the case of artist Andy Malone, the play and engagement are more hands-on than usual.
Often featuring cranks and gears that work in the fashion of a Rube Goldberg device, Malone's artworks inspire gallery visitors to get involved, to see how they work, and to share with others the delight of play. Wherever Andy Malone's work is on display, you'll almost always see young children gravitate toward it, smiles breaking across their faces when they realize that this can be art too.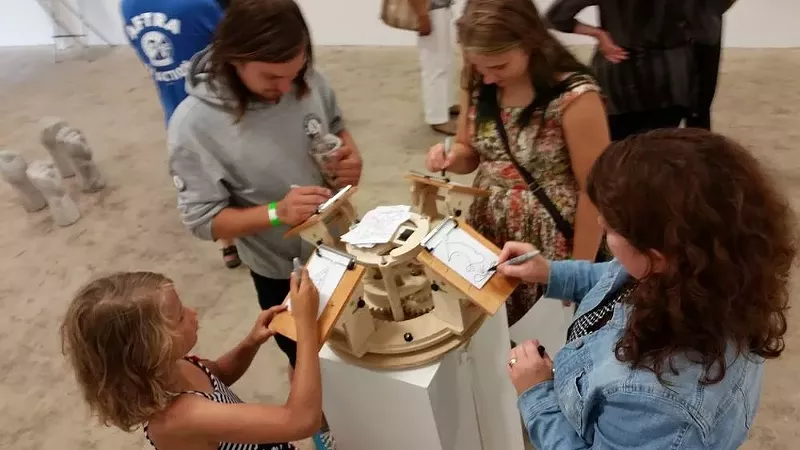 That's about as good a recommendation as any we could give for Malone's newest show, Play Room, which opens this Saturday at the Collective Art Gallery. We've had a few glimpses of what new works might be on display. We saw a push-button machine that flips through cartoons on paper. Another was a board game made of an actual wooden board. They all appear to embody the kind of playfulness that prompts a feeling many art shows can't: curiosity. You couldn't find a better show to tow your little one to.
Play Room
opens at 4-8 p.m. on Saturday, Nov. 11, at the Collective Art Gallery, 8325 E. Jefferson, Detroit; andymalone.com; the collectivedetroit.com.