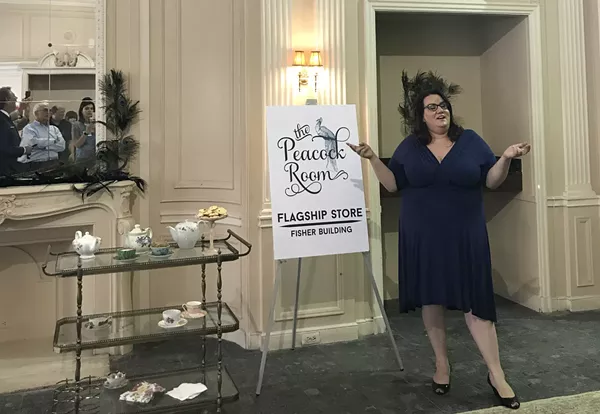 Rachel Lutz laughs when we call her Detroit-based retail footprint her "empire," but the self-proclaimed "shopkeep" has quickly become the city's women's wear mogul.
She got started when she opened the Peacock Room inside the Park Shelton, and it wasn't long before the shop's vintage-inspired fashions were the talk of the town.
Shortly after the Peacock Room came Frida, a boutique for the bohemian woman, also inside the Park Shelton.
Then, having been so successful, she grabbed up a space adjacent to Frida, knocked down a wall and doubled the store's square footage in a matter of days.
Around the same time, she announced she was opening two more stores inside Detroit's Art Deco monument, the Fisher Building.
Of those two stores, one of is a flagship Peacock Room that will include a small bridal boutique. The other is Yama, which Lutz describes as catering to the woman of the future — a woman whose style aesthetic is modern and architecturally inspired.
Both stores are set to open on Small Business Saturday, Nov. 25. The week prior to their official opening, Lutz will host a special soft opening at each store.
On Monday, Nov. 20 Peacock Room will host a panel called "State of the City: Women and Children in Detroit," which will include notable speakers like prosecutor Kym Worthy. The panel will be held from 5:30 to 6:30 p.m., and a reception is set for 6 to 9 p.m. According to a press release, VIP tickets to that panel and reception are $150. If you'd just like to hit the reception and do some shopping, you can nab a spot for $75.
Yama's soft opening is scheduled for Tuesday, Nov. 21 and it will serve as a fundraiser for THAW. The event will include exclusive access to the store before it opens to the public, plus cocktails and appetizers. The event will run from 6 to 9 p.m. and tickets are $50. For more info, go
here
.