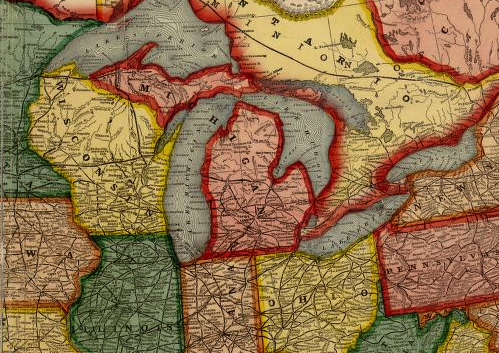 How big is Michigan? That would be 58,110 square miles, at least just the land area. But how does that stack up to other states and even countries?
Those are the kinds of things that keep us up late at night staring at maps and atlases. And we're delighted to find out that we're not alone: In fact,
the good people at SelfStorage are thinking about this
way more than we are.
They've posted a piece comparing the size of Michigan to various places in the world. And we're almost always smaller. Hey, we're humble. We can admit we have less land than, say, Texas.
But we have one bone to pick: Isn't Michigan called the Great Lakes State? So why include just land area? Michigan has almost as much "coastline" as California, and Michiganders have approximately 1 million registered boats to explore all that water. Interesting things happen when you include the water area: The Wolverine State leaps from 22nd-largest state to 11th-largest state. Tiny counties like Keweenaw goes from 541 square miles to a sprawling 5,966 square miles; that's like going from the size of Nashville to larger than Connecticut.
OK, enough gripes.
See the comparisons for yourself
and find out how surprised you are that Iraq is almost 3 times the size of Michigan, or that Australia is 51 times larger. It's a fun way to blast through a quick coffee break.