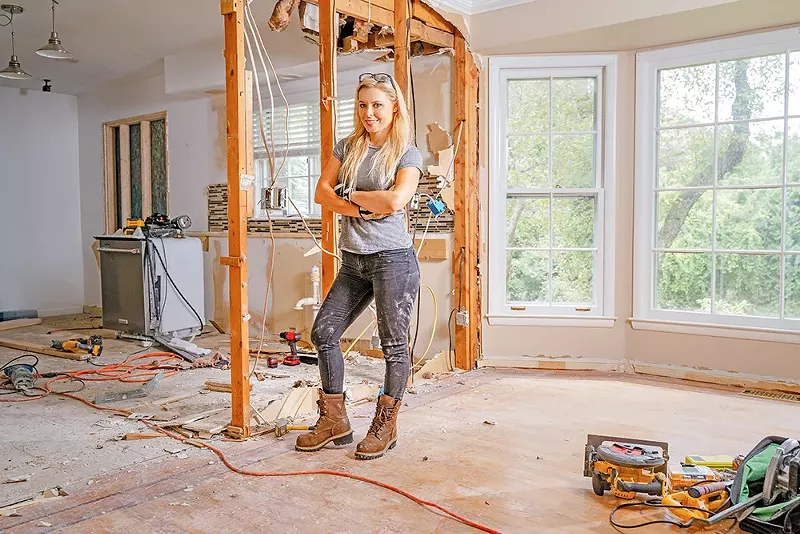 Those who know Cristy Lee from television know her as the host of such engine-oriented cable series as Garage Squad, Celebrity IOU Joyride, and the female-focused All Girls Garage. Ah, but this multitalented Clarkston resident has more than gears and grease under her rolled-up sleeves.
Lee is also a recognized guru at real estate, remodeling, and renovation, as she'll demonstrate in her new made-in-Michigan series Steal This House, premiering at 9 p.m. Saturday on HGTV. In fact, it was her passion for property that inspired the Florida native to drop out of college 18 years ago, sell her motorcycle, pack her Volkswagen Jetta to overflowing, and forsake Daytona Beach for…Detroit.
You read that right.
"It was a crazy choice," she concedes from the living room of her suburban home. "At the time I was like, 'This is a great decision.' Everyone else in my life — family, friends, everybody — was like, 'Wait…you're going where? Why not just go all the way to Saskatchewan? You're a Florida girl — what are you thinking?'"
She adds, "I rolled into town and there was two feet of snow on the ground. I thought, 'Great idea!' It took about five years for it to sink in that I could no longer wear flip-flops year-round. But there were big opportunities at the time in Detroit and real estate was really booming. I've always been extremely connected to real estate since then."
It's a connection Lee hopes to magnify on Steal This House, where she also serves as executive producer. In the six-episode premiere season, she suggests prospective homebuyers invest in fixer-uppers priced far below their budget and use the surplus to create the custom home of their dreams through a total renovation. The houses are located from Detroit and Royal Oak to Trenton and Bloomfield Hills, but one episode takes Lee and her Michigan-based construction team as far north as Leland.
"There's a strong diversity not only with the potential homeowners, but also in the types of properties we work on," she says. "I really love that we don't have a template for this show. We're kind of all over the place, and that's because it's about what the homeowners are looking for, what their wants and needs are. I'm not trying to convince them of what they want. I'm trying to help them look at properties and tweak them a bit, using my expertise and experience to guide them. I've just started to grow and expand in metal work and fabrication for my cars, so I tap into that on the show building metal projects in the homes. This show has been a very long time in coming and I'm so excited for it to finally air."
Cristy Lee's hands-on, Ms. Fix-it mentality can be traced directly to her father Barry, a master mechanic and skilled carpenter in Florida. "I blame my Dad for literally everything," she says, laughing. "He was a shop owner and an instructor in AMI, the American Motorcycle Institute, so he was teaching motorcycle technicians. I never really thought loving cars and motorcycles wasn't what everybody did. Doesn't every nine-year-old girl lust after exotic foreign cars? I've always loved working with tools, working with my hands. My dad's also a very skilled builder and extremely talented woodworker. I grew up with DIY."
She certainly did it herself once she arrived in Motown. Working with her legs as well as her hands, the lifelong dancer won jobs with the Detroit Pistons' Automotion dance team and The Spark dancers of the old Detroit Ignition indoor soccer team. However, those who don't know Lee from television may remember her multi-year stint on Detroit's WRIF-FM.
"Gosh, yes, I was on the 'RIF," she beams. "Between dance seasons I was kind of searching for the next big thing, and driving down 696 I see this huge billboard, 'Be the Next 'RIF Rock Girl!' I'm like, 'OK, I can do that.' So I auditioned and won the stint as the 2008 Rock Girl, doing traffic, sports, and weather in afternoon drive. To this day that was one of the coolest jobs I have ever had. I loved it so much I stayed another three years doing my own graveyard air shift."
Lee says WRIF is "really what kick-started my interest in broadcast media. We did a little on-camera work at 'RIF, which led to me becoming the in-arena host for the Red Wings. Everything just kind of took off from there, transitioning into motorsports pit reporting, and the rest is history. It's all been a path to get me to where I am right now. It's truly the most amazing gift."
And we have to ask: given the endlessly negative stereotypes heaped upon Detroit, was Steal This House really the best title for a series based here? Or may it even have been intentional?
"I certainly would never speak on behalf of the network," she says, "but I know a lot of thought went into the title. The network wants success for all their shows. No one wants to put anything out there that people aren't going to like.
"As far as the show's title goes you have to think about it. When you stay 'Steal This Whatever' you might initially think of someone with a big burglar bag and a ski mask. But how do you physically steal a house? You can't just pick it up and take it. So then you think, 'Wait! I bet it's more like a bargain, finding a steal, a good deal. OK, that works.'"
So…it's not a slam? "I lived in Detroit for years," Lee responds. "I've invested there, buying houses, selling houses. I am a huge advocate for the success of Detroit and I agree there is an extremely negative perception of the city nationally. I think unless you've been here, you do not really know. Can the city use some help? Absolutely. A lot of cities could.
"But myself, coming from Florida to a beautiful city like Detroit that has so much amazing history and culture, I think there just have to be enough people who are passionate about investing in it and providing affordable, ready-to-live-in, clean housing. That's what the city truly needs. Maybe Steal This House will help. Anybody that wants to talk about Detroit, come on down, take a look. Then you can give your opinion, OK?"
Stay connected with Detroit Metro Times. Subscribe to our newsletters, and follow us on Google News, Apple News, Twitter, Facebook, Instagram, Reddit, or TikTok.